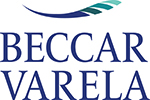 April, 2017 - Buenos Aires, Argentina
Estudio Beccar Varela Advises Tarjeta Naranja on International Notes Issuance

Estudio Beccar Varela advised Tarjeta Naranja S.A. on the international issuance of notes Class XXXVII, issued under the company's Global Program for short, medium and long-term notes for a maximum nominal value of up to US$ 650 million (or its equivalent in other currencies). The notes were issued on April 11th, for nominal value of US$ 250 million.

The maturity of the notes will take place on 11 April 2022, accruing interest at a floating rate (Badlar +3.5% cut off margin, with a minimum rate of 15%). The notes have been listed on the official list of the Luxembourg Stock Exchange and have been admitted to trading on the Euro MTF market, the Buenos Aires Stock Exchange and Mercado Abierto Electrónico S.A. These notes have been internationally ranked "B(EXP)/RR4" by Fitch Ratings, Inc. and "B3" by Moody's Investors Service.

The Initial Buyers of the Notes were HSBC Securities (USA) Inc., JPMorgan Securities LLC and Itau BBA USA Securities, Inc. In this transaction, Banco de Galicia y Buenos Aires S.A. and Banco Itaú Argentina S.A. acted as placement agents.

Counsel to issuer

Argentina
Estudio Beccar Varela (team led by partner Javier L. Magnasco and junior partner
Luciana Denegri, and associates Pedro Silvestri, Felipe L. M. Videla and María
Eugenia Benítez).

USA
Gibson, Dunn & Crutcher LLP (team led by partners Tomer Pinkusiewikcz and Anita
Girdhari, and associates Feliciano Tomarelli and María Fernanda Ojeda Hamui).


Counsel to Initial Buyers and local placement agents:

Argentina
Bruchou, Fernández Madero & Lombardi (team led by partner Alejandro Perelsztein,
and associates Lucrecia von Petery and Sofía Gallo).

USA
Linklaters LLP (team led by partner Conrado Tenaglia, and associates Adriana
Maestas and Ricardo Menendez).

The Trustee and Paying Agent is The Bank of New York Mellon and the representative in Argentina is Banco de Valores S.A.

The listing agent in Luxembourg is The Bank of New York Mellon (Luxembourg) S.A.