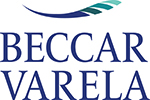 September, 2017 - Buenos Aires, Argentina
Beccar Varela at the Trustlaw Awards 2017: Constanza Connolly Lawyer of the Year

London, September 29, 2017. Constanza Connolly, senior lawyer at Beccar Varela, was crowned "Lawyer of the Year" at the 2017 TrustLaw Awards, the Thomson Reuters Foundation' s annual celebration of outstanding pro bono work. Constanza was awarded for her contribution to advancing a new law in Argentina that would allow disabled people to work without losing their disability insurance. Thanking the Foundation, Constanza said: "It is an honor for me to receive this award. I am truly delighted! My congratulations to Rebecca Marques and all the colleagues that were nominated with us for the incredible work they are doing. I want to share this award with Bea Pellizari and her social enterprise Libertate, because the work they are doing with people with special needs is awesome. In Argentina, the regulations for disabled people need several amendments to promote their genuine inclusion and their social and economic development." She also thanked Beccar Varela and their partners Fernanda Mierez and Roberto Crouzel for "promoting and encouraging pro bono work."

The ceremony was held in London, on September 28. The Foundation also recognized the pioneering role of J. Sagar in India, Torys in Canada and Vieira Almeida in Portugal, in strengthening the spread and depth of pro bono in jurisdictions relatively unfamiliar to the practice. Through TrustLaw, the Foundation's pro bono legal program, these lawyers have supported advocacy efforts to ban child marriage in the US, fight cyber-sex crimes in India, respond to
the global refugee crisis and defend the rights of LGBTI communities. Their work has unlocked innovative solutions to some of the world's most critical social and environmental challenges, and has empowered those on the frontlines with the tools to effect positive change.

Beccar Varela was also nominated in the category "Innovation Award", for its contribution to the global project "Transforming social entrepreneurship in Latin America", in which the firm participated with Sistema B with Orrick, Herrington & Sutcliffe (Canada, France, Germany, Italy, Great Britain and the United States), Baker & McKenzie (Australia) and White & Case (Spain). Finally, the firm Weil, Gotshal & Manges obtained this award. It collaborated with Micro Rainbow International, an LGBTI social rights company, to open the first safe house for LGBTI refugees in the UK.

"TrustLaw was built with three core principles in mind: reach, scale and impact.Seven years later, we have just surpassed the £100 million mark in the value of pro bono work facilitated through our platform", said Monique Villa, CEO of the Thomson Reuters Foundation and Founder of TrustLaw in her welcoming remarks. "Numbers alone would, however, do no justice to the extraordinary contribution of our pro bono lawyers, and the far-reaching impact accomplished by our NGO and social enterprise members. The Awards pay tribute to these exceptional achievements, and we are thrilled to celebrate them tonight."

2017 TrustLaw Award winners:
IMPACT AWARD: White & Case partnered with advocacy group Unchained at Last, to support its fight to pass legislation that would ban child marriage in America.

COLLABORATION AWARD: J. Sagar Associates and Torys joined forces with Prajwala, an anti-trafficking non-profit, to stop the distribution of images and videos of sexual violence in India.

INNOVATION AWARD: Weil, Gotshal & Manges teamed up with Micro Rainbow International, an LGBTI rights social enterprise, to open the first safe house for LGBTI refugees in the UK.

INTERNATIONAL LAW FIRM OF THE YEAR: Hogan Lovells in recognition of their work on a record 48 pro bono projects undertaken through Trustlaw in the past year.

DOMESTIC LAW FIRM OF THE YEAR: Vieira Almeida & Associados for playing an instrumental role in spreading the practice of pro bono in Portugal and across Portuguese- and French-speaking Africa.

IN-HOUSE LEGAL TEAM OF THE YEAR: Merck/MSD – a deserving accolade for TrustLaw' s most active corporate legal department, working on pro bono projects across the world from Colombia to Ireland to China.

LAWYER OF THE YEAR AWARD: Constanza Connolly from Beccar Varela in Buenos Aires, Argentina, and Rebecca Marques from Shearman & Sterling in London, UK.