With so many methods to communicate and distribute brand, expertise, and thought leadership online, choosing the most effective can be confusing. However, how to distribute information is less important than knowing that the key to success lies in the content itself first and foremost. In the most recent results of the survey for digital marketing & content for the legal profession by Greentarget, there is a clear message that social media usage by in-house counsel continues to grow, and that for them, it is about quality content that is supported across channels.
Data from this year's survey demonstrated that blogs still influence hiring decisions (38%), and that although the number of in-house counsel who read blogs regularly has been static since 2014, in-house counsel

continues to rate firm blogs as somewhat or very credible (65%). The report also concluded that 74 percent of in-house counsel still find law-firm blogs valuable. Other valued channels of distribution included client alerts (77%) and practice group newsletters (76%) along with an increase in the use of Wikipedia (71%) to conduct company and industry research.
This suggests great opportunities particularly because it seems law firm attorney blogs are rating higher in credibility than media branded blogs, but the results caution that "while firms are producing content in increasing quantities, they may be neglecting the quality of what they're producing." What this means is firms producing quality content and distributing it across more platforms will no doubt get the most attention.
Leverage the WSG platform across the network and digital media:
WSG Industry and Practice Group Blogs: group members can upload relevant posts to their groups to increase engagement and credibility with targeted groups.
Blog RSS Feed: Gain additional exposure for your firm and its thought leaders by automatically syndicating firm blogs to the WSG website.
Article and News RSS Feeds: Expand the reach of articles and news to professionals across the network and digital media.
WSG Publications: By syndicating articles and news to the WSG site, your content may be featured in WSG's publications and other media platforms.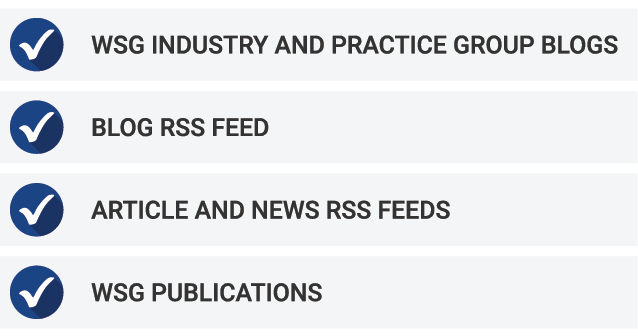 With a documented content strategy that includes WSG, firms have an advantage when it comes to promoting their expertise and building credibility. If you'd like to learn more about how to include WSG in your firm's content marketing strategy, please contact us at [email protected] or 1 + 713.650.0333.