WSG Global Symposium & Annual Meeting 2020:
Empowering Transformation Through Connectivity and Cross Border Sustainability in the New Normal
WSG's Global Symposium & 2020 Annual Meeting brought together over 1,200 registrants from over 90 jurisdictions, representing 8 regions across the world. The successful two-day live event offered WSG members 12 webcasts throughout the symposium that included presentations, discussions and interactive opportunities with over 30 global experts and panelists.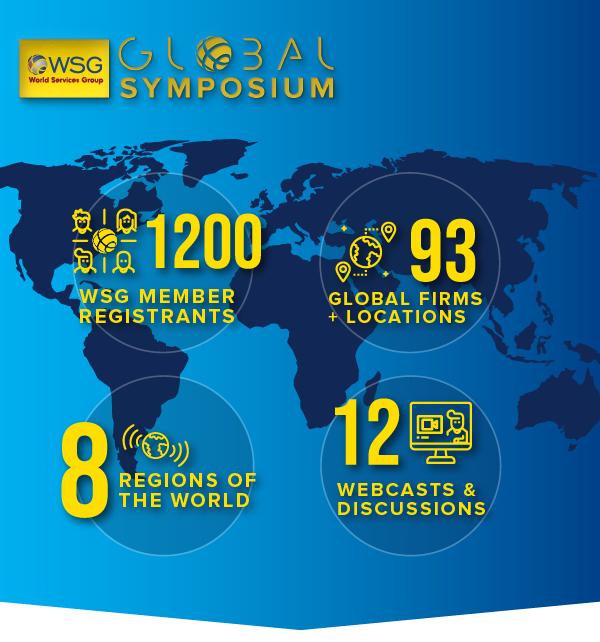 Highlights Included:
Keynote Speaker: Shara Evans, Forbes Top 50 Futurist and CEO of Market Clarity, who presented on game changing technologies that are empowering transformation in our lives and businesses.View here.
When Hackers Attack: An Eyewitness Account: Sandra Barouta Elvin, National Security Officer, Microsoft Sweden; Cecilia Magnusson Sjöberg, Professor of Law and Informatics, Stockholm University and Niklas Stenberg, CEO of Addtech and moderator, Jon Åsberg, Editor-in-Chief and CEO, Fokus, Sweden's leading news magazine as moderator. View here.
Managing Partners Roundtable: WSG Managing Partners from Delphi in Sweden; Shoosmiths in England; DORDA in Austria; ALTIUS/Tiberghien in Belgium; Van Doorne N.V. in the Netherlands and Haynes and Boone in Texas, USA lead a roundtable session exploring lessons learned during these unprecedented times and how to create opportunity for firm growth. View here.
ALWAYS - ON!
You can find these and all the panel discussions including Gaining Clients in the Virtual World, Taking Advantage of the Crisis Market and Global investments in Asia Pacific led by WSG member experts available on demand for viewing at your fingertips any time! Similarly, experience the annual regional meetings where attendees discussed ideas for active engagement within the region for the coming year during these expected extended virtual times.
Access the webcasts on demand, ask questions, share the sessions, and engage with other participants and speakers here.
WSG is committed to digital innovation and providing members with important knowledge, tools and resources needed in the current virtual business world. As the first annual meeting was held virtually, stay tuned for new WSG hosted programs and events throughout the year and beyond.


WANT TO CONNECT?