ENSafrica
Legal Services | Ghana
https://www.ensafrica.com/
tel: +233 30 225 3980 | fax: +233 30 225 3925
5th Floor, Vivo Place, Cantonments City, Rangoon Ln. | Accra | . | Ghana
---
Main Contacts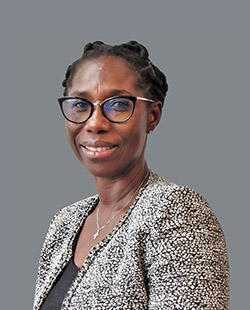 Amina Abugdanpoka KaguahExecutive
ENSafrica's Overview
"A pan-African powerhouse with a strong team of experienced and respected lawyer" - Chambers Global Guide 2018

In today's competitive global market, to run a successful business it is important to have a business partner who understands the importance of:

- fast turnaround times
- cost-effective solutions
- differentiation
- limited risk

While Africa provides potential for growth, predicting in-country, or even regional challenges, and capitalising on the right opportunities for your business, is complex.

With over 600 practitioners and more than 200 years of experience, ENSafrica is Africa's largest law firm.

We provide legal and tax services across sub-Saharan Africa and are committed to ensuring work is done in the manner that best suits your risk profile, preferences and pricing structures.

It matters to us whether you achieve your business goals and we will find ways to ensure you do.

We are an independent law firm, which means that, irrespective of where you wish to pursue your business interests across Africa, we will ensure that you receive consistent, high-quality services.

In today's world, changing economic, political, technological, environmental, cultural and social climates are directly impacting target markets at a pace previously unknown. For a business to remain relevant, it requires know-how that spans various specialist areas.

Our specialist divisions include Africa regulatory and business intelligence, Asia, tax and IP. In addition, our artificial intelligence division is able to provide you with in-depth know-how, be it for purposes of corporate governance and information protection, due-diligence, e-discovery, data analytics and/or market understanding.

ENSafrica has lawyers qualified to practise English, French and OHADA law, as well as practitioners who are able to converse in various languages, including Mandarin, Cantonese, French and Portuguese.

Through the financial services centre of Mauritius, ENSafrica also offers a unique possibility to integrate all aspects of structuring your investments in relation to all commercial areas of law, tax, IP and fiduciary.

Notable

Articles
Integrating Climate Change Impact Assessments into the Environmental Impact Assessment Process
ENSafrica, September 2021

The Minister of the Department of Forestry, Fisheries and the Environment ("DFFE") recently published a notice inviting consultation on her intention to publish a National Guideline for Consideration of Climate Change Implications in Applications for Environmental Authorisations, Atmospheric Emission Licences and Waste Management Licences (the "Guideline"). The Guideline has been published in response to recent case law, which suggests that climate change is a relevant consideration in certain environmental related applications and decision-making processes...
National Treasury Set to Limit Assessed Tax Losses: Agricultural and Mining Sectors Among those Industries to Bear the Brunt
ENSafrica, September 2021

The National Treasury ("NT"') published its draft Taxation Laws Amendment Bill with accompanying Explanatory Memorandum on 28 July 2021 (the "draft Bill"). By now it is well known that the draft Bill contains a fairly radical proposal: section 20 of the Income Tax Act, 1962 ("the Act") will be amended to limit the amount of an assessed tax loss that may be set-off against taxable income. The current proposal is to limit the assessed loss to 80% of the "taxable income" derived in any one year of assessment...
Press
ENSafrica's Gaelyn Scott Named one of South Africa's Top Women in IP
ENSafrica, July 2021

Head of ENSafrica's IP department Gaelyn Scott is one of only three women in South Africa to have been included in Managing IP's IP STARS Top 250 Women in IP for 2021/22. The publication recognises senior female IP practitioners in private practice from over 30 jurisdictions who have performed exceptionally for their clients and firms in the past year. Gaelyn is consistently recognised as one of the top trade mark litigators in South Africa. She founded the intellectual property department at ENSafrica twelve years ago and has contributed significantly to its growth to a team of over 50 people and to it quickly becoming a force within the African IP legal market...
ENSafrica Sustains Growth with Expansion of Executive Team
ENSafrica, March 2021

ENSafrica is pleased to announce that the following practitioners in Ghana, Mauritius and South Africa have been promoted to Executive, bolstering our service offerings in these practice areas and jurisdictions: • Jacqui Kaufmann Shipping and Logistics CPT • Joseph Konadu Dispute Resolution ACC • Kathleen Taylor Banking and Finance CPT • Noma Modise Project Development and Project Finance JNB • Patricia Jane Mumuni Corporate Commercial ACC • Rakhee Dullabh Corporate Commercial JNB • Shrivan Dabee Dispute Resolution MRU "Their outstanding achievement is all the more commendable amid the enormous challenges of the past year," said ENSafrica Chief Executi
© ENSafrica, 2021