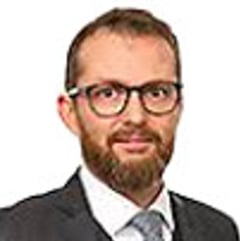 Zurich, Switzerland
Local Time: Saturday 06:17
Practice Expertise
Corporate & Commercial
Employment
Healthcare & Life Sciences
Industry & Commerce
Areas of Practice
Corporate & Commercial
Employment
Healthcare & Life Sciences
Industry & Commerce
Insolvency & Restructuring
Litigation
Mergers & Acquisitions
View More
WSG Practice Industries
WSG Leadership
Employment and Labor Group - Member
Profile
Christoph Stutz, MLaw, Attorney at Law, is a counsel in the employment law team. He focuses on employment law, pension and social security law as well as contract and corporate law. He advises national and international undertakings on all legal matters relating to human resources, including pension and social security matters, and assists international, domestic and foreign clients in obtaining work and residence permits for their executives and employees. In transactions, he advises clients in employees' consultations in connection with employee transfers, mass dismissal or change of occupational benefits institutions. He also deals extensively with alternative forms of cooperation such as platform work, staff leasing or freelance work. He represents parties in non-contentious and contentious labour and pension law disputes before all Swiss courts.
Christoph Stutz studied at the University of Zurich (MLaw Zurich 2011). He was admitted to the bar in the Canton of Zurich in 2013. He holds the Swiss Federal Certificate for Social Security Professionals and has successfully completed the advanced studies in occupational pension at the University of St. Gallen.
Before Christoph Stutz joined our firm, he worked as a trainee in a major Zurich commercial law firm and as a research assistant at the University of Zurich. Before joining the jurisprudence, Christoph Stutz held various positions in the non-profit sector.
Christoph Stutz works in German and English. He is registered in the attorneys" register of the Canton of Zurich.
Areas of Practice
Corporate & Commercial
Employment
Healthcare & Life Sciences
Industry & Commerce
Insolvency & Restructuring
Litigation
Professional Career
Significant Accomplishments
DDM Group erwirbt Swiss Bankers Prepaid Services AG
Merck erwirbt Chord Therapeutics zur Erweiterung seiner Pipeline zu neuroinflammatorischen Erkrankungen
TX Group, Ringier, die Mobiliar und General Atlantic gründen Joint Venture im Bereich der digitalen Marktplätze
Erfolgreicher Abschluss der Weiterbildung als Fachanwälte SAV Arbeitsrecht
OneMed hat einen Vertrag zum Erwerb einer Mehrheitsbeteiligung an SMEDICO AG abgeschlossen
PureFacts Financial Solutions erwirbt Quartal Financial Solutions, um Weltmarktführer im Bereich WealthTech zu werden
ED&F Man Capital Market verkauft Structured Commodities-Abteilung
Wise Road Capital übernimmt Huba Control von Siemens
JHEECO erwirbt den Geschäftsbereich E-Mobility von der thyssenkrupp-Gruppe
Crédit Mutuel Equity (Schweiz) investiert in die aventron AG
Aduno Holding veräussert cashgate an Cembra Money Bank
Rubix erweitert Präsenz in der Schweiz
Schweizer FinTech Startup Tradeplus24 mit CHF 120 Mio. Serie A Finanzierungsrunde
Beförderungen bei Walder Wyss
Continental verkauft Continental Automotive Switzerland
Arthur J. Gallagher & Co. (NYSRE: AJG) übernimmt Mehrheit an der Hesse & Partner AG
AMEOS Gruppe erwirbt Seeklinik Brunnen
Amicus erhält Wachstumskapital von HBM Healthcare Investments
Bregal Unternehmerkapital neuer Wachstumspartner von Embassy Jewel AG
Walder Wyss berät Fresenius Kabi beim Erwerb des Biosimilars-Geschäft von Merck
Cembra Money Bank übernimmt SWISSBILLING SA, eine Anbieterin von Rechnungsfinanzierungen
Mercury acquires CES
FinanceFox successfully completes Series A financing round
Migros kauft die Lüchinger+Schmid-Gruppe
GF übernimmt Liechti-Gruppe
L'Oréal erwirbt Decléor und Carita von Shiseido
Salamanca Group kauft Investec Trust
Articles
Additional Articles
Due Diligence – Rechtliche und steuerliche Stolperfallen
Due Diligence – Rechtliche und steuerliche Stolperfallen
Datenschutzzweckwidrige Auskunftsbegehren im Arbeitsverhältnis: Rechtslage unter geltendem und revidiertem Datenschutzgesetz
Bundesgerichtliches Urteil in der Causa Uber
Bundesgerichtliches Urteil in der Causa Uber
Berufliche Vorsorge für Verwaltungsratsmitglieder
Wenn das Begehren des Arbeitnehmers um Herausgabe seines Personaldossiers in eine «Sackgasse» mündet
«Dead End» of an Employee's Information Request Concerning their Personnel File
Mandatory Vaccination in Employment Relationships under Civil Law
Impfobligatorium im privatrechtlichen Arbeitsverhältnis
The Change of a Pension Fund
Der Wechsel einer Pensionskasse
Doing Business in Switzerland – A Practical Guide
Compliance beim Datenschutz
The coronavirus has serious consequences for the Swiss economy
Das Coronavirus hat gravierende Folgen für die Schweizer Wirtschaft
Verwertungsverbot unrechtmässig erlangter WhatsApp Chatprotokolle
Änderung des Pensionsfonds
Wechsel der Vorsorgeeinrichtung
Risikotragung bei frei wählbarer Anlagestrategie
Chapter 31 Switzerland: Social Media and Employement Law. An International Survey
Flexibler Einsatz von Humankapital mit Arbeit auf Abruf und Pikettdienst
Ebola und Arbeitsrecht
Anpassung der Kontrollpraxis bei der Arbeitszeiterfassung
Meet our Firms and Professionals
WSG's member firms include legal, investment banking and accounting experts across industries and on a global scale. We invite you to meet our member firms and professionals.