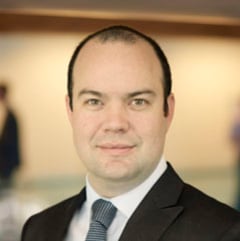 Practice Expertise
Corporate
Mergers and Acquisitions
Private equity
Areas of Practice
Corporate
Mergers and Acquisitions
Private equity
WSG Practice Industries
WSG Leadership
Trade and Investment Group - Member
Profile
As head of the Minter Ellison Foreign Investment & Trade team based in Canberra, I primarily work with offshore clients and their on-shore portfolio companies to successfully navigate Australia's foreign investment, M&A and other regulatory and commercial/procurement regimes when entering the Australian market or growing their existing operations. As a part of this, my team assists with the full range of trade related work including export controls, sanctions, government relations and customs and other trade matters.
Career highlights
My private treaty M&A experience is across a wide range of sectors and clients, with over 70 completed transactions.
Key recent clients/transactions include acquisitions acting for Advanced (a portfolio company of Vista Equity Partners and BC Group); ExtremeReach, Inc; K1 Investment Management and its portfolio companies; NovaSource Inc and Vail Resorts, Inc.
Other M&A clients have included Vodafone, BP Australia, Woolworths, LWP Property, Mirvac, Westpac, Macquarie Bank, Tattersalls, Archer Capital and Carter Holt Harvey. I have also advised on and obtained prior clearance through the Foreign Investment Review Board (FIRB) on hundreds of Australian and offshore M&A, real estate and government transactions. The current focus is on financial sponsors and their portfolio companies; Defence industry; technology and other sensitive sectors; renewables and other energy projects, as well as projects requiring political and stakeholder (including other regulators like the ACCC and ATO) engagement.
Recent highlights include ConocoPhillip's acquisition of an increased interest in the APLNG joint venture; advising on PAG's investment in Rex Airlines; advising on Centerbridge's acquisition of Speedcast International; advising on the Knighthead and Certares led acquisition of Hertz; advising on the successful acquisition of S Kidman and Co by Australian Outback Beef; advising on the AT&T/Time Warner merger; and advising on the UTC/Raytheon merger.
In the commercial space, I have provided strategic, structuring, FDI, export control and commercial advice to clients on significant procurement projects including Hanwha Defence Australia; Fr. Lurssen Werft; Rheinmetall Defence Australia; Fincantieri; Kongsberg Gruppen; PaR Systems; SRC Inc and the Commonwealth of Australia.
Publications
Education
BA (POLITICAL SCIENCE), LLB (HONS)
Professional Career
Professional Associations
Articles
Additional Articles
Foreign Influence Legislative Reforms: Risk Review


The Australian Government has introduced a comprehensive "foreign influence" scheme (Reforms) designed to increase transparency and accountability around Australia's political processes.

COVID 19: New blanket restrictions on foreign investment


In light of the COVID-19 pandemic, new rules state that all foreign investment into Australia will now be subject to FIRB screening.

The decision on the CKI/APA bid – does it have broader implications?


The Australian Treasurer last night announced his preliminary decision to block the proposed AUD$13bn takeover of APA Group by Hong Kong listed CK Infrastructure Group (CKI). Here we analyse the decision and implications.

Improvements to Australia's foreign investment framework
Following broad consultation and the announcement of changes to Australia's foreign investment framework on budget night, the Foreign Acquisitions and Takeovers Regulation 2015 (Cth) was amended with effect from 1 July 2017 to introduce improvements to the regulation of foreign investment into Australia.


COVID 19: How the changed FIRB rules affect the ACCC and ATO


As a result of the COVID-19 changes to foreign investment in Australia announced on Sunday, investors that are now caught by the Foreign Investment Review Board (FIRB) regime will also be subject to scrutiny from other regulators. Our team explains what this means for investors and what they can do to manage this process.

2018 brings in updated CPRs


The new year has brought in updated Commonwealth Procurement Rules (CPRs) which commenced on 1 January 2018.

According to the CPRs Explanatory Statement, the updated CPRs seek to reflect Australia's international trade obligations on government procurement.

Sanctions by Australia against Russia and certain Ukrainian regions


Australian and New Zealand autonomous sanctions, including recent Russia/Ukraine sanctions, have increasing scope and a broad reach. All businesses with financial or supply chain exposure to Russia need to consider the impacts.

ADM acquisition of GrainCorp blocked by Treasure


The Treasurer announced an order under the Foreign Acquisitions and Takeovers Act 1975 (Cth) blocking Archer Daniels Midland's proposed acquisition of GrainCorp on the basis that it is contrary to Australia's national interest.

Joint takeover of ASX listed Sirtex Medical Limited
MinterEllison advised CDH Investments and China Grand Pharmaceutical and Healthcare Holdings Limited on their last-minute A$1.90 billion joint takeover for ASX listed Sirtex Medical Limited.


Fundamental structural changes to the Australian foreign investment rules


Proposed changes to Australia's foreign investment rules, announced today, represent a fundamental structural change to Australia's foreign investment regime.

How PPPs and other infrastructure projects can be caught by the FIRB rules


The Australian Government's lowered FIRB threshold regulations may have a significant impact on public-private partnerships (PPPs) and other infrastructure projects.

Australian food and agribusiness 2017 key themes


2017 is a year of opportunity and challenge for the Australian food and agribusiness sector. We anticipate an uplift in food and agribusiness M&A activity, and have identified 6 key themes that are likely to play out in the remainder of 2017.

Getting the global deal done amid the COVID-19 crisis


Perspectives on key FIRB and ACCC issues impacting global and multinational transactions with an Australian dimension.

MinterEllison acts for Pacific Equity Partners in acquisition of Zenith Energy Ltd


The acquisition had an enterprise value of over $250 million and was conducted via a scheme of arrangement.

Impacts of Australia's proposed Foreign Relations Bill


Our foreign investment and trade team takes you through what Australia's Foreign Relations (State and Territory) Arrangements Bill 2020 may mean for governments, government entities, universities and industry.

Residential property - Annual vacancy fee for foreign owners


The Treasury Laws Amendment (Housing Tax Integrity) Act 2017 amends the Foreign Acquisitions and Takeovers Act 1975 (FATA) to establish an annual vacancy fee levied on foreign persons if they hold an interest in a residential dwelling that is not occupied or genuinely available on the rental market for at least six months in a 12 month period.

Renewable Energy 2022: Australian laws and regulations


Expert analysis of the Australian renewable energy sector as featured in ICLG - Renewable Energy 2022. The chapter covers the common issues in renewable energy laws and regulations, and commentary on industry dynamics from government support, regulatory reform, to foreign investment requirements.

Universities need to act on the Foreign Influence Transparency Scheme


The newly introduced FITSA reform requires universities to act to ensure that their activities are appropriately screened and registered. Since the act was introduced, no university has registered, raising questions about their compliance.

Baring Private Equity Asia acquires SAI Global


MinterEllison advised Baring Private Equity Asia on its acquisition of risk management, compliance and property services company SAI Global.

COVID-19: Temporary changes to foreign investment in Australia


With the Treasurer's recent announcement on Sunday 29 March 2020 that monetary screening thresholds have been reduced for all foreign investors, our team takes you through what this means for potential transactions.

Japan's HCM takeover offer for Bradken


MinterEllison has advised Tokyo based Hitachi Construction Machinery (HCM) on its first public market takeover in Australia.

COVID-19 FIRB screening - regulatory timing, relief and hurdles


Businesses in need of capital may find themselves facing foreign investment regulatory hurdles. We discuss the challenges for businesses and the potential for regulatory relief.

All foreign investors now need FIRB clearance to acquire critical state-owned infrastructure


From the 31 March 2016, foreign investment rules will be amended so that all foreign investors need to seek and obtain prior Foreign Investment Review Board (FIRB) clearance before acquiring critical state-owned infrastructure.

Critical infrastructure changes expand the FIRB rules


Recent changes to the critical infrastructure laws and naming of critical technologies means that more investment is now subject to the FIRB process.

The FIRB fallout from the Chevron Case
You are probably familiar with the fact that foreign investment approvals under the Foreign Acquisitions and Takeovers Act 1975 (Cth) (FATA) are very often subject to a set of 'standard tax conditions' relating to compliance with Australian taxation laws.
Foreign direct investment and taxation - new conditions to be imposed


Implementation of a 'standard' set of tax-related conditions that will apply to foreign investment clearances.
Meet our Firms and Professionals
WSG's member firms include legal, investment banking and accounting experts across industries and on a global scale. We invite you to meet our member firms and professionals.