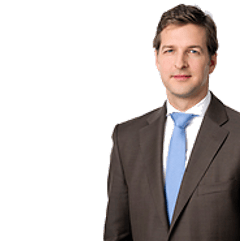 Practice Expertise
Financial Services
Corporate Finance & Capital Markets
Healthcare & Life Sciences
Corporate & Commercial
Areas of Practice
Corporate & Commercial
Corporate Finance & Capital Markets
Financial Services
Healthcare & Life Sciences
Capital Markets
Corporate / M&A
Industry & Commerce
Information Technology & Telecommunications
Mergers & Acquisitions
Private Equity & Funds
Private Equity & Venture Capital
Start-ups & Venture Capital
View More
Profile
Alex Nikitine is head of the Corporate/M&A team at Walder Wyss. His practice focuses on domestic and international M&A transactions, public tender offers, IPOs and other public (ECM/DCM) offerings, private equity and venture capital transactions, corporate governance and general corporate, stock exchange and capital markets laws. His experience for the last 15 years includes numerous transactions in these areas of expertise, in particular with companies in the Life Sciences, Banking or E-Commerce industry.
Alex Nikitine has been recommended by several international directories such as Chambers, IFLR1000 and The Legal 500 as a leading lawyer (by Chambers Global/Europe in both Corporate/M&A and Capital Markets). He is considered "knowledgeable and quick" and "likeable" and is being praised by his "out-of-the-box thinking" and "high level of client orientation" (Chambers, The Legal 500).
Alex Nikitine represents clients in proceedings before the SIX Swiss Exchange, the Swiss Takeover Board (UEK) and the Swiss financial market supervisory authority FINMA. He is a member of the board of examiners for the Swiss certified tax expert exams and a SIX Swiss Exchange recognised representative under art. 58a Listing Rules. He regularly publishes and speaks at conferences in his areas of expertise.
Alex Nikitine studied law at the University of Basel (lic. iur., 2000) and Harvard Law School (LL.M., 2004) and he received a doctorate (PhD; on Swiss and US securities laws) from the University of Zurich (Dr. iur., 2007). In 2009, he worked at Davis Polk & Wardwell LLP in New York, USA.
Alex Nikitine speaks German and English. He is registered with the Zurich Bar Registry and is admitted to practice in Switzerland as well as in the state of New York, USA.
Areas of Practice
Corporate & Commercial
Corporate Finance & Capital Markets
Financial Services
Healthcare & Life Sciences
Capital Markets
Corporate / M&A
Industry & Commerce
Information Technology & Telecommunications
Mergers & Acquisitions
Private Equity & Funds
Private Equity & Venture Capital
Start-ups & Venture Capital
Professional Career
Significant Accomplishments
Hotel Saratz Pontresina hat neue Eigentümerin
DSM and Firmenich to merge in EUR 42bn transaction, becoming the leading creation and innovation partner in nutrition, beauty and well-being
Zuger Kantonalbank (SIX: ZUGER) übernimmt die Immofonds Asset Management AG
Astorg acquires CordenPharma from ICIG
Westhive AG raises over CHF 6 million in series A financing round
Swiss medtech company Distalmotion SA closes USD 90m Series E Financing Round
EH Group raises over CHF 5m Pre-Series A Financing
A.P. Moller Holding acquires Unilabs
Medimaps Group raises CHF 18.55 million
Infoniqa acquires Run My Accounts AG
Revalize übernimmt SpecPage AG
Scanmarket A/S acquires Symfact AG
Polyphor and EnBiotix sign merger agreement and agreement on sale of Murapavadin
Sulzer & Schmid Laboratories AG hat eine Serie-B-Finanzierungsrunde abgeschlossen
KLAR Partners Fonds erwerben ISS Kanal Services AG
Infoniqa erwirbt Sage Schweiz AG
Walder Wyss AG hat die Konsortialführer bei der Bezugsrechtsemission der Swiss Steel Group beraten
Walder Wyss berät CRISPR bei USD 600 Millionen "ATM"-Aktienverkaufsprogramm
Serie B-Finanzierungsrunde über CHF 7,8 Mio. der 1plusX AG
Walder Wyss berät CRISPR bei USD 350 Millionen "ATM"-Aktienverkaufsprogramm
Walder Wyss berät ANYbotics AG bei CHF 20 Mio. Serie A Finanzierungsrunde
CHF 14 Mio. Series B Finanzierungsrunde von Memo Therapeutics
Walder Wyss berät CRISPR bei USD 520 Millionen Aktienemission
Sunrise übernimmt den Web-TV-Pionier Wilmaa
Wachstumsfinanzierungsrunde in Höhe von USD 62 Mio. für SkyCell
Celanese Corporation (NYSE: CE) schliesst Übernahme des Geschäfts mit redispergierbaren Polymerpulvern (Elotex) von Nouryon ab
Walder Wyss hat Long State Investment Limited (LSI) im Zusammenhang mit der Investition in WISeKey International Holding Ltd (WISeKey) im Umfang von rund CHF 31 Mio. beraten
Walder Wyss berät CRISPR bei USD 310 Millionen Aktienemission
Kauf der Klinik Gais AG, kardiale Rehabilitation, Psychosomatik und Psychotherapie
Walder Wyss berät Nestlé beim CHF 10.2 Mrd. Verkauf ihres Skin Health Business
45 Mio. USD Finanzierungsrunde bei Beekeeper AG
Walder Wyss berät CRISPR bei USD 200 Millionen «ATM»-Aktienverkaufsprogramm
SWISSTO12 raises CHF 18.1mio.
Sobi erwirbt NovImmunes Immunologie Sparte in CHF 515 Mio. Transaktion
Schweizer FinTech Startup Tradeplus24 mit CHF 120 Mio. Serie A Finanzierungsrunde
CHF 15,5 Millionen Finanzierungsrunde des Schweizer Startups Oculis SA
Chinesischer Tech-Riese Baidu investiert in Schweizer Startup aiCTX
Walder Wyss advised 40 North in the acquisition and subsequent sale of shares in Clariant AG
IPO Medartis an SIX Swiss Exchange
Schweizer Auris Medical Holding AG (Nasdaq) implementiert "Reverse Share Split" mittels Konzernfusion
Tamedia will die Medienvermarkterin Goldbach Gruppe (SIX: GBMN) übernehmen
Metall Zug (SIX: METN) übernimmt Mehrheit an der Haag-Streit Holding AG
Credit Suisse neue Investorin und Partnerin bei Tradeplus24
AMEOS Gruppe erwirbt Seeklinik Brunnen
Talixo – Finanzierungsrunde im hohen siebenstelligen Betrag
Walder Wyss berät Evolute Group AG bei der Durchführung der CHF 6 Mio. A Runde
Tradeplus24 - Finanzierungsrunde
Auris Medical's Public Equity Offering
Cembra Money Bank übernimmt SWISSBILLING SA, eine Anbieterin von Rechnungsfinanzierungen
Auris Medical's Public Equity Offering
Zug Estates CHF 100 Mio. Anleihe
Baloîse übernimmt Pax Anlage AG
Apax / Unilabs
Fairfax Financial to acquire Switzerland's Allied World for USD 4.9bn in cash and stock
Fairfax Financial to acquire Switzerland's Allied World for USD 4.9bn in cash and stock
Vollständige Integration der e-fon AG durch UPC Schweiz
Ascom verkauft Network Testing Division an InfoVista
Auris Medical lanciert ATM Offering
Swiss Life - CHF 600 Mio. Hybridanleihen
Internet TV Joint Venture Wilmaa & Teleboy
Bayer und CRISPR Therapeutics gründen Genome Editing Joint Venture
Management Buy-out Swisscanto/Zürcher Kantonalbank
Grenzüberschreitende Going Private Fusion der SHL Telemedicine Ltd. (SIX: SHLTN)
Computershare erwirbt SIX SAG AG
EUR 750 Mio. Hybridanleihe – Swiss Life
Life Invest Holding AG übernimmt Skandia Leben AG
Vier neue Partner bei Walder Wyss
Kliniken Valens übernimmt Rheinburg-Klinik
Evolva übernimmt Allylix mittels Aktientausch
IPO der Glarner Kantonalbank
L'Oréal erwirbt Decléor und Carita von Shiseido
Novadaq übernimmt Aïmago SA
HgCapital erwirbt 91.85% an P&I Personal & Informatik AG und lanciert öffentliches Übernahmeangebot
Swiss Life Holding AG platziert CHF 500 Millionen Wandelanleihe
IPO Cembra Money Bank
upc cablecom erwirbt 49%-Beteiligung an e-fon AG
Ammann-Gruppe veräussert Implenia-Anteile mittels Platzierungsverfahren
Verkauf der Klinik Villa im Park an Genolier Gruppe
Volvo Auto Bank Deutschland überträgt Schweizer Leasing- und Händlerfinanzierungs- geschäft an FCE Bank
Swiss Life Holding AG platziert zwei Senior Bonds über CHF 425 Mio.
Swiss Life closed CHF 800 million Loan Exchange Transaction
Swiss Life AG platziert eine Hybridanleihe über CHF 300 Mio.
Articles
Additional Articles
Kommentar zu Art. 64, 65 und 68 des Finanzinstitutsgesetzes (FINIG)
«Officer's Certificates» bei M&A-Transaktionen
Überarbeitetes SIX-Reglement zur Ad-hoc-Publizität ab 1. Juli 2021 in Kraft
IPO Readiness - Stolpersteine auf dem Weg zum Börsengang
Covid-19 Update: Emergency Loan Scheme for Start-ups
Guidelines on Shareholders' Meetings under COVID-19 Ordinance 2
Angepasste Offenlegungsregeln im Rahmen des schweizerischen Gesellschaftsrechts (sogenannte FATF-Regeln); strafrechtliche Sanktionen kommen zur Anwendung
Der Erfolg unserer «Startuppers» ist die grösste Motivation
IPO Guide Schweiz (SIX Swiss Exchange) / Kotierungsanforderungen von SIX Swiss Exchange
Börsengänge (IPO) 2017 / Schweiz
Kommentar zum Finanzmarktinfrastrukturgesetz (FinfraG)
Management Buy-out - Vorvertragliche Aufklärungspflichten der Manager
Vermögensteuer auf Aktien von Startup-Unternehmen – neue Regeln im Kanton Zürich
Mergers & Acquisitions Practice Area Review
Changes to Swiss Rules on Disclosure of qualified Shareholdings
Kommentar zu Artikel 8-11, 30 VegüV
Venture capital investment in Switzerland: market and regulatory overview
Mergers & Acquisitions Practice Area Review
Adjustments to the Swiss Corporate Governance Framework
Cross-Border Equity Capital Markets – Switzerland
Debatte über neue Spielregeln durch die Minder-Initiative
Der unabhängige Stimmrechtsvertreter in der Verordnung gegen übermässige Vergütungen bei börsenkotierten Aktiengesellschaften (VegüV): Überblick – herausgegriffene Fragen – Lösungsansätze
Umsetzung der «Abzocker-Initiative» – Die VegüV liegt vor.
Verletzung der Meldepflicht (Art. 20 BEHG) und der bankenrechtlichen Gewährspflicht/Entscheidbesprechung BVGE 2012/33
Draft Ordinance on Minder Initiative: No groundbreaking rules; interesting clarifications.
Venture capital investment in Switzerland: market and regulatory overview
Revision des Schweizer Börsenrechts und Corporate Governance Regeln
Minder-Initiative angenommen – Neue Corporate Governance Regeln für Schweizer Publikumsgesellschaften
Cross-Border Equity Capital Markets – Switzerland
SIX Swiss Exchange: Ja zum Schutz anwaltlicher Arbeitsprodukte im Untersuchungsverfahren der SIX und Ja zu hohen Geldbussen bei Verletzung des SIX Kotierungsreglements
Verwendung des Share Purchase Agreement in europäischen Jurisdiktionen: Schweiz
Fusion – Angebotspflicht – Opting-out
USA – Gesetzliche Regulierung der Management-Vergütung
Golden Handshakes, Golden Parachutes und ähnliche Vereinbarungen bei M&A-Transaktionen
Die aktienrechtliche Organverantwortlichkeit nach Art. 754 Abs. 1 OR als Folge unternehmerischer Fehlentscheide: Konzeption und Ausgestaltung der «Business Judgment Rule» im Gefüge der Corporate Governance
Meet our Firms and Professionals
WSG's member firms include legal, investment banking and accounting experts across industries and on a global scale. We invite you to meet our member firms and professionals.