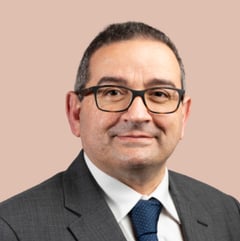 Antoine Camilleri
Partner

Practice Expertise
Intellectual Property & Anti-Counterfeiting
Corporate and Commercial
Intellectual Property and Anti-Counterfeiting
Telecoms, Media and Technology
Areas of Practice
Corporate and Commercial
Intellectual Property & Anti-Counterfeiting
Intellectual Property and Anti-Counterfeiting
Telecoms, Media and Technology
Profile
Antoine Camilleri is a partner in the intellectual property practice group of the firm. His experience includes taking care of patent, trademark and unfair competition law issues for the clients of the firm. Antoine has experience in trademark enforcement, opposition and cancellation proceedings, trademark clearance, investigation, prosecution and management of domestic and international trademark portfolios. He represents multinational companies to individual inventors in a wide variety of industries including information technology, alternative energy, consumer products, financial services, sports and fashion goods, pharmaceutical products (including generics), medical devices, electrical equipment, food and beverage, and tobacco products.
Antoine has represented a substantial number of multinational companies in anti-counterfeiting matters in collaboration with the Maltese Customs authorities, in particular in Customs cross-border measures and related Court litigation.
He is also the lead person within the firm in matters dealing with media law, information technology law and telecommunications law.
Antoine has acted as (part-time) lecturer at the University of Malta in the Master of Laws (Magister Juris) in European & Comparative Law course (since 2003) and in the Doctor of Laws (LL.D.) course (since 2010), in both cases lecturing on intellectual property law. Antoine is also an examiner and supervisor of Doctor of Laws theses and Research Projects at the University of Malta.
Bar Admissions

Admitted to the Maltese Bar, Superior Courts of Malta (2001)
Education

Bachelor of Arts (B.A.) in Legal and Humanistic Studies (1998, University of Malta)
Doctor of Laws (LL.D.) (2001, University of Malta)
Master of Laws (Magister Juris) in European & Comparative Law (2002, University of Malta)
Areas of Practice
Intellectual Property & Anti-Counterfeiting
Intellectual Property and Anti-Counterfeiting
Telecoms, Media and Technology
Professional Career
Significant Accomplishments
Acted as lead counsel on behalf of a multinational in trademark infringement proceedings based on the doctrine of exhaustion, leading a Maltese Civil Court to deliver a landmark judgment awarding moral damages in the field of intellectual property in favour of the client.
Responsible for co-ordinating the anti-piracy campaign in Malta of one of the world's largest software companies, including advising the same company on various areas of the law, in particular in the field of information technology law.
Collaborating with and representing the legal interests of the BSA | The Software Alliance in Malta.
Defended an entrepreneur against one of the world's largest cigar manufacturers in trademark infringement proceedings, leading to a favourable judgment involving well-known trademarks.
Represented a number of clients from various industry sectors in anti-counterfeiting proceedings with Malta Customs and in the Maltese Courts, leading to the eventual destruction of millions of infringing goods.
Represented a Maltese based group of companies (offering their services over the internet) in the prosecution of a large trademark portfolio, on a world-wide basis.
Professional Associations
Malta Chamber of Advocates, since 2001
International Trademark Association (INTA)
European Communities Trademark Association (ECTA)
European Patent Institute (EPI)
Meet our Firms and Professionals
WSG's member firms include legal, investment banking and accounting experts across industries and on a global scale. We invite you to meet our member firms and professionals.