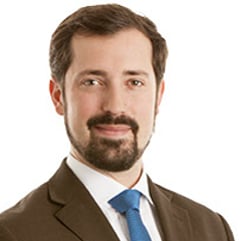 Boris Räber
Managing Associate

Practice Expertise
Antitrust & Competition
Corporate & Commercial
Healthcare & Life Sciences
Industry & Commerce
Areas of Practice
Antitrust & Competition
Corporate & Commercial
Healthcare & Life Sciences
Industry & Commerce
Information Technology & Telecommunications
Mergers & Acquisitions
Private Equity & Venture Capital
View More
Profile
Boris Räber is a managing associate in our Corporate/M&A-Team. His preferred areas of practice include mergers & acquisitions, corporate, commercial and contract law. His practice focuses on domestic and international M&A as well as private equity and venture capital transactions.
Boris Räber further advises companies on corporate governance topics, including remuneration aspects ("Minder-Ordinance"), corporate law matters and in connection with corporate reorganizations and relocations. Furthermore, he also advises startups and investors on financing rounds, participation plans and further legal issues surrounding their daily business.
Born in 1985, Boris Räber studied at the Universities of Zurich (Master of Law) and Salzburg and supplemented his education with a Master in International Business Law at King's College London (LL.M.). During his studies, he worked in the in-house legal department of a leading European outsourcing provider and as assistant at the University of Zurich's law school. In addition to that, he gained business experience as founder of his own company in the startups area.
Boris Räber's professional languages are German and English. He also speaks Italian and French. He is registered with the Zurich Bar Registry and is admitted to practice in all Switzerland.
Areas of Practice
Antitrust & Competition
Corporate & Commercial
Healthcare & Life Sciences
Industry & Commerce
Information Technology & Telecommunications
Mergers & Acquisitions
Private Equity & Venture Capital
Professional Career
Significant Accomplishments
Astorg acquires CordenPharma from ICIG
Teylor AG announces CHF 6.5 million Series A2 Financing Round
Athlon verkauft Schweizer Leasingflotte an Arval
DDM Group erwirbt Swiss Bankers Prepaid Services AG
Nautilus acquires Swiss motion tech company VAY
MKS Instrument übernimmt Atotech
Walder Wyss berät Relio bei der Pre-Seed-Runde
PostFinance übernimmt das E-Invoicing-Geschäft von SIX Paynet
DCM Film Distribution (Schweiz) GmbH beteiligt sich neu an der Arthouse Commercio Movie AG
Teylor AG gibt CHF 8 Mio Series A Finanzierungsrunde bekannt
Arthur J. Gallagher & Co. (NYSRE: AJG) Tochter Hesse & Partner AG übernimmt VERBAG Versicherungsberater-AG
Öffentliches Übernahmeangebot für Oriflame Holding AG
Öffentliches Übernahmeangebot für DDM Holding AG
DigiCert kauft QuoVadis
Beförderungen bei Walder Wyss
Futurae Technologies AG führt eine Finanzierungsrunde durch, um den Wandel in der sicheren Authentisierungslandschaft voranzutreiben
Arthur J. Gallagher & Co. (NYSRE: AJG) übernimmt Mehrheit an der Hesse & Partner AG
IPO Medartis an SIX Swiss Exchange
Migros-Tochter Saviva verkauft Cash+Carry Angehrn
CryoLife übernimmt JOTEC
Fedrus International übernimmt Building Products Business von Umicore
Bregal Unternehmerkapital neuer Wachstumspartner von Embassy Jewel AG
Bezugsrechtsemission der DDM Holding
AF Group erwirbt Edy Toscano AG
Generationenwechsel bei Lunchgate
Verkauf Mehrheitsanteil an der AutoForm-Gruppe
BLKB investiert in Robo-Advisor True Wealth
Rakuten erwirbt Minderheitsbeteiligung an der getAbstract AG
Groupe SEB erwirbt die WMF Gruppe von KKR
Oriflame: Grenzüberschreitende Vermögensübertragung abgeschlossen
Oriflame: Relocation mit grenzüberschreitender Fusion abgeschlossen
IRC erwirbt Mehrheit an Transa
Relocation von Oriflame
Articles
Erwerbsstrukturen: Vergleich von Asset Deal und Share Deal (Schweiz)
Schlüsseldokumente für den Erwerb eine Gesellschaft (Schweiz)
Private Übernahmen in der Schweiz: Marktanalyse (Überblick)
Meet our Firms and Professionals
WSG's member firms include legal, investment banking and accounting experts across industries and on a global scale. We invite you to meet our member firms and professionals.