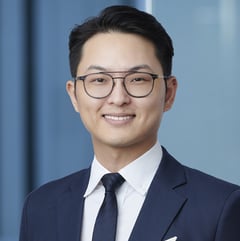 Eason Huang
Legal Manager

Practice Expertise
Corporate
Corporate Regulation and Compliance
Corporate Structuring
Fund Finance
Areas of Practice
Corporate
Corporate Regulation and Compliance
Corporate Structuring
Fund Finance
Fund Formation
Funds Regulation and Compliance
Funds Strategies and Asset Classes
Hedge Funds
Investment Funds
Investment Managers
IPOs and Equity Capital Markets
Joint Ventures
Mergers and Acquisitions
Private Equity Funds
View More
Profile
Eason's practice concentrates on the formation, operation and restructuring of all types of open- and closed-end funds, including private equity and hedge funds.
Eason has significant experience in representing a wide range of sponsors on fund formation matters, as well as a select group of well-regarded institutional investors in making investments in both private equity and hedge funds around the region. In addition to his offshore funds experience, Eason has also represented institutional investors on setting up RMB funds in China under the QFLP regime.
Eason has worked in the funds industry in Hong Kong for more than six years. His clients mainly comprise Mainland Chinese fund managers, fund sponsors, venture capitalists, as well as local Hong Kong SFC licensed fund managers.
Areas of Practice
Corporate
Corporate Regulation and Compliance
Corporate Structuring
Fund Finance
Fund Formation
Funds Regulation and Compliance
Funds Strategies and Asset Classes
Hedge Funds
Investment Funds
Investment Managers
IPOs and Equity Capital Markets
Joint Ventures
Mergers and Acquisitions
Private Equity Funds
Professional Career
Significant Accomplishments
Prior to joining Carey Olsen, Eason worked in the global investment funds group of another offshore firm. Eason started his funds career with another offshore law firm and then a top-tier PRC law firm based in Hong Kong.
Eason is admitted to practice in the PR China.
Eason is a native Mandarin speaker, and is fluent in English and Cantonese.
黄伟的业务主要专注于各类开放式和封闭式投资基金(包括私募股权和对冲基金)的设立、运营和重组。
黄伟在代表基金发起人设立离岸基金方面具有丰富的经验,也曾代表区域内的顶级机构投资者投资私募基金和对冲基金。除离岸投资基金的经验外,黄伟还曾代表机构投资者在中国内地依据合格境外有限合伙人制度(QFLP)设立人民币基金。
黄伟在香港从事基金业务已长达6年时间。他的客户主要包括中国内地的基金经理、基金发起人和风险投资人以及香港本地受证监会监管的持牌基金管理人。
在加入Carey Olsen之前,黄伟任职于一家离岸律师事务所的香港分所的全球投资基金团队。他的投资基金职业生涯开始于另一家顶尖离岸律所的香港办公室,并于之后加入一家顶尖中国律师事务所的香港办事处。
黄伟持有中国律师执业资格。
黄伟的母语为普通话,并流利使用英语和广东话。
Recent Experience