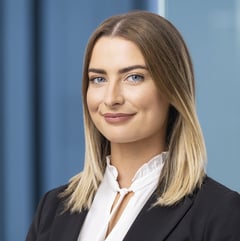 Emma Duffy
Senior Associate

Practice Expertise
Banking and Finance Litigation
Civil and Family Disputes
Commercial Litigation
Corporate Disputes
Areas of Practice
Banking and Finance Litigation
Civil and Family Disputes
Commercial Litigation
Corporate Disputes
Criminal
Dispute Resolution and Litigation
Employment Law
Family Law
Family Office
Fraud and Asset Tracing
Insurance and Personal Injury
Trust Litigation
View More
Profile
Emma is a senior associate in the Litigation and Dispute Resolution team at Carey Olsen Bermuda. Emma has experience advising and representing clients in a broad range of contentious commercial proceedings with a particular emphasis on debt recovery litigation, professional negligence claims and contractual disputes.
Emma has extensive experience advising clients in respect of all aspects of matrimonial law and has also appeared as an advocate in criminal and judicial review proceedings. She has represented both Plaintiff's and Defendant's in personal injury and clinical negligence claims and has appeared as an advocate in numerous injunctive matters across all court tiers.
Areas of Practice
Banking and Finance Litigation
Civil and Family Disputes
Commercial Litigation
Corporate Disputes
Criminal
Dispute Resolution and Litigation
Employment Law
Family Law
Family Office
Fraud and Asset Tracing
Insurance and Personal Injury
Trust Litigation
Professional Career
Significant Accomplishments
Prior to joining Carey Olsen, Emma practiced as a Barrister in Northern Ireland and was called in September 2016. She graduated from the University of Manchester (2013) with a first class honours degree in Law with Criminology. Emma subsequently obtained her Post Graduate Diploma in Legal Studies (2016) from Queens University Belfast.
Carey Olsen Bermuda Limited is a company limited by shares incorporated in Bermuda and approved and recognised under the Bermuda Bar (Professional Companies) Rules 2009. The use of the title "Partner" is merely to denote seniority. Services are provided on the basis of our current terms of business, which can be viewed at: www.careyolsen.com/terms-business.