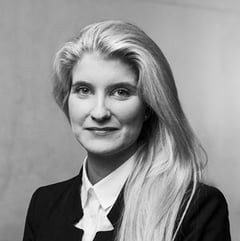 Practice Expertise
Intellectual Property
Construction, Public Procurement and ...
Data Protection and Information Technology
Telecommunication law
Areas of Practice
Construction, Public Procurement and ...
Data Protection and Information Technology
Intellectual Property
Telecommunication law
Profile
Lára Herborg, a licensed attorney before the district courts, joined LEX in February 2019. Lára specializes in Intellectual Property and Technology Law. She graduated from UC Berkeley in 2018 with an LL.M degree in Law & Technology. Her experience includes assisting clients on strategic licensing, telecoms and technology transactions matters. Lara advises clients on a broad range of IP and Technology matters, including copyrights, fintech, open source software and data protection compliance. Lára has held many lectures and written articles on the intersection between law and technology.
Lára also has experience in other fields of law, including corporate and commercial law, construction law and tendering processes and has extensive experience in advising clients, both in the public and the private sector in these fields.
Bar Admissions
The District Courts
Education
LL.M. (Law & Technology), UC Berkeley, 2018
University of Reykjavík, Master of Law, 2013
University of Reykjavík, B.A. Law, 2011
Areas of Practice
Construction, Public Procurement and Tendering Law
Data Protection and Information Technology
Professional Career
Professional Associations
On the legislative committee of the Icelandic Bar Association from 2020
Academic Editor of Fons Juris publisher from 2019
On the Board of Directors of AFS Iceland, 2015-2017
Associate Editor of Berkeley Technology Law Journal, 2017-2018
Board member of Berkeley Information Privacy Law Association (BIPLA), 2017-2018
Professional Activities and Experience
DLA Piper, Luxembourg, 2018-2019
Juris, 2011-2018
Arion Bank, 2011
Landsbanki Islands hf. (Winding-up Board), 2009-2011
Teaching
Lecturer in Technology- and Computer Law at Reykjavik University from 2019
Part time lecturer in Methodology at the University of Reykjavík, 2011-2017
Guest lecturer in Contract Law and Construction Law in the MPM program at Reykjavík University, 2013
Supervised a Master´s thesis on blockchain technology and the law, 2018
Articles
Contributor to an international report: Technology Governance in a time of crisis, COVID-19 related decision support, published by the Human Technology Foundation. Accessible here: https://www.lex.is/wp-content/uploads/2020/08/Technology-Governance-in-a-Time-of-Crisis-COVID-19-Related-Decision-Support.pdf
Lára Herborg Ólafsdóttir and Sindri M. Stephensen (2019). Artificial Intelligence and Copyright, Tímarit lögfræðinga, 157-181
Lára Herborg Ólafsdóttir and Olivier Reisch (2018). GDPR in the world of smart devices, ACE (Wolters Kluwer)
Meet our Firms and Professionals
WSG's member firms include legal, investment banking and accounting experts across industries and on a global scale. We invite you to meet our member firms and professionals.