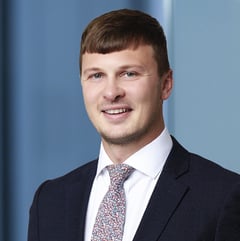 Oliver Wade
Senior Associate

Practice Expertise
Dispute Resolution and Litigation
Commercial Litigation
Corporate Disputes
Contentious Regulatory
Areas of Practice
Commercial Litigation
Contentious Regulatory
Corporate Disputes
Dispute Resolution and Litigation
Insurance and Personal Injury
Insurance Business and Intermediaries
Regulatory
Trust Litigation
View More
Profile
Oliver is a senior associate in the Litigation and Dispute Resolution team at Carey Olsen Bermuda. Oliver has advised clients for over 7 years on the resolution of complex disputes, with specialist expertise in the insurance and reinsurance sector.
In particular, Oliver has extensive experience advising and acting for insurers and reinsurers in the Lloyd's of London and international company markets in coverage litigation and arbitration. He has also advised clients on both treaty and facultative reinsurance, first and third party insurance policy interpretation, subrogated recovery actions, the drafting of policies and commercial contracts, and regulatory enquiries. Oliver has experience of commercial disputes in a number of international jurisdictions across Europe, the US, the Middle East and South America, and has advised on arbitrations seated in London, Bermuda, and Chile.

Areas of Practice
Commercial Litigation
Contentious Regulatory
Corporate Disputes
Dispute Resolution and Litigation
Insurance and Personal Injury
Insurance Business and Intermediaries
Regulatory
Trust Litigation
Professional Career
Significant Accomplishments
Prior to joining Carey Olsen Bermuda in November 2020, Oliver was a senior associate in the Litigation and Regulatory team at the London office of international law firm DLA Piper. Oliver has also worked for international law firms Kennedys and Mayer Brown, and Hiscox Insurance in London. Oliver has spent time on secondment at a Lloyd's of London reinsurer, and an international broker.
Oliver is a solicitor of the Senior Courts of England and Wales, having been admitted to practise in September 2013. He graduated from the University of Cambridge with a degree in Law in 2009, and subsequently obtained a Professional Diploma in Legal Practice with Distinction from the Nottingham Trent University in 2011.

Carey Olsen Bermuda Limited is a company limited by shares incorporated in Bermuda and approved and recognised under the Bermuda Bar (Professional Companies) Rules 2009. The use of the title "Partner" is merely to denote seniority. Services are provided on the basis of our current terms of business, which can be viewed at: www.careyolsen.com/terms-business.
Recent Experience