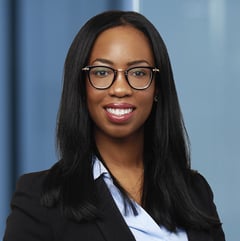 Terry-Lynn Griffiths
Associate

Practice Expertise
Areas of Practice
Civil and Family Disputes
Commercial Litigation
Criminal
Dispute Resolution and Litigation
Insurance and Personal Injury
View More
Profile
Terry-Lynn is an associate in the dispute resolution and litigation team at Carey Olsen Bermuda Limited. She works closely with the employment law and commercial litigation practice groups at Carey Olsen. She completed her pupillage with the Bermuda Government's Ministry of Legal Affairs and Constitutional Reform, gaining direct experience with the legislative making process, criminal prosecutions and landlord and tenant disputes. Terry-Lynn has provided opinions to Crown Counsel on matters relating to human rights, employment law and labour disputes.
Areas of Practice
Civil and Family Disputes
Commercial Litigation
Dispute Resolution and Litigation
Insurance and Personal Injury
Professional Career
Significant Accomplishments
Terry-Lynn obtained her Bachelor's Degree in Management and Organizational Studies from the University of Western Ontario, a Bachelor of Laws Degree from the University of London and she completed her Post Graduate Diploma in Legal Practice with commendation at BPP University Law School in Leeds.
Prior to qualifying as a barrister and attorney in Bermuda, Terry-Lynn has held various roles in the field of company administration thereby gaining experience with incorporating exempted partnerships and companies limited by shares in Bermuda.