WSG 2015 TMC Group Annual Meeting
Members of the WSG Technology, Media and Communications (TMC) Group traveled to London for the Group's Annual Meeting during the European ITech Law Conference. The WSG 2015 TMC Group Meeting, hosted by Shoosmiths, welcomed over 30 delegates from 16 jurisdictions and provided a great opportunity for members to network across the TMC Group.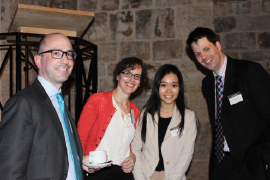 Delegates network at the TMC Group Annual Meeting,
followed by cocktails on the London Eye.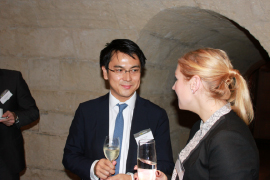 Ryuichi Nozaki from Japanese member firm, Atsumi &
Sakai, discusses with delegates after his presentation.

---
WSG 2015 Labor and Employment Group Cocktail
Eric Iskra, Group Leader of the North American Employment & Labor Practice Group, along with Els de Wind, member of the European Employment & Labor Practice Group, hosted the WSG Labor & Employment Group Cocktail on 6 November in Philadelphia, Pennsylvania. The cocktail event, held during the annual ABA Labor and Employment Law Conference, offered networking and knowledge exchange opportunities across a streamlined group of labor & employment professionals.