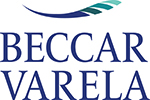 August, 2017 - Buenos Aires, Argentina
Beccar Varela strengthens its German Desk with new appointment.

Buenos Aires, August 22nd, 2017. Beccar Varela has incorporated Dorothea Garff as associate, drawing on her extensive experience both in top-tier legal firms and in the Argentine-German Chamber of Industry and Commerce (AHK Argentina), where she worked for more than thirteen years. At the Chamber, she headed the Legal Department and, subsequently, the Legal & Compliance/Technology and Innovation Department. She focuses on business start-up processes, on general corporate advice and on the processes for obtaining funding from German and international entities (GIZ, European Union, etc.) for projects that encourage the internationalization of German and Argentine companies. In recent years, Dorothea has acquired significant experience in compliance matters, so she will also provide great support to the firm's Anti-Corruption and Compliance Department.

Horacio E. Beccar Varela, managing partner of Beccar Varela, said he was very pleased with the new appointment: "Dorothea is very talented; her valuable experience in international affairs will undoubtedly enrich our practice." Miguel C. Remmer, head of the firm's German Desk, stated, "Adding Dorothea to the team represents a huge added value for our German-speaking clients, as well as a very interesting opportunity." Dorothea said she wanted to be part of the Beccar Varela team because "it is not only a firm with outstanding professional excellence but also very innovative, that fosters key issues for Argentina and the world such as sustainable investments, entrepreneurship and ethical business."

Dorothea Garff obtained her Law degree from the Universität zu Köln (Cologne, Germany). The Supreme Court of Düsseldorf issued her title (1999) and she revalidated her title in Argentina at the Universidad de Buenos Aires (2002). She obtained her Certification in Compliance from the Asociación Argentina de Ética y Compliance (AAEC/UCEMA), a diploma recognized by the International Federation of Compliance Associations (IFCA, 2016).