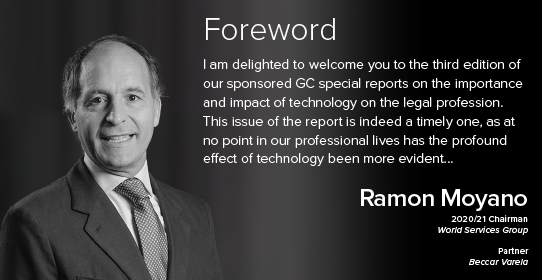 GC: In-House Technology - Asia Pacific Edition
Here at World Services Group, it is our pleasure to introduce you to the third in our series of GC special reports examining the present state of technology use by in-house legal departments around the globe... More >

---
---
World Services Group Sponsored GC Magazine Survey Results Show General Counsel Leaders in Asia Pacific are Positive About Disruptive Technology in the Legal Sector
Houston, TX (December, 2020)
World Services Group (WSG), in partnership with GC Magazine, recently published survey results that provide key insights on legal sector technologies, and how in-house counsel departments are adapting and pivoting in these ever-changing times.
More than 100 General Counsel leaders from across Asia Pacific participated in the extensive survey, which also included in-depth interviews with select general counsel and recognized thought leaders from the sector. The detailed results and featured articles can be found in this latest special report, GC: In-House Technology in Asia Pacific, the third special edition in a series in partnership with WSG focused on technology for in-house legal departments globally.
"WSG is proud to partner with GC Magazine on this important Asia Pacific survey and report. These critical initiatives allow direct engagement with thought leaders from across the legal world to bring important focus to the impact technology has within the legal profession, and in these times, a better look at the effect technology is having in supporting ongoing virtual business today and in the future. It is clear that investments in technology, talent and corporate sustainability best practices will remain at the core of the continuing growth of the industry, a focus that is also at the foundation of WSG," stated Ramon Moyano, WSG Chairman and Partner at Beccar Varela.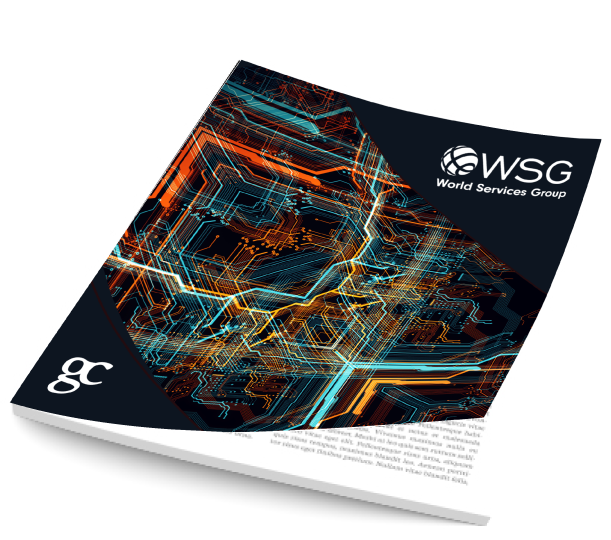 ---
Survey Highlights:
How has technology has been disruptive in the legal industry over the past five years and will it continue?
45% stated that it has been a moderate to great disruptor, and 88% felt this would continue to be the case in the next five years.
Has the use of technology within the legal team increased over the past five years and to what level is it changing the industry?
68% said that it had increased significantly over the past five years. 73% said they would like to step up their use of technology.
87% felt it had already done so to at least some extent. 95% said legal technology would change the industry in the coming years, with 33% stating that the change would be significant.
With the on-going COVID-19 pandemic and shift to working remotely, respondents provided feedback and insights on this change and how their teams and businesses have been impacted.
73% had experienced some level of disruption during this time but, many felt adapting to different ways of working has been positive and many businesses still function as normal.
27% felt their efficiency had improved and 24% said their output had in fact increased.
73% expect remote working to increase over the coming months.
31% were happier with their current out of office setup.
What extent COVID-19 has impacted the output of legal teams?
41% - Moderate
32% - Small
18% - Great
9% - No impact at all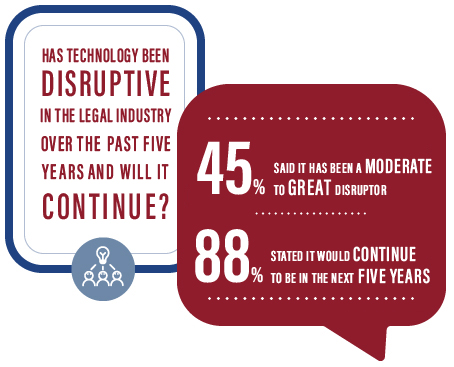 Positive feedback on remote working was high with increased employee happiness, increased efficiency, and remote teams more flexible/adaptive, to name a few. Negative feedback provided included a lack of continuity between work and home workspaces and some stated decreased productivity, along with lack of oversight over employees.

Has your company changed its investment priorities in response to COVID-19?
50% - No Change
41% - Yes
9% - Unsure
In what way has your company changed its priorities on investment in technology in response to COVID-19?
30% - The pace of digital transformation across the business has accelerated
30% - Remote working capabilities enhanced
20% - The legal team has increased its investment in technology
20% - The legal team is receiving more training and support around IT
---
Additional Survey Highlights:
What types of technology solutions are legal teams using?
48% use bespoke third-party software, 35% use ready-made third-party software and 4% create their own in-house software applications. By far the most common use of legal technology, shared by nearly a third (32%) of teams, was contract management. Respondents were also likely to use technology to manage relationships with their external firms (17%) or handle invoicing (14%). Size wise, companies employing more than 50,000 people and with legal teams with over 100 staff were no more likely to use advanced legal tech than small to medium-sized organizations.
Are companies supportive of the use of legal technology what are any barriers?
81% of respondents said their companies were supportive of the use of technology and 67% thought their companies were more supportive than their rivals. 45% said insufficient budget and 73% were unsure of what technology was available or feeling that there was no suitable third-party tech to meet the legal team's needs. Wish lists for new technology included a simple efficiency boost (38%); readily customizable software (24%); Value for money (15%) and ease of use (10%).
How is your relationship with your external law firm partners and what would you like to have?
94% of respondents said it was important for law firms to keep up with new technologies but 78% said they are not satisfied with the use of technology demonstrated by their external law firms.
62% said their external firms were using technology to deliver legal services and 23% said their firms had offered to share information on how technology might benefit their legal team's operations.
59% said they had started assessing their firms' use of technology as part of their formal panel review process.

Is artificial Intelligence (AI) gaining traction with Asia Pacific's GC community?
23% said they were using an advanced tech solution in their legal team, but with many deterred by concerns over the cost and reliability of the such systems (29%), difficulties finding the right software (20%) and their own lack of product knowledge (21%).
How closely are legal teams involved in the organization's cybersecurity efforts?
69% stated a moderate to great extent.
The largest cyber threats to their organizations stated were: 36% theft of confidential business information; 32% damage to company infrastructure, 19% disruption in service to customers, and 13% theft of employee/customer personal data.
For further results of the study and to access the full digital special report, visit GC Magazine's website here.
---
About World Services Group
World Services Group (WSG) is the leading global network comprised of elite top ranked global practice firms. With over 120 member firms in 150 jurisdictions and 23,000 individual members, WSG provides a proprietary platform for members to create relationships, expertise, and new business opportunities to better serve their practice and clients. Through innovation, cutting-edge technology and best in class service, WSG continues to grow and expand globally as the premier network for clients. For additional information, visit www.worldservicesgroup.com.
Media Contact
Carly Norausky
World Services Group
713-650-0333
[email protected]