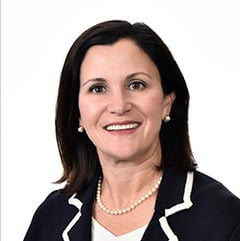 Anne Marie Ellis
Shareholder

Practice Expertise
Products Liability Law
Litigation
Areas of Practice
Litigation
Products Liability Law
ADA Title III
Environmental Law Practice
Profile
Anne Marie Ellis is the California Chair of Buchalter's Products Liability practice group. Her practice focuses on product liability defense, general liability, personal injury litigation, commercial litigation, premises liability, regulatory compliance and client counseling. Clients appreciate her practical, cost efficient and results-oriented approach to handling complex issues. She has helped clients including manufacturers, retailers, distributors, importers and franchisors across a variety of industries including motor vehicles, motorcycles, food and cosmetics, jewelry, clothing, off-road vehicles, sporting goods, power tools, exercise equipment, large scale wildland fires, restaurants, trash and recycling haulers and amusement park venues.
Understanding that litigation is not the only problem plaguing companies, Ms. Ellis also provides advice and counsel to clients dealing with complex regulatory schemes such as the U.S. Food & Drug Administration, Consumer Product Safety Commission and California's Proposition 65. Anne Marie has been recognized as a thought leader on Prop. 65, and frequently publishes and speaks about defense related issues. Ms. Ellis has been successful in helping clients fight back against Consumer Legal Remedies Act, false advertising and unfair business practices shakedown suits. Anne Marie routinely defends lawsuits and claims involving Title III of the Americans with Disability Act, and corresponding California statutes including the Unruh Civil Rights Act for brick and mortar stores and website accessibility.
With extensive experience in complex litigation, Ms. Ellis has effectively defended cases of all sizes in state and federal courts across the country, including catastrophic personal injury, wrongful death/survival lawsuits and class actions, and has played a key role in all phases of litigation and trial. She is also well versed on a wide-range of discovery issues and procedures including handling of e-discovery and trade secrets.
Anne Marie brings her litigation and regulatory experience to a variety of industry groups, including the Hockey Equipment Certification Council Inc. which is a 501(c)(3) non-profit organization that seeks out, evaluates and selects standards and testing procedures for hockey equipment.
Professional Involvement
Member, International Consumer Product Health and Safety Organization ("ICPHSO") which is an international, neutral forum for product safety stakeholders to learn, network and share information.
Sustaining member, PLAC (Product Liability Advisory Council), a prestigious trade association at the forefront of helping product manufacturers, retailers and suppliers stay abreast of legal and regulatory issues.
Member, SFIA (Sports and Fitness Industry Association) Legal Task Force.
Bar Admissions

Education

Seton Hall University School of Law
University of California, Berkeley
Areas of Practice
Environmental Law Practice
Professional Career
Significant Accomplishments
Secured dismissal of a putative class action in the U.S. District Court for the Central District of California, in a case alleging that USA Football and others were liable for decedent's concussions incurred while playing youth football.  The Court granted Buchalter's client, USA Football's Motion to Dismiss for Lack of Subject Matter Jurisdiction based on Lack of Article III Standing and Failure to State a Claim.
Secured Summary Judgment and a full dismissal for our client, a national hardware store chain, in an ADA disability access lawsuit brought in the Central District of California before Judge Cormac J. Carney. The Motion for Summary Judgment was granted on the grounds that Plaintiff lacked standing to sue because the conditions complained of complied with all applicable federal regulations for disability access. This victory came after months of back-and-forth with a Plaintiff's counsel that consistently shifted the grounds on which the lawsuit was brought, and was granted over the Plaintiff's request to amend the complaint to raise new allegations.
Obtained summary judgment on behalf of contract manufacturers and retailers of personal care products in a Proposition 65 lawsuit, on the grounds that the Certificate of Merit was defective due to the product being tested, purchased and sold outside the state of California where Prop. 65 does not apply.
Secured dismissal of action alleging negligent design, negligent failure to warn, strict liability manufacturing defect, design defect, strict liability failure to warn, negligence, and gross negligence in the California Superior Court for the County of Orange on a Motion to Dismiss based on Forum Non Conveniens.
Obtained summary adjudication on a negligent infliction of emotional distress claim in a product liability/personal injury action.
Secured dismissal of action alleging violations of the Unruh Civil Rights Act, the Bane Act, the Disabled Persons Act, and intentional infliction of emotional distress in the California Superior Court for the County of Orange on a Motion for Summary Judgment.
Articles
Additional Articles
Online Only Retailers Have a New Defense Against Website Accessibility Claims in California
What Calif. Personal Injury Law Change Means For Defendant
Mid-Year Check-Up: California's Prop 65 Continues To Evolve and Pose Burdens on Businesses
NHTSA Rule Offers Hope, Caveats For Replica Vehicle Makers
Major Changes Coming to Prop 65 "Short-Form" Warnings
Why Proposition 65 has a disproportionate effect on arts and crafts
The Cannabis Industry is Ripe for Enforcement
Bracing for Increased Cannabis Enforcement Under Prop 65
Federal Court Prohibits Prop 65 Warning on Glyphosate-based Herbicides
Accelerating Regulatory Reform For Replica Vehicles
The Marijuana Industry is Ripe for Enforcement Under Prop. 65
Prop. 65 Filings Are Not Slowing Down Despite The Pandemic
Prepare For Personal Injury Litigation In The Age Of COVID-19
Buchalter Client Alert COVID-19: California Local Court Orders Regarding Closure
Prop 65 Chemical Labeling Litigation: Trends And Predictions
Updates on California's Proposition 65 for 2020
Prop. 65 updates for the summer!
Proposition 65 Updates: A Sampling Of Notices Of Violation Filed in 2019, A Cautionary Tale For Environmental Warnings, and Meeting The February 28th Deadline
Have a holly, jolly and Prop. 65 compliant Christmas!
Prop 65 Compliance Gets More Complicated
Environmental Health News: New Proposition 65 Rules Are Now In Effect
PROP 65 UPDATE: Where the Chips are Falling Six Weeks Later
What's Next for Prop. 65?
Trends Since the New Prop 65 Requirements Went Into Effect
A Primer on the New Requirements of Proposition 65
Questions of Impartiality Result in a Finding of Violation of Due Process for Zen Magnets
A Brief Guide to the Replica Motor Vehicle Exemption to Federal Safety Standards in the Face of Implementation Delays
Youth Football Bans are Decreasing in Interest
Changes For Youth Football In California And Beyond
New Calif. Law Will Change Youth Sports Concussion Cases
Don't Eat That, It's Expired! — Grocery Industry Adopts Standards For "Best if Used By" Labeling
Meet our Firms and Professionals
WSG's member firms include legal, investment banking and accounting experts across industries and on a global scale. We invite you to meet our member firms and professionals.