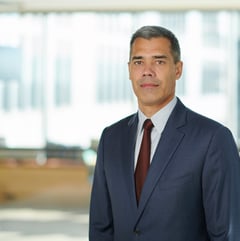 Practice Expertise
Intellectual property
Litigation and disputes
Areas of Practice
Intellectual property
Litigation and disputes
Media, entertainment, sport and leisure
Profile
My work also involves handling matters involving privacy; biotech and computer technology; copy clearance and Australian Consumer Law disputes; and trademarks, including portfolio management and enforcement.
My approach is collaborative and considered – I always aim to create a cohesive team with my clients, focusing on practical solutions and cost-effective outcomes.
Career highlights
Appeared in recent test cases in the Federal Court of Australia, aiming to block internet pirate websites
Represented a number of industries – including subscription television, free-to-air television, online radio, internet video on demand and digital download services – in negotiations and disputes with collecting societies
Successfully acted for various organisations, including pharmaceutical and telecommunications companies, in misleading and deceptive conduct disputes in the Federal Court of Australia
Managed a number of significant global trademark portfolios, including acquiring and protecting trademark rights in Australia
Provided pro bono assistance to a number of organisations, including referrals from the Arts Law Centre of Australia
Member of the Law Council of Australia's Intellectual Property Committee
Awards
Who's Who Legal, Leading Individual 2019, Life Sciences
Education
LLM, LLB (Hons), BSc (Hons)
Areas of Practice
Media, entertainment, sport and leisure
Articles
Additional Articles
Site-blocking legislation receives go ahead from Senate Committee and House of Representatives

Decrypting the decryption Bill


Following a short period of public consultation, the Telecommunications and Other Amendments (Assistance and Access) Bill 2018 (Cth) (Bill) has been introduced into Parliament. Despite the extensive public concerns raised with the Exposure Draft version, only a small number of amendments have been made to the Bill.




Batten down the hatches Government releases its proposals to address online piracy

Manners maketh the copyright infringer: Court awards $60,000 'additional damages' for defendants' behaviour in copyright case

The antipiracy code
Online infringers will soon receive a series of notices from their ISP under the proposed Copyright Notice Scheme 2015> (the Code).
CCA changes: repeal of IP exemption and new small business powers


A new bill passed on 18 February 2019 amends the Competition and Consumer Act 2010 (Cth) by repealing the historic IP licensing exemption. It also facilitates small businesses pursuing private litigation against anti-competitive conduct under the CCA.

Cooking your own Goose

Rights holders fire first shots under blocking legislation - anti-piracy update
In what has been an eventful few weeks on the copyright high seas, after some set backs, rights holders commenced actions in the Federal Court to block a number of websites that they allege have the 'primary purpose' of infringing copyright. We've set out below a round up of these recent events.
Draft health privacy resources released for consultation

Builders crack? Website blocking legislation invoked

Geographical connotations: When a building name can be trade marked

What happens when a manufacturer deliberately 'bricks' a product you've bought?

Australian content in focus


Heightened competition between traditional Australian based media organisations and international players shines a light on the need for a modern legal framework to ensure Australian businesses can thrive in the digital media landscape.

Signing your likes away: can a contract create social media obligations?

Patent licences - some guidance from the courts

Federal Court rejects business method patents

The tangled web we weave: a short history of internet law in verse

Still trying to work out if the GDPR applies to your organisation in Australia?


The European General Data Protection Regulation (GDPR) sets a 'gold standard' for privacy laws globally and provides an indication of the type of higher data protection standards that countries will adopt in the future – particularly if they must meet the GDPR's adequacy test for the transfer of personal information from the European Union (EU) to that country.

Court sees folly in 'copying' claim html

ACCC appeals: the dispute with Medibank continues


The ACCC has appealed the decision of the Federal Court in proceedings commenced by the ACCC against Medibank Private Limited in relation to its communications (or failure to communicate) with its members.

All that glitters is not protected by copyright
A recent court decision reminds us that contractors who are engaged to perform work that may involve generation of copyright will own that copyright in the absence of an agreement assigning it.
Federal Court raises more hurdles for Dallas Buyers Club's pursuit of alleged infringers

A new hope for shoppers

Should you get bent out of shape pursuing trade mark registration for a shape?

Knocking out piracy
Recent cases show media companies are working on ways to better protect their digital content and in the process, are reshaping Australian copyright infringement laws for the digital age.
Google held to be a publisher of defamatory Autocomplete and Related Search terms

COVID-19: Navigating privacy laws in the workplace


Organisations need to consider privacy laws in deciding how to respond to COVID-19 in the workplace. This applies to taking employees' temperatures and notifying others when an employee is diagnosed as having COVID 19 or may potentially have the disease. We consider the privacy laws for private sector organisations in NSW and Victoria. (Similar considerations will likely apply in other states and territories.)

Autocomplete suggestions: Did you mean 'copyright infringement'?
The rise of the internet brings with it new ways of infringing the law and poses challenges to those defending their intellectual property rights. A recent High Court case may have relevant implications for copyright infringement actions.

Exclusive patent licences and standing to sue – a green light for commercial 'work arounds'

No early Christmas present for Dallas Buyers Club - Federal Court dismisses request for alleged infringers' details

Is 'reproduction' for copyright infringement a chicken & egg debate?

It's official - OAIC takes metadata personally

It's not just hackers that cause large scale data breaches: 'contractor error' leads to personal details of millions of Americans being exposed online

Insights from the OAIC's draft mandatory data breach notification resources released for comment

Metatags, meta-problems

Non-fungible tokens and digital assets – what's the deal?


The art world is abuzz as a bizarre and potentially lucrative new market has emerged for digital artists known as non-fungible tokens (or NFTs). People operating in the digital marketplace need to understand the rights attached to NFTs so that they can trade with confidence.

Two privacy regulators, one investigation: Ashely Madison operator found to have breached its data security obligations in Australia and Canada

The sung sound of a song: copyright is in the air


A recent case around Australian pop classic, 'Love is in the Air' has added a layer of complexity to copyright considerations in songs. Two species of copyright work comprised in a song – musical and literary – are no longer strictly separate.

Service providers to be guided into the safe harbour: Copyright Amendment (Service Providers) Bill 2017 (Cth)
After intense lobbying from various parties on both sides of the debate, additional service providers are on the verge of being welcomed into the copyright safe harbours.
Federal Court confirms that isolated genetic material is patent-eligible

Even more about metadata - funding for the metadata retention scheme

Classify this First tranche of classification law reforms introduced into Parliament

US judge rules no copyright in Happy Birthday To You

Mandatory data breach notification laws (finally) on their way

Dealing with overseas companies

Australia's evolving privacy regime


Recent significant changes in Australia's privacy and data protection regime, bring our legislation more in line with international standards. As a result, many Australian agencies and organisations are now subject to new compliance obligations under the notifiable data breaches (NDB) scheme and increased scrutiny.

Yellow appeal

When IT hurts, it hurts: cyber attacks, negative brand perception and reputational damage

Site-blocking provisions will be expanded in Australia
Recent amendments to the site-blocking provisions of the Copyright Act 1968 (Cth) will broaden the scope of Australia's site-blocking regime.
When mi casa is not su casa - Queensland Supreme Court orders creative remedies for copyright infringement of architectural drawings

When IT hurts it hurts cyber attacks business interruption and loss of intellectual property

Copyright: 18 months of developments and decisions
It's been an active and interesting 18 months in the ever-changing Australian copyright sphere. From copyright reform to copyright in compilations, from the dangers of litigation to the unlicensed use of stock photography, we've collated a summary of the more significant developments over that period which may be helpful or instructive when similar issues arise.
Oops you've had a privacy breach. Now what?


The Notifiable Data Breach scheme is now in full force. But not all privacy breaches need to be reported and not all privacy breaches are data security breaches.

Trade mark ownership: the Insight scoop to avoid refusal
The recent Full Federal Court decision of Pham Global Pty Ltd v Insight Clinical Imaging Pty Ltd highlights the danger of filing a trade mark application in the wrong name.
THANKS but NO THANKS

ALRC releases Final Report on Serious Invasions of Privacy in the Digital Era

IP v IP: Liquidators in the Patent Office and when the clawback provisions can work


A decision by the Patent Office offers lessons for liquidators attempting to recover intellectual property

ALRC releases issues paper on copyright and the digital economy

A tale of two countries - Ashley Madison and the Australian Privacy Commissioner

Privacy regulatory action policy

To pay, or not to pay? When ransomware attacks


If your organisation finds itself in the unfortunate position of being subject to a ransomware attack, will you pay to get your data back?

Privacy and spam breaches now more costly

In who do we trust? How we are all, as individuals, central to the privacy and security of our personal information

Looking back at 2016 – Privacy Recap

A new right - the Consumer Data Right and framework unpacked


The proposed legislative framework for the Consumer Data Right (CDR), including its interaction with existing privacy laws, can be difficult to follow. In this article, we explain how the proposed framework has developed, some of the key concepts, including the roles of the key participants and obligations and what to expect next.

The 'Modernising Television Regulation in Australia' Green Paper


In response to the 2019 Digital Platform Inquiry, the Australian Government has committed to a process of media reform and, as part of this process, has recently released the Media Reform Green Paper: Modernising Television Regulation in Australia. We provide a high-level summary of the Green Paper.

The fight for academic integrity: first site-blocking orders issued under TEQSA Act


The reach of Australia's site-blocking regime continues to grow, with academic cheating services the current target.

The unhappy herb company
Against a background of widespread copying and communicating of copyright-protected images on the internet, this decision signals that courts expect parties to negotiate an appropriate licence fee once put on notice of copyright and, even if the infringing party otherwise acts as a model defendant, additional damages may be awarded simply to warn others against irresponsible practices.
Exclusive patent licence – it is all or nothing

Fearless Girl keeps standing in Australia


The Full Court of the Federal Court of Australia has handed down a judgment in the protracted dispute between State Street Global Advisors and Maurice Blackburn in relation to the use of a replica of the iconic statue, Fearless Girl.

Whiskey, websites, bottles and blocks - 12 months in trade mark and copyright law

Release of the Privacy Act Review Issues Paper


On 30 October 2020, the Attorney-General's Department published the Privacy Act Review Issues Paper, which outlines issues at the heart of the current privacy regime in Australia. We discuss the key considerations included in the broad-ranging review that privacy experts will need to be aware of.

These toys have eyes (and ears too): VTech security breach raises 'Internet of Things' privacy fears


The hack of toy manufacturer VTech's computer systems, which was disclosed by the company in November last year, has highlighted various privacy concerns with, and vulnerabilities of, the Internet of Things (IoT) phenomenon.

First steps down the plank: new Australian copyright provisions successfully used to block pirate sites

When IT hurts, it hurts: cyber attacks and regulatory action
Why regulatory issues should be front of mind for Australian organisations should they have the misfortune of suffering a serious cyber breach.
US Supreme Court finds naturally occurring DNA sequences are not patent eligible

ECJ safe harbor privacy decision: Impacts on transfers to and from the US and Australia

Meet our Firms and Professionals
WSG's member firms include legal, investment banking and accounting experts across industries and on a global scale. We invite you to meet our member firms and professionals.