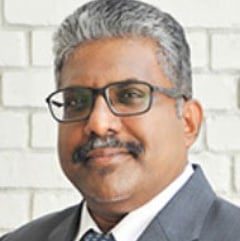 Rajasingam Gothandapani
Partner

Practice Expertise
Arbitration & Mediation
Dispute Resolution
Energy, Natural Resources & Green Technology
Environmental
Areas of Practice
Arbitration & Mediation
Dispute Resolution
Energy, Natural Resources & Green Technology
Environmental
India Desk
Investigation & Crisis Management
Shipping & Maritime
View More
Profile
Rajasingam graduated with First Class Honours from the International Islamic University in 1995 where he emerged as its Top Law Graduate and was awarded the Royal Gold Medal for Excellence by the Conference of Malay Rulers.
In University he successfully represented Malaysia and his alma mater twice in the International Rounds of the Philip C. Jessup International Law Moot Court Competition held in Philadelphia (1994) and in New York (1995), winning a number of awards.
He was called to Bar on 24.5.1996 and commenced legal practice began as a junior associate in the Firm's Dispute Resolution wing.
In his first year at the Bar he was awarded the British High Commissioner's Chevening Scholarship to pursue his Masters of Law (LL.M) in University of Cambridge, UK. On his arrival at the University he was awarded a second scholarship from the Cambridge Commonwealth Trust Society.
On obtaining LL.M (Cantab) he rejoined the Firm as one of its litigators. He was invited into full Partnership in 2003.
Rajasingam's shipping and maritime practice encompasses a comprehensive range of contentious (litigation and arbitration) and transactional matters on which he regularly advises a wide range of Malaysian and international maritime clients. He has continuously served on the Bar Council's Sub Committee for Shipping and Admiralty Law Committee.
He has practical knowledge and experience in environmental matters, regulatory compliance, environmental audits, tortious liability issues as well as Energy, Natural Resources and Green Technology related matters.
In relation to Compulsory Land Acquisition matters, Rajasingam undertakes Land Reference hearings, judicial reviews and appeals at all level of the Courts under the Land Acquisition Act 1960. He also appears before the State Appeal Boards in planning permission hearings and appeals under the various town and country planning legislation.
Rajasingam frequently advises on issues relating to anti-money laundering, anti-corruption, breach of trust, and securities legislation as well as represent clients in proceedings brought by the Public Prosecutor and the Securities Commission.
Rajasingam also advises on aboriginal / native customary rights and law in West Malaysia which of recent have come into conflict with rights alienated under the National Land Code 1960.
Bar Admissions
Malaysia (1996)
Education
► LL. B (Hons, 1st Class), International Islamic University of Malaysia (IIUM)
► LL.M (Hons, 2nd Class Upper) University of Cambridge (UK)
► M.A, University of Cambridge (UK)
► Fellow of the Chartered Institute of Arbitrators (CIArb)
► Advocate & Solicitor, High Court of Malaya
Areas of Practice
Arbitration & Mediation
Dispute Resolution
Energy, Natural Resources & Green Technology
Environmental
India Desk
Investigation & Crisis Management
Professional Career
Significant Accomplishments
► King's Gold Medalist (Best Law Graduate
► The Chevening (UK) Scholar
► The Cambridge Commonwealth Trust (UK) Scholar
► Asia Business Law Journal (2019 and 2020) - one of Malaysia's Top 100 Lawyers
► Asialaw Leading Lawyers (2014) - "Leading Lawyer" in Shipping, Maritime and Aviation
► Asialaw Profiles (2014 - 2016) - "Recommended Individual" in Shipping
► Asialaw Leading Lawyers (2015, 2016 - 2019) - "Leading Lawyer" in Dispute Resolution and Litigation, Energy & Natural Resources
► Asialaw Leading Lawyers (2020 and 2021) - "Distinguished Practitioner" in Shipping
► Chambers Asia-Pacific (2010 - 2021) - "Band 2" in Shippinp
► Expert Guides (2017 - 2019) - "Leading Practitioner" in Shipping
► IFLR1000 (2014 - 2017) - "Leading Lawyer" in Energy: Project Development
► IFLR1000 (2018 - 2021) - "Highly Regarded Lawyer" in Energy and Infrastructure and Project Development
► International Law Office: Client Choice Awards (2019) - Individual Winner for Litigation for Malaysia Jurisdiction
Professional Associations
► Member, Malaysian Bar
► Fellow, Chartered Institute of Arbitrators (CIArb)
► Member, International Bar Association (IBA)
► Member, London Court of International Arbitration
► Legal Advisor, Pure Life Society Malaysia
Professional Activities and Experience
► SHIPPING AND MARITIME
● Acted for one of the largest carrier in the world in a bunker dispute.
● Advised on agreements relating to construction and completion of a maritime port in Sarawak.
► INTERNATIONAL ARBITRATION
● Appeared as co-counsel with an English Silk (lead counsel) in an international arbitration in Paris, France involving a luxury yacht.
► LAND AND COMPULSORY ACQUISITION
● Advised State Authority and private entities on compulsory land acquisition.
● Judicially reviewed compulsory land acquisitions.
► CRIME
● Successfully acquitted a client charged under the Anti-Trafficking in Persons and Anti-Smuggling of Migrants Act 2007.
● Represented a large media/ advertising agency in resisting forfeiture of assets proceedings under the Anti Money Laundering and Anti-Terrorism Financing and Proceeds of Unlawful Activities Act 2001.
● Defended employers-clients in prosecution by the Department of Occupational Safety and Health for alleged offences under the Occupational Safety and Health Act 1994 and its regulations.
► ENVIRONMENT
● Represented clients against strict liability offences under the Environmental Quality Act 1974.
● Advised international funds on civil and criminal liability for oil spills and oil pollution.
Articles
Additional Articles
Articles & Publications:
► Has contributed many articles in the International Law Office's Legal Newsletter on Shipping and Transport including the following:
● Specialised Admiralty Court in the Making
● Government Reviews National Cabotage Policy
● Arresting Ships in Malaysian Waters to Secure a Claim in Arbitration
● Ownership, Registration, Transfer and Mortgage of Malaysian-Flagged Ships
● Actions In Rem: Practice and Procedure
● Act Amended to Allow Ship Arrest to Secure a Claim in Arbitration
● Proposed Arbitration Act Amendments on Ship Arrest
● Foreign Crew: Recognition of Competency Certificates
● New Admiralty Court Established for Resolution of Admiralty and Maritime Disputes
● Domestic Shipping Licence and Foreign Ship Managers
● Pre-empting Arrest: When Ship Owners Resort to Lodging a Caveat Against Arrest.
Meet our Firms and Professionals
WSG's member firms include legal, investment banking and accounting experts across industries and on a global scale. We invite you to meet our member firms and professionals.