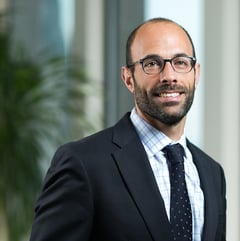 Practice Expertise
Real Estate, Development and Finance
Acquisitions and Dispositions
Leasing
Areas of Practice
Acquisitions and Dispositions
Leasing
Real Estate, Development and Finance
Real Estate Affordable Housing
Real Estate Life Sciences and Health Care
Real Estate Sustainability
View More
Profile
Anthony's practice focuses on commercial real estate transactions.
Anthony is a member of the firm's capital finance and real estate team. His practice focuses on commercial real estate transactions, including acquisitions, development, financing, leasing and joint ventures. He has extensive experience counseling institutional investors and lenders, real estate opportunity funds and private developers on all aspects of their real estate-related business.
Relevant Experience
Represented Hospitality Properties Trust with its $2.4 billion acquisition of a net lease service retail portfolio from Spirit MTA REIT. The portfolio consisted of 772 service and necessity-based, single-tenant, triple-net leased properties. The deal was structured as an acquisition of 100% of the equity in the five property-owner entities owning 769 of the properties with a simultaneous acquisition of the real estate for three remaining properties.
Represented Service Properties Trust (formerly Hospitality Properties Trust) in connection with its $438 million disposition of 126 properties located in 26 states across the country. The properties were recently acquired by Service Properties Trust as part of their acquisition of a 772-property portfolio from Spirit MTA REIT.
Advised RBH Group as the sponsor on the formation and structuring of an Opportunity Zone investment platform, including negotiation and drafting of documents for co-GP relationship and LP investment documents. The platform is set up to invest in and develop projects in Opportunity Zones located in several states, with both institutional and family offices as the LP investors.
Represented Hudson Acquisitions and Poet Advisors in making a $46 million qualified opportunity zone equity investment with Hampshire Properties to acquire a development parcel located in Brooklyn, New York, in connection with a large scale $500 million office development.
Represented Youngwoo & Associates, LLC in connection with obtaining a $33 million preferred equity investment for the financing of their 22-story ground-up mixed-use development at on Amsterdam Avenue in New York City. The project contemplates construction of approximately 287,529 gross buildable square feet which will consist of an office and retail component totaling approximately 159,815 above-grade leasable square feet, together with a sub-level parking podium containing approximately 169 parking spaces, and a hotel component housing an upscale 221-key lifestyle hotel.
Represented a prominent New York real estate developer in connection with ground leasing an assembly of buildings located at 155 Washington Street in downtown Newark from Rutgers University. The project contemplates an adaptive re-development of the site as a mixed-use project comprised of 253 residential units and retail space as well as an admissions office to be leased back by Rutgers University.
Represented Savanna in connection with the $120 million sale of an office building located at 95 Evergreen in Bushwick, Brooklyn. The sale was executed through the exercise of Savanna's option to purchase the building in its capacity as the tenant under a ground lease. The building includes 5 stories with 158,000 square feet of space.
Represented Cove Property Group in connection with the leasing of 100,638 rentable square feet as well as 312,000 rentable square feet of office space at Hudson Commons, a 28-story creatively repositioned office tower located in Manhattan. These will serve as the anchor leases at the 700,000 square foot redevelopment project.
Represented a prominent New York investor in making a preferred equity investment with a New York developer to acquire multifamily assets in the New York metropolitan area. The investment is structured as a programmatic joint venture that allows the developer to aggregate a portfolio of assets for sale to an institutional investor.
Represented a prominent New York developer in its strategic joint venture with another prominent New York developer to acquire an existing historic building in upper Manhattan from a non-profit organization. The project will be redeveloped and repurposed as a mixed-use development, including a high-rise residential tower.
Represented Aria Development Group in making a preferred equity investment with The Bernstein Companies to acquire a vacant office building located in Hyattsville, Maryland to be converted to multifamily apartments.Represented Pebblebrook Hotel Trust in its dissolution of a partnership with Denihan Hospitality Group in the ownership of six Manhattan hotels.
Represented L+M and Savanna in the $315 million sale of Savoy Park Apartments to Fairstead Capital.
Represented World Wide Group in the $70 million acquisition and related financing of 42-15 Crescent Street, Long Island City, Queens, New York. During the contract period, the 124-unit rental property near Queens Plaza South was under redevelopment by the seller, being converted from an office building.
Represented World Wide Group in the $103.5 million acquisition of 110 Green Street, Brooklyn, New York, a 130-unit rental property located in the Greenpoint neighborhood of Brooklyn. The transaction represents the first residential sale in excess of $100 million in the neighborhood. The firm also represented World Wide Group on the $50 million acquisition loan for this project.
Represented World Wide Group in the $165 million permanent refinancing of QLIC, a 421 residential rental property in Long Island City, with a CMBS loan from Natixis Real Estate Capital.
Represented Savanna in connection with the $48 million acquisition of a commercial building located at 1825 Park Avenue in the Harlem neighborhood of New York City. The office and retail building is 12 stories with 135,000 square feet of space and is located in Harlem's 125th Street corridor.
Represented one of New York's most active developers on multitude of acquisitions and financings of class "A" retail, multifamily and office properties with prime urban locations in New York, Chicago and Miami
Represented private real estate investment company on several acquisitions and financings of student housing properties located throughout the United States
Represented Rockrose Development in the leasing of its New York office and retail portfolio.
Represented a global private equity firm in the expansion of its Manhattan office from approximately 22,000 square feet to approximately 50,000 square feet and an extension of its lease term until 2028.
Represented a New York developer in the leasing of their NoLita store to a luxury retailer.
Bar Admissions

Education
BA, Columbia University, History, 2000
Areas of Practice
Acquisitions and Dispositions
Leasing
Real Estate, Development and Finance
Real Estate Affordable Housing
Real Estate Life Sciences and Health Care
Real Estate Sustainability