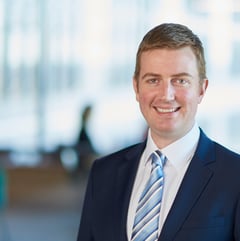 Practice Expertise
Areas of Practice
Profile
My focus is on providing practical solutions to contracting challenges, using my global experience to bring valuable insights to different projects.
I am also known for advising on the ICT aspects of major M&A and asset recycling transactions, and have helped many clients manage the ICT risks arising from these deals.
Career highlights
NSW Government – advised on the competitive tender process to award the next licence to operate the centralised monitoring system for electronic gaming machines in NSW
NSW Government – negotiated funding arrangements with three major telecommunications companies to extend mobile coverage in key black spots in regional NSW
Ausgrid – advised on the NSW Government's retail electricity disposal project and associated transitional arrangements
Advised a major financial institution on data centre consolidation and outsourcing arrangements across 10 jurisdictions in Asia
Negotiated a managed private cloud outsourcing transaction for a major global insurer, for use across its business in Europe, the Middle East and Africa
Helped several major clients with global IT infrastructure outsourcing transactions
Advised state governments on ICT and business separation matters in relation to the long-term lease of five major Australian ports
Negotiated separation and transitional arrangements for the sale of Lloyds Banking Group's Australian lending business to Westpac Banking Corporation
Advised key clients on contractual arrangements with major ICT vendors such as DXC Technology, Fujitsu, IBM, Infosys, Microsoft, Oracle, SAP and Telstra, including on responses to software audits
Recognised for his expertise in Best Lawyers in Information Technology Law.

Publications
Borgese, A & Pascoe, N 2016, '

Australia: Outsourcing 2016

', in S Shooter & M Leach (eds.),

The International Comparative Legal Guide to: Outsourcing 2016

, 1st edn, Global Legal Group, London.
Education
BCOMM (UNIVERSITY OF NEW SOUTH WALES); LLB (UNIVERSITY OF NEW SOUTH WALES)
Articles
How to navigate the cloud services procurement process


Our experts explain how to overcome the challenges that may arise during cloud contract negotiations.

How to navigate ICT disputes


Our expert panel (Anne McDonald (TfNSW), Mandy Bancroft (ITNewcom) and MinterEllison's Jonathan Kelp and Alexander Horder) discusses some key issues to consider when managing ICT disputes.

Map to the future: Australian Government releases a roadmap for developing AI capability in Australia
The global race to in AI is underway. The Commonwealth Government has recently contributed to the discussion with the release of Australia's AI Roadmap. It promotes strategies designed to advance Australia's AI capability and realise AI's potential for boosting industry productivity, creating jobs and economic growth, and improving the quality of life for Australians.
SOCI Round 2 – law reform now enacted


The second tranche of the Security of Critical Infrastructure laws passed on 31 March 2022 and commenced on 2 April 2022. The Rules will shortly undergo final consultation. We outline the latest amendments and need for prompt compliance action.

COVID-19: Business continuity and software licensing risk


COVID-19 will test an organisation's business continuity and could potentially expose software licensing risks.

Australian legal insights into outsourcing
As outsourcing practices continue to transform business operations, particularly in the area of technology, IT Law partners Anthony Borgese and Nicholas Pascoe provide an overview of common legal issues in outsourcing in Australia.
Technology issues in M&As: how IT impacts deal value


Realising maximum value is critical to the success of an M&A transaction – but information technology (IT) is an often overlooked, yet critical aspect of such transactions.

Human Rights in a robot world: the promise and perils of new technologies
In its Human Rights and Technology Discussion Paper, the Australian Human Rights Commission has outlined a number of proposed reforms to protect and enhance human rights in the context of new technologies (including AI).
Beyond Asimov's Three Laws: A new ethical framework for AI developers
It's time for a discussion on the proposed Artificial Intelligence: Australia's Ethics Framework to inform the federal government's approach to AI ethics in Australia.
Meet our Firms and Professionals
WSG's member firms include legal, investment banking and accounting experts across industries and on a global scale. We invite you to meet our member firms and professionals.