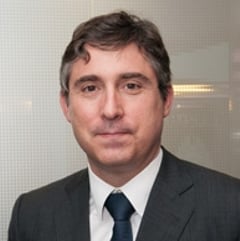 Sergio Sanchez Sole
Partner

Barcelona, Spain
Local Time: Thursday 13:41
Practice Expertise
Areas of Practice
WSG Practice Industries
WSG Leadership
Gaming/ Gambling Group - Group Leader
Mergers & Acquisitions Group - Group Leader
Private Equity Group - Member
Profile
Sergio Sánchez is a partner in the Corporate/Commercial Department at Garrigues, where he has pursued practically his entire professional career. He specializes in Mergers & Acquisitions and Private Equity. He has participated in several of the most significant M&A deals in Barcelona in recent years.
Sergio is in charge of several foreign desks at Garrigues, including, inter alia, the French, Scandinavian and Indian Desks.
In addition, he provides ongoing advice to franchising companies and has been a member of the Experts Committee of the Spanish Franchisors' Association. He also regularly advises companies in the online gaming industry.
Sergio is regularly ranked at the most prominent legal directories, Whoswholegal, IFLR1000, Best Lawyers and Chambers and Partners.
He is a member of the Barcelona Bar Association. He also belongs to the International Bar Association, has been Vice-Chair of the Corporate and M&A Law Committee and is currently a member of the LPD Council.
He is a part-time professor in the Corporate/Commercial Law Department at the Universitat Pompeu Fabra of Barcelona, where he teaches several subjects.
Sergio is a regular speaker in seminars and conferences organized by the firm and various specialist centers.
He has spoken in the following International Bar Association annual conferences :
Main features of modern auction processes (Washington, USA). 2016.
Anglo-Saxon legal concepts in civil law acquisition agreements: do they work? (Vienna, Austria). 2015.
Corporate governance: proxy advisers and executive compensation (Tokyo, Japan). 2014.
Corporate Governance (Boston, USA). 2013.
Negotiated M&A transactions: the complex, troubling provisions (Dublin, Ireland). 2012.
Dealing with stakeholders – from cradle to the grave (Dubai, UAE). 2011.
When M&A transactions go wrong: the resolution of disputes arising out of M&A transactions (Vancouver, Canada). 2010.
Common law clauses in civil law M&A agreements: do they work? Part II (Madrid). 2009.
Anglo-Saxon clauses in civil law corporate sale and purchase agreements: do they work? (Buenos Aires, Argentina). 2008.
Burdens, duties and obligations of shareholders in public and private companies (Singapore). 2007.
Mock company acquisition (Chicago, USA). 2006.
Running your first M&A transaction (Prague, Czech Republic). 2005.
Cross-border migration of the corporate domicile and changes of the legal form of business entities – more changes ahead (Auckland, New Zealand). 2004.
Current legal developments (San Francisco, USA). 2003.
Bar Admissions
Barcelona Bar Association.
International Bar Association.
Education

Degree in Law, Universidad de Barcelona (1987).
Sergio has also followed several legal studies in France (Faculté de Sciences Sociales -Toulouse- and Faculté Internationale de Droit Comparé -Strasbourg-) and United Kingdom (City of London Polytechnic).

Professional Career
Seminars/ Presentation
Lecturer, Commercial Law, Pompeu Fabra University, Barcelona
Articles
"El Contrato de Franquicia". With Almudena Ponce de León Cunyat and Olga Valle Zayas. In "La Franquicia". Thomson Reuters Aranzadi. (2015).
"El Arbitraje Estatutario". Economist & Jurist. Vol. 23. Number 194. (2015).
"Propuesta de Medidas Fiscales de Fomento de la Figura de los Business Angels en España". With Fernando Casanueva. Ministerio de Industria, Turismo y Comercio. Madrid, (2009).
"La Junta General. El Reglamento de la Junta General". With José Ramón Morales. In "La Sociedad Cotizada". Colección Garrigues. Marcial Pons. Madrid, (2006).
"La Violación de Normas como Acto de Competencia Desleal". Revista General de Derecho. 604-605. (1995).
"Consideraciones sobre el Artículo 15 de la Ley de Competencia Desleal". Boletín de Información Mercantil. Praxis Mercantil. (1992).
"Las Medidas Cautelares en la Ley General de Publicidad". Boletín de Información Mercantil. Praxis Mercantil. (1992).
"Comentario a la Ley sobre el Contrato de Agencia". Boletín de Información Mercantil. Praxis Mercantil. (1992).
"En Torno a la Prenda de Acciones". Boletín de Información Mercantil. Praxis Mercantil. (1991). Page 2 of 3 (2022).
"Distribución, Franquicia y Derecho de la Competencia". Boletín de Información Mercantil. Praxis Mercantil. (1991).
"El Contrato de Concesión Mercantil y el Derecho Comunitario de la Competencia". Boletín de Información Mercantil. Praxis Mercantil. (1989).
Meet our Firms and Professionals
WSG's member firms include legal, investment banking and accounting experts across industries and on a global scale. We invite you to meet our member firms and professionals.