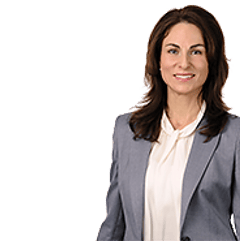 Zurich, Switzerland
Local Time: Thursday 13:09
Practice Expertise
Areas of Practice
Arbitration
Commercial Contracts
Corporate & Commercial
Energy & Infrastructure
Healthcare & Life Sciences
Industry & Commerce
Information Technology & Telecommunications
Mergers & Acquisitions
View More
Profile
Diana Akikol represents our clients in complex commercial arbitrations and regularly sits as an arbitrator, often as president. She has been involved in more than 65 arbitrations seated in a number of jurisdictions and involving claims governed by various national laws. Her expertise extends to both institutional arbitrations (e.g. Swiss Rules, ICC, LCIA and DIS Rules) and ad hoc arbitrations (including UNCITRAL proceedings).
Diana Akikol acts as counsel or arbitrator in all types of contractual and commercial disputes. Her practice has a particular focus on sales of goods, commodities and energy trading, M&A, shareholder agreements, joint ventures, agency, licence and distribution agreements (including in the pharmaceutical industry), as well as services and consultancy agreements (in particular in the industrial, military and telecommunications sectors).
Moreover, she has many years of experience in construction arbitration, with particular expertise in dealing with warranty claims relating to large infrastructure projects.
Ranked as a leader in her field, both in Europe and globally, Diana Akikol "impresses peers with her mastery of complex technical facts and very profound legal knowledge" (Who's Who Legal Arbitration 2019) and is described as "very quick in understanding and very dedicated" (Chambers Global 2020). She is recommended as "a very strong practitioner" (Who's Who Legal 2020 Switzerland Arbitration) and "a highly intelligent and accurate arbitrator" (Who's Who Legal Arbitration Future Leaders Partners 2018). In 2018, she was ranked second amongst the ten most highly regarded arbitration partners in Europe (Who's Who Legal: Future Leaders in Arbitration).
Diana Akikol serves as ICC Court member for Switzerland. She is also a member of the ICC Arbitration Commission, the Arbitration Commission of ICC Switzerland, the Board of the Swiss Arbitration Association (ASA), a Court member of the Swiss Arbitration Centre, and a member of the International Advisory Body of the Vienna International Arbitral Centre (VIAC).
Diana Akikol regularly speaks and publishes in her field. Several of her contributions deal with proceedings for the setting aside of arbitral awards before the Swiss Federal Supreme Court. She has published a doctoral thesis on the warranty regime under Swiss law and the UN Sales Convention (CISG) and co-authored a commentary on the CISG.
Diana Akikol holds a law degree from the University of Fribourg and a doctorate degree from the University of Lucerne, both summa cum laude. She was admitted to the bar in 2002, ranked first of her class, and initially served as a law clerk in the White-Collar Crime Division of the High Court of Berne. From 2007 to 2014, she specialised in international arbitration with the Geneva office of a leading national law firm. As of 2014, she continued her arbitration practice as a co-founder of a Geneva-based law firm. She joined Walder Wyss as a partner in 2020.
Diana Akikol is a native German speaker and fluent in English and French. She has basic knowledge of Turkish.
Areas of Practice
Arbitration
Commercial Contracts
Corporate & Commercial
Energy & Infrastructure
Healthcare & Life Sciences
Industry & Commerce
Information Technology & Telecommunications
Mergers & Acquisitions
Professional Career
Significant Accomplishments
Chambers and Partners has moved Walder Wyss's Arbitration Team up to Band 2 in its 2023 Global Ranking
Who's Who Legal has again recognized a record number of Walder Wyss arbitration practitioners as leaders in their field
Diana Akikol and Andrea Meier have been recognised amongst Switzerland's twelve "most highly regarded" arbitration specialists
Diana Akikol in den Internationalen Schiedsgerichtshof der ICC gewählt
Record number of arbitration practitioners of Walder Wyss featured in Who's Who Legal 2020
Kompetenz hoch zwei: doppelte Verstärkung für unser Prozessführungsteam
Articles
Kommentierung zu Art. 180a und 180b IPRG
Liquidated Damages and Penalties in International Construction Agreements
Risiken bei der Übernahme der Maklerprovision durch die Käuferin / Konkurs des Mieters von Geschäftsräumen / Pauschalierter Schadenersatz und Konventionalstrafen in internationalen Bauverträgen
International Arbitration 2021: Switzerland - Trends and Developments
Anhörung, Schiedsspruch; Verfahren zur Nichtigerklärung
Offenlegung, Einspruch, Anfechtungen – die Sichtweise der Schweizer Gerichte
Aufhebung von Schiedssprüchen – aus Schweizer Sicht
Anhörung, Schiedsspruch; Verfahren zur Nichtigerklärung
Notrechtsschlichtungsverfahren
Kommentar zu Art. 45 bis 48 CISG (UN-Kaufrecht)
Revision des Schiedsrechts in der Schweiz
Lügen, Betrug und Täuschung – welche anwaltlichen Pflichten bestehen bei der Verteidigung in einem Schiedsverfahren?
Öffentliche Ordnung und gerichtliche Überprüfung – Schweiz
Vorsorgliche Massnahmen; Nichtigerklärung und Vollstreckung von Schiedssprüchen
Das GAR Live-Symposium
Schlichtung künftiger Ansprüche
Aktuelle Schweizer Entscheide über Anträge auf Nichtigerklärung eines Schiedsspruchs
Die neuen Regeln für beschleunigte Schiedsverfahren der Internationalen Handelskammer (ICC)
Vorläufiger Rechtsschutz und Notrechtsbegehren; Vollstreckung internationaler Schiedssprüche
Die geplante Revision von Kapitel 12 des IPRG
Anfechtung von Schiedssprüchen vor Bundesgericht
Schiedsgerichtsbarkeit in der Schweiz
Aktuelle Schweizer Rechtsprechung zur Schiedsgerichtsbarkeit
Das New Yorker Übereinkommen auf einen Blick
Die Grundlagen der Schiedsgerichtsbarkeit und des Schiedsverfahrens
Die Verfahren vor dem Schiedsgericht
Vorläufiger Rechtsschutz in internationalen Schiedsverfahren
Wichtige Bundesgerichtsentscheide zur Schiedsgerichtsbarkeit der letzten Jahre
Durchführung kleiner und mittelgrosser Schiedsverfahren
Kommentar zu Art. 45 bis 48 CISG
Nachzügler und Drückeberger: Mittel, um nicht anwesende Antragsgegner zu überzeugen, sich am Schiedsverfahren zu beteiligen, und Umgang mit Antragsgegnern, die einen Rückzieher machen
Aktuelle Schweizer Rechtsprechung zur Schiedsgerichtsbarkeit
Prüfung der aktuellen Rechtsprechung des Schweizer Bundesgerichts
Die bundesgerichtliche Rechtsprechung zur Schiedsgerichtsbarkeit im Jahr 2010
Die bundesgerichtliche Rechtsprechung zur Schiedsgerichtsbarkeit im Jahr 2009
The Swiss Case Law in the period from 1 September to 31 December 2008
Aktuelle Schweizer Rechtsprechung zur Schiedsgerichtsbarkeit
Die Voraussetzungen der Sachmängelhaftung beim Warenkauf – Obligationenrecht und UNKaufrecht (CISG)
Meet our Firms and Professionals
WSG's member firms include legal, investment banking and accounting experts across industries and on a global scale. We invite you to meet our member firms and professionals.