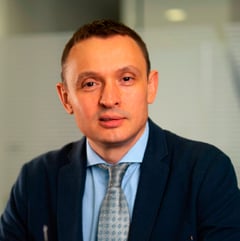 Dragomir Kojic
Senior Director

Practice Expertise
Areas of Practice
WSG Practice Industries
WSG Leadership
Patent Law Group - Member
Profile
Dragomir is a Senior Director in charge of coaching, mediation, mentorship, internal communications, and people management. His specialty is working with businesspeople, particularly managers and attorneys on topics such as work-life balance, stress management, anxiety, interpersonal relationships, career development, seeking meaning in business and life, communication styles, and public speaking. Prior to this position, he was a partner who led a team of intellectual property lawyers.
Education
Sigmund Freud University (2020-), Doctor of Psychotherapy Sciences
C. G. Jung Institute Zurich (2011-2016), Diploma in Analytical Psychology
Erickson Coaching International (2014-2015), Erickson Certified Professional Coach
University of Novi Sad, Faculty of Law (1998-2001), LL.M.
University of Novi Sad, Faculty of Law (1993-1997), LL.B.
Articles
Meet our Firms and Professionals
WSG's member firms include legal, investment banking and accounting experts across industries and on a global scale. We invite you to meet our member firms and professionals.