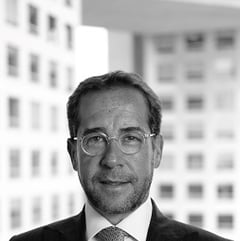 Eduardo Kleinberg Druker
Managing Partner

Mexico, D.F., Mexico
Local Time: Thursday 04:50
Practice Expertise
Franchising
Intellectual Property
Areas of Practice
Franchising
Intellectual Property
WSG Practice Industries
WSG Leadership
Intellectual Property Group - Member
Life Sciences Group - Member
Patent Law Group - Member
WSG Coronavirus Task Force Group - Member
Profile
Partner since 2003 and Managing Partner since 2014 of Basham, Ringe y Correa, S.C., one of the largest, oldest and most reputable law firms in Mexico. Eduardo has been practicing Intellectual Property since 1993. He is the Head of the Trademark, Franchising and Licensing practices with vast experience in domestic and international matters.
Some of his activities are as follows:
-Advising clients in IP matters in general.
-Negotiating and drafting license, franchise, copyright and confidentiality contracts.
-Filing and prosecuting trademarks and patents before the Trademark Office.
-Filing copyrights before the Copyright Office.
-Due diligence of IP matters.
-Classifying and registering product and service trademarks of Mexican and foreign leading companies.
-Registering of trademarks in south and Central America, Europe, Asia and the U.S. working with local counsels in each of those regions. Counseling Mexican and international clients in e-commerce issues related to intellectual property.
Education
Law degree from Universidad Iberoamericana.
Master Degree from University of Chicago.
Professional Career
Significant Accomplishments
IP STAR for 2014, 2015, 2016, 2017 by Managing IP.
Marca Sur Excellence Awards 2014. Bronze granted by Marca Sur Magazine.
Ranked in The Legal 500.
Ranked in Chambers.
Ranked in Who s Who.
Ranked by the International Legal Alliance Summit.
Recognized since 2014 as a prominent lawyer in Intellectual Property Law by the international publication, Best Lawyers.
Professional Associations
International Bar Association
International Trademark Association
International Fiscal Association
LESAIPLAASIPIMARQUES
Past-President of the Intellectual Property Commission of the Confederation of Industrial Chambers of Mexico (Confederacion de Camaras Industriales de los Estados Unidos Mexicanos also known as CONCAMIN), Designated by CONCAMIN as the representative of the Mexican private sector with respect to the Intellectual Property chapter of the Trans-Pacific Partnership Agreement (TPP), Past-President of the Mexican Association for the Protection of Intellectual Property (AMPPI), Past-President of the Mexican chapter of the International Association for the Protection of Intellectual Property (AIPPI), Member of the Nominations Committee of AIPPI, Member of the Permanent Committee on Trademarks of AIPPI, Past-President of Licensing Executives Society – Mexico (LES-Mexico), Member of the Licensing Executives Society International (LESI), Member of the International Trademark Association (INTA), Member of the Inter-American Association for the Protection of Intellectual Property (ASIPI), President of the Non-Traditional Trademarks Committee of ASIPI, Past-President of the Copyright Committee of the International Chamber of Commerce Mexico, Member of the Association of European Trade Mark Owners (MARQUES), Member of the International Franchise Association (IFA). Mexican Head Delegate of ASIPI 2018-2021.
Articles
Additional Articles
Contributor in charge of the Mexican chapter in International Licensing, published for the Center for International Legal Studies in Salzburg, Austria, by BNA International Inc.
Genuine Use of Trademarks. Mexican Chapter. Published by Wolters Kluwer. 2018.
Meet our Firms and Professionals
WSG's member firms include legal, investment banking and accounting experts across industries and on a global scale. We invite you to meet our member firms and professionals.