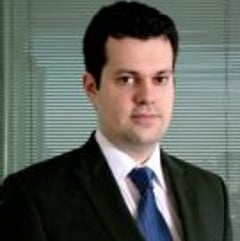 Porto Alegre, Brazil
Local Time: Thursday 02:29
Practice Expertise
Contracts
Corporate Law
Litigation
Areas of Practice
Contracts
Corporate Law
Litigation
Profile
Filipe joined Veirano in 2009 and, since then, has a practice focused in the interaction of different areas of the law, especially administrative law, regulatory law, contracts, and corporate law - the latter, the focus of his master's degree awarded by Harvard Law School.
His practice encompasses mergers and acquisitions in several business segments. Furthermore, Filipe has experience in the drafting of complex commercial contracts, both domestic and international, especially contracts for the rendering of services and for the supply of equipment to infrastructure projects.
In what regards litigation, Filipe has a strong practice in complex cases involving regulatory law, particularly in the energy sector. Moreover, he has advised clients - both administratively and judicially - in matters related with government contracts in several states of Brazil.
Bar Admissions
Brazilian Bar Association (OAB-RS)
Education
• LL.M, Harvard Law School, Instituto Ling Scholar, Cambridge, MA, 2009
• International Law Course, Universidade Federal do Rio Grande do Sul (UFRGS), Porto Alegre, 2007
• LL.B, Cum Laude, Universidade Federal do Rio Grande do Sul (UFRGS), Porto Alegre, 2006
• Exchange Student, The University of Texas at Austin School of Law, CAPES/FIPSE Scholar, Austin, TX, 2005

Professional Career
Significant Accomplishments
Filipe Oliveira focuses his practice in the areas of mergers & acquisitions, contracts and administrative law including handling related litigation. He has strong experience in drafting and negotiating M&A contracts in a wide range of industries including energy, higher education and construction.
Mr. Oliveira also assists Brazilian and international companies with drafting of complex commercial contracts, especially those related to service renderings and equipment supply for infrastructure projects. He also advises clients throughout all stages of the public bidding process in several Brazilian states and on matters related to government contracts.
In the litigation area, Mr. Oliveira has handled a number of high profile cases involving regulatory law, particularly in the energy sector. He recently represented a concessionary of energy distribution in several lawsuits against the Brazilian Energy Agency (ANEEL) worth over R$1 billion. He has also counseled clients in arbitrations concerning large infrastructure projects and commercial disputes.
Mr. Oliveira brings international perspective to clients gained from his time spent studying and living in the United States.
Professional Associations
Chambers of Commerce and Associations
- American Chamber of Commerce (Amcham-RS);
- Deutsch-Brazilian Chamber of Commerce and Industry (AHK).
Professional Activities and Experience
Before joining Veirano, Filipe was a clerk at the Labor Justice of the State of Rio Grande do Sul, where he was involved with the most diverse issues of labor law (2007-2008).