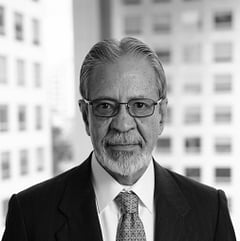 Hector Calatayud Izquierdo
Counselors

Mexico, D.F., Mexico
Local Time: Thursday 03:28
Practice Expertise
Civil & Commercial Litigation
Consumer Protection
Corporate, Contracts & Foreign Investments
Areas of Practice
Civil & Commercial Litigation
Consumer Protection
Corporate, Contracts & Foreign Investments
Profile
Currently Of Counsel of the Firm. Was Associate of the Firm from 1970 to 1980 and Partner from 1981 to 2001. Is a member of the Ca¡mara Nacional de Comercio de la Ciudad de Mexico, and of the International Chamber of Commerce. Has been Professor at Universidad Anahuac (Civil Proceedings) in 1992 and 1993.
Has participated in various international conferences and seminars as an expert in Negotiation of Contracts in Mexico, also as an expert in Mexican, U.S and International Arbitration Practices as well as an expert in International Arbitration Programs.
Education
Post-graduate Professor at Escuela Libre de Derecho (Advertising and Product Liability) from 1997-1999 and Professor at Universidad Panamericana (Arbitration) from 1996-1998.
Areas of Practice
Civil & Commercial Litigation
Corporate, Contracts & Foreign Investments
Professional Career
Professional Associations
Member of the Consulting Committee of the Mediation and Arbitration Commission of the Camara Nacional de Comercio de la Ciudad de Mexico.
Former President of the Marketing and Advertising Commission of the International Chamber of Commerce (Mexican Chapter).
Articles
MONEY JUDGMENTS IN MEXICO- Ricardo Hernandez and Hector G. Calatayud.
Corporate Counsel's International Adviser- Business Laws, Inc. (February 1995) Chesterland,Ohio.
COMMERCIAL & INVESTMENT LAW MEXICO, Bankruptcy Law- Hector Calatayud and Daniel del Rio, Transnational Publishers, Inc.
CORPORATE LIBEL, UNDER MEXICAN LAW- Hector Calatayud and Francisco Tiburcio. Commercial Litigation, Euromoney Publications, London, UK (April 1997).
Meet our Firms and Professionals
WSG's member firms include legal, investment banking and accounting experts across industries and on a global scale. We invite you to meet our member firms and professionals.