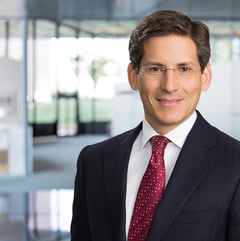 London, England
Local Time: Wednesday 17:26
Practice Expertise
Corporate
Corporate Governance and Board Advisory
Africa
Asia Pacific
Areas of Practice
Africa
Asia Pacific
Corporate
Corporate Governance and Board Advisory
Energy
Energy and Infrastructure
Energy M&A
Europe
Mergers and Acquisitions
Middle East
Natural Gas
Oil, Gas and LNG
Private Equity
Renewable Energy and Clean Power
UK
View More
Profile
James is an M&A Partner in the London office of Hunton Andrews Kurth (UK) LLP.
His practice focuses on cross-border mergers and acquisitions, joint ventures and minority investments. Formerly based in Abu Dhabi, he has extensive experience in advising government-owned entities in the Middle East on transactions with foreign partners and foreign partners investing in the countries of the Arabian Gulf, particularly in the oil and gas, healthcare and real estate industries. Additionally, James has advised on transactions across Asia, Africa and Europe. James has been practicing as an English Law qualified solicitor for over 20 years.
Representative Experience
The International Finance Corporation in connection with a secured loan and equity investment in a London listed issuer operating in the healthcare sector in Egypt.
Dana Incorporated on English law aspects of the purchase of Pi Innovo Holdings Limited.
Chenega Corporation on English law aspects of its investment in Skuunaq Energy Limited.
Various development finance institutions in connection with an investment in a generic pharmaceutical manufacturer and distributor operating in the Middle East and North Africa.
The Government of the Emirate of Ras Al Khaimah and the RAK International Corporate Centre free zone on the drafting of its Business Companies Regulations and other laws and guidance manuals.
Goldman Sachs in connection with M&A aspects of various acquisition finance facilities.
Junction Energy in its equity investment in Paraglobe Inc.
Abu Dhabi National Oil Company on its upstream and midstream joint ventures in the Emirate of Abu Dhabi and other matters including:

Agreements in connection with the expiry of the main Abu Dhabi onshore oil concession including the exit of the existing joint venture partners, the acquisition by ADNOC of 40% of the shares in Abu Dhabi Company for Onshore Oil Operations and the transfer of assets to the Government of Abu Dhabi.
The grant of new rights to France's Total, Japan's INPEX Corporation and Korea's GS Energy in connection with the principal onshore crude oil concession operated by Abu Dhabi Company for Onshore Petroleum Operations Limited and producing approximately 1.6 million barrels of oil per day.
The proposed US$12 billion joint venture with Royal Dutch Shell to develop the Bab sour gas field.
The proposed joint venture with Abu Dhabi Future Energy Company (Masdar) to develop a carbon dioxide capture and transportation facility from Emirates Steel, the world's first carbon capture and sequestration project in iron and steel, in connection with its enhanced oil recovery strategy.
Agreements in respect of a swap of crude oil and refined products with the Government of the Republic of Egypt the development of a new operating company and related arrangements to oversee a number of upstream oil joint ventures during their exploration phases.
A number of confidential pending and signed field entry and concession arrangements and related agreements with other IOCs and NOCs.
International Petroleum Investment Company on various matters including on its acquisition of a 36% shareholding in Cepsa from Banco Santander and Union Fenosa.
National Drilling Company of Abu Dhabi on various commercial arrangements.
Petronas International Corporation Limited on its acquisition of a 16.9% stake in Star Energy Group plc, a UK energy company listed on the AIM market of the London Stock Exchange.
Topaz Energy and Marine, a Dubai-based oilfield services firm, on a minority interest equity investment of up to US$175 million by Standard Chartered Private Equity and other matters.
A bidder in relation to the proposed acquisition of a UAE based oilfield services company.
A UAE based oilfield services company on an aborted takeover bid for a European listed target.
Aabar Investments PJS on various matters, including its investments in Glencore International plc and Virgin Galactic.
Abu Dhabi Global Market on its establishment as an international financial centre in the United Arab Emirates and on the drafting of its Companies, Commercial Licensing and Takeovers Regulations and related materials. The team was named "Corporate Team of the Year" at the Corporate Counsel Middle East Awards 2015 and "Financial Regulation Team of the Year" at the IFLR Europe Awards 2016.
Mubadala Development Company PJSC on various transactions, including:

Its investment in the EBX Group.
Its investment with Trafigura Pte. Ltd. in MMX Porte Sudeste (the owner of an iron ore port under construction in Brazil).
Various real estate investments in Europe in connection with its investment in and development of certain real estate and land development concessions in Malaysia.
The public takeover of Chartered Semiconductor Manufacturing Ltd of Singapore (US$5.6 billion); this transaction was awarded the "Best M&A Deal Middle East 2009" by EMEA Finance and "Deal of the Year" by Asian Counsel Awards 2010.

Qalaa Holdings SAE (formerly known as Citadel Capital) on its agreements with Financial Holdings International, one of Qalaa's major co-investors, through which Qalaa will acquire from FHI additional stakes in subsidiaries that are core to Qalaa's future and on the simultaneous sale by Qalaa to FHI of holdings in multiple non-core business units, a transaction that will result in a reduction of Qalaa's consolidated debt by c. EGP 800 million.
Qalaa Holdings (formerly Citadel Capital) on various matters in respect of its investment portfolio.
Bahrain Mumtalakat on various co-investments.
The private equity arm of EFG Hermes as sponsor:

On the acquisition of a 49% stake in EDP Renewables France, an operational 334 MW French wind farm business.
On the equity financing of the acquisition of a 49% stake in an operational 664 MW portfolio of 23 wind farms in Portugal, Spain, France and Belgium from EDP Renováveis S.A.

Various development finance institutions in connection with an investment in a healthcare holding company operating hospitals in North Africa.
Al Ghaith Holding PJSC in the sale of Shadeed Iron and Steel Co. LLC, an Omani company, to Jindal Steel & Power Limited of India Agility Logistics on various matters, including the acquisition with Al Dahra Agriculture LLC of Mubadala Development Company PJSC's interest in Agility (Abu Dhabi) PJSC, an Abu Dhabi based logistics joint venture.
The Dow Chemical Company in its negotiations of the proposed $17.4 billion K-Dow joint venture with Petrochemical Industries Company of Kuwait which, following PIC's refusal to close, resulted in Dow being awarded and paid $2.16 billion in damages and costs (at the time, the largest published commercial award).
Nokia Corporation on its €15.8 billion joint venture with Siemens AG to form Nokia Siemens Networks B.V.
Singapore Airlines Limited on the disposal of its stake in Virgin Atlantic Limited to Delta Air Lines, Inc.
An investment fund on its joint venture to develop power projects in Bangladesh.
Ingram Micro in its acquisition of the operations of Dubai based Aptec Holdings Limited in the United Arab Emirates, Kuwait, Oman, Egypt, Lebanon, Pakistan and Turkey.
General Lighting Company (a portfolio company of The Carlyle MENA Fund) on its acquisition of Davex (Malaysia) Sdn Bhd from MWE Holdings Berhad.
Siegwerk Druckfarben AG on its acquisition of the Printing Inks Business Unit of SICPA SA.
AIG Global Real Estate on various investments in real estate development acquisitions and joint ventures across Europe, including a portfolio of commercial properties in The Netherlands, a portfolio of luxury townhouses in Moscow, office premises near Luxembourg airport and a portfolio of logistics sites in the Greater Moscow region.
Members of management on their acquisition of control of Stanhope Group Holdings Limited, a UK real estate developer and Stanhope Group Holdings Limited on a number of transactions including a minority investment by Mitsui Fodosan and co-investment arrangements in respect of the redevelopment of Stratford City centre.
Goldman Sachs International and Credit Suisse Securities (Europe) Limited as joint global coordinators and international bookrunners of the share offering by Grupo Clarín S.A., Argentina's largest media company, and listing of GDRs in respect of shares on the London Stock Exchange.
Goldman Sachs (Asia) L.L.C. on a private placement of depositary receipts in respect of a 10% interest in Hutchison 3G Italy Investments S.à r.l., a subsidiary of Hutchison Whampoa Limited.
Morgan Stanley on secondary private placements of shares in Songbird Estates plc (a UK company listed on the AIM market of the London Stock Exchange), Great Portland Estates plc (a UK company listed on the main market of the London Stock Exchange) and Pirelli & C. Real Estate SpA (a company listed on the Italian Stock Exchange).
Morgan Stanley & Co. Incorporated on its subscription for PIK Preferred Dividend Shares and Ordinary Shares in Grifols, SA, a Spanish manufacturer and distributor of plasma derivative products.
North Wall Capital on the provision of acquisition financing by way of equity and mezzanine loans.
Education
LLB, The London School of Economics and Political Science, 1994
Areas of Practice
Africa
Asia Pacific
Corporate
Corporate Governance and Board Advisory
Energy
Energy and Infrastructure
Energy M&A
Europe
Mergers and Acquisitions
Middle East
Natural Gas
Oil, Gas and LNG
Private Equity
Renewable Energy and Clean Power
UK
Articles
The Oil and Gas Law Review Edition 6: Abu Dhabi, The Law Reviews
Terms to Consider When Buying or Selling Oil and Gas Interests in Egypt, Egypt Oil & Gas
Middle East PE's Next Steps, International Financial Law Review
Abu Dhabi Chapter, 5th Edition, The Oil & Gas Law Review
Force Majeure: Preserving Contractor Rights During the Qatar Diplomatic Crisis; What You Need to Know
Meet our Firms and Professionals
WSG's member firms include legal, investment banking and accounting experts across industries and on a global scale. We invite you to meet our member firms and professionals.