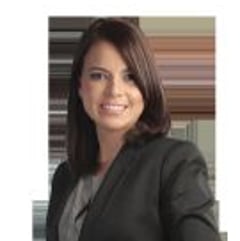 Santo Domingo, Dominican Republic
Practice Expertise
Banking
Capital Markets
Corporate and Business
Finance
Areas of Practice
Banking
Capital Markets
Corporate and Business
Finance
Insurance
Joint Ventures
Mergers & Acquisitions
View More
WSG Practice Industries
WSG Leadership
Energy Group - Member
Mergers & Acquisitions Group - Member
Mining Group - Member
Public Procurement Group - Member
Real Estate Group - Member
View More
Profile
Joanna M. Bonnelly has 15 years of experience practicing law, focusing her practice in corporate transactions and financing. She has broad experience advising local and international companies in the areas of mergers and acquisitions, project finance, energy and hydrocarbons, tourism and leisure, and corporate law.
Education
Joanna received her Bachelor of Laws, magna cum laude, from Universidad Iberoamericana in 1999. Years later in 2002-2003, she completed her Masters in Corporate Law from Universitat Pompeu Fabra, in Barcelona, Spain.
Areas of Practice
Corporate and Business
Finance
Professional Career
Significant Accomplishments
Joanna has participated in business deals of high relevance in the Dominican Republic, including:
•Advising numerous multinational financing corporations in drafting and negotiating asset-based financing transactions in the country.
•Acting as co-lead counsel on the sale of operations of one the principal fuel distributors in the region.
•Advising one of the principal's suppliers of LPG in the negotiation of a joint venture for the development of a fuel importation and storage terminal in the country.
•Advising a Mexican hotel chain in the acquisition of the real estate property and the implementation of its corporate structure for the building a luxury hotel in the East part of the island.
•Participation in the sale and acquisition of various hotels in the Northeast and East part of the country.
•Assisting a local investor in the development of a high-end leisure project in the Northeast part of Dominican Republic.
•Assisting a foreign sovereign on acquisition of the real estate property for the housing of its diplomatic delegation in the Dominican Republic.
•Counselling an European cruise ship company on various aspects related with a joint venture in the Dominican Republic.
•Counselling a joint venture of multinational investors in the development and financing of the first WiMax telecommunications network in the Dominican Republic.