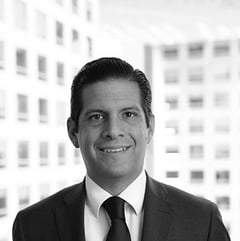 Jose Massas Farell
Partner

Mexico, D.F., Mexico
Local Time: Thursday 03:00
Practice Expertise
Civil & Commercial Litigation
Areas of Practice
Civil & Commercial Litigation
Profile
Associate of Basham, Ringe y Correa since 2007 and partner of Civil, Commercial Litigation and Arbitration since March 2020.
His professional practice covers civil and commercial litigation (ordinary actions, executive actions, public works, insolvency proceedings, among others) before State and Federal courts in Mexico City and throughout Mexico, including constitutional actions (juicio de amparo) and recourses therefrom before Federal Judiciary; as well as the processing in Mexico of court proceedings to the benefit of foreign courts, before which has presented opinions too.
Additionally, has participated as counsel in international arbitrations, as well as in court proceedings for precautionary measures in support of arbitration, enforcement actions and actions for annulment of arbitral awards.
His experience is extended to consumer protection matters and administrative litigation therefrom, including investigations by Mexican Consumer Protection Agency and denounces, administrative procedures for infringements, among others.
Collaborates with other practices of the firm in national and international transactions for the public and private sectors, due diligence and general counseling.
Education
Graduated from Universidad La Salle in Mexico City (ULSA) in 2005 and obtained his law degree in 2007, has post-graduate studies on civil law from Universidad Nacional Autonoma de Mexico (UNAM) and diploma in Commercial Arbitration from ICC MEXICO, Escuela Libre de Derecho (ELD) and International Court of Arbitration ICC.
Areas of Practice
Civil & Commercial Litigation