 Kristine Fujita
Senior Vice President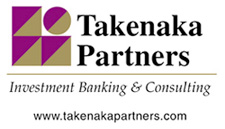 California-Southern, USA
Local Time: Wednesday 20:47
Practice Expertise
Corporate Valuation
Deal Structure & Negotiation Advisory
Financial & Business Due Diligence
Greenfield Research
Areas of Practice
Corporate Valuation
Deal Structure & Negotiation Advisory
Financial & Business Due Diligence
Greenfield Research
M&A Transaction Advisory Services
View More
WSG Practice Industries
WSG Leadership
Mergers & Acquisitions Group - Member
Profile
Ms. Fujita has been with Takenaka Partners since 1998 and has been extensively involved in managing all aspects of our firm's Investment Banking transactions, including cross-border buy-side and sell-side M&A, strategic joint ventures, corporate reorganizations and restructurings, corporate valuation, and global strategy consulting. Since joining Takenaka Partners, Ms. Fujita has successfully executed strategic transactions on behalf of clients involved in a diverse array of industries including automotive supply, consumer products, consumer electronics, food and beverage, industrial manufacturing, real estate, semiconductors, software and high-technology, and telecommunications.
Education
Ms. Fujita earned her B.S. and Master's degrees in Accounting from the University of Southern California. Ms. Fujita is also a Certified Public Accountant (inactive), and has earned the Chartered Financial Analyst designation.
Areas of Practice
Corporate Valuation
Deal Structure & Negotiation Advisory
Financial & Business Due Diligence
M&A Transaction Advisory Services
Professional Career
Industry Organization Affliation
American Institute of Certified Public Accountants
CFA Institute
Professional Activities and Experience
Prior to Takenaka Partners, Ms. Fujita was a Senior Consultant with Deloitte's Capital Markets Group and Business Assurance & Advisory Division, servicing large multinational corporations. Prior to joining Deloitte, Ms. Fujita was selected to be one of four Postgraduate Technical Assistants to work for the Financial Accounting Standards Board (FASB) in Norwalk, Connecticut.