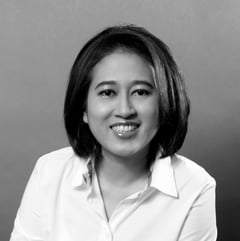 Lia Alizia
Managing Partner

Practice Expertise
Competition
Corporate and Commercial
Employment
Foreign Investment
Areas of Practice
Competition
Corporate and Commercial
Employment
Foreign Investment
Franchise
Insolvency and Restructuring
Intellectual Property
Litigation and Dispute Resolution
Mergers and Acquisitions
Real Estate
View More
WSG Practice Industries
WSG Leadership
DealMaker Group - Member
Compliance Group - Member
Dispute Resolution Group - Member
Employment and Labor Group - Member
Intellectual Property Group - Member
Mergers & Acquisitions Group - Member
Restructuring & Insolvency Group - Member
View More
Profile
Lia is a talented lawyer, litigator, a leading advisor to many top businesses worldwide, and also one of the country's foremost legal practitioners, having been involved in some of the most high-profile matters over the years. She is the Managing Partner and leads the Corporate, Commercial, and Litigation and Dispute Resolutions departments of M&T. She provides expert advice and oversight in large, complex corporate negotiations, and brings over 20 years of experience in managing legal aspects of commercial, transactional and corporate governance matters.
Lia adheres to strict ethical principles when representing clients before Indonesian courts and arbitration panels. Her practice does not only focus on litigation but also aims to provide advice to clients on how to minimize potential risks related to employment, anti-bribery, anti-corruption and litigation issues.
She is a sworn translator, author of a number of significant publications, and often speaks at local and overseas seminars and training programs on employment, litigation and corporate matters. She is also an Instructor Faculty at TRACE Anti-Bribery Specialist Accreditation, an Intellectual Property Rights Consultant and an active member of Indonesia Labour Law Consultant Association.
Bar Admissions
Member of the Indonesian Advocates Association (Peradi)
Member of the Board Management of British Chamber and Commerce in Indonesia
Head of Focus Group Discussion in ILLCA on the draft implementing regulation on the Omnibus Law, employment sections particularly on a non-employment security program
Instructor Faculty, TRACE Anti-Bribery Specialist Accreditation (TASA)
Faculty Member, Expertise Academy, Netherlands for a lecture on Indonesian employment matters
Member of Indonesian Labor Law Consultant Association (ILLCA)
Member of Indonesia's Cyber Law Community (ICLC)
Member of Indonesian Intellectual Property Association (AKHKI)
Member of International Bar Association (IBA)
Member of LAWASIA (The Law Association for Asia and the Pacific)
Registered Sworn Translator for English-Indonesian Language under Decree of Governor of Jakarta, 2006
Education
S.H., University of Jayabaya, Jakarta, Indonesia, 1999

Areas of Practice
Competition
Corporate and Commercial
Employment
Foreign Investment
Franchise
Insolvency and Restructuring
Intellectual Property
Litigation and Dispute Resolution
Mergers and Acquisitions
Real Estate
Professional Career
Significant Accomplishments
Chambers and Partners Asia-Pacific
Highly Ranked in Employment (2017 - 2021)
The Legal 500 Asia-Pacific
Recommended Lawyer for Labour & Employment, Antitrust and Competition, Restructuring & Insolvency, Corporate M&A, Dispute Resolution (2014 - 2021)
IFLR1000
Highly Regarded Lawyer in Restructuring & Insolvency and M&A (2019 - 2022)
Asia Business Law Journal
The A-list – Indonesia's Top 100 Lawyers (2018-2021)
Benchmark Litigation Asia-Pacific
Top 100 Women in Litigation and Litigation Star (2021)
Dispute Resolution Star in Commercial and Transactions, IP, and Labor & Employment (2018 - 2021)
Asialaw Profiles
Distinguished Practitioner for Corporate & M&A and Labor & Employment (2019 - 2022)
Leading Lawyer for IP and Labor & Employment (2018)
Recommended Lawyer for Labor & Employment: Asia-Pacific Dispute Resolution Awards (2016)
Recommended Individual for Employment (2015)
Euromoney Legal Media Group
Recommended Lawyer for Labor & Employment: Asia Women in Business Law Awards (2016)
IP Star by Managing Intellectual Property (2014)
Employment Law Experts from the UK
Employment Expert from Indonesia (2014)
Seminars/ Presentation
Lia was the speaker of the following seminars/conferences:
1. "Options for Entry and Other Legal Regulatory Compliance" at the Philippine Embassy on 19 February 2016.
2. The First Regional Conference on Current Developments in Employment Law in Malaysia and the ASEAN Countries on 15 January 2016 on
An Overview of the Indonesian National Social Security System
.
3. In-house training at PT Kerry Indonesia on 1 December 2015 on
Outsourcing in Indonesia
and
Practical Guide to Employment Law in Indonesia
.
4. In-house training at PT Saka Indonesia on 21 September 2015.
5. The 9th LAWASIA Employment Law Conference on 14-15 August 2015 in Hanoi, Vietnam. The conference theme of Free Trade Agreements and Transnational Employment - legal issues and implications, the program reflects the diverse subject matter created by challenges of increasingly globalized economies and movement of labor forces.
6. The Singapore Chartered Accountants (ISCA) on 4 August 2015 on Understanding Indonesia Investment and Employment Law.
7. Asian Legal Business Seminar on Investment Tips and Tricks in Indonesia Forum - in Shanghai on 24 June 2015. The presentation's title was
An Overview of Indonesia's Manpower Laws & Regulations
and
Intellectual Property Rights
.
8. Tech Asia Singapore 2015 conference in Singapore on 6 May 2015. The presentation's title was
New Copyright Law & Updates on Indonesia's Employment Issues
.
9. A panel discussion 'Redundancy, Retrenchment and Separations - How to Manage it?' in Labor Law Conference on 9 and 10 April 2015 in Kuala Lumpur organized by Legal Plus.
10. The 9th LAWASIA Employment Law Conference in Hanoi in August 2015 held by LAWASIA.
11. SCG Labor Seminar/Workshop 2015 in Jakarta, Indonesia on 21 January 2015 held by PT SCG Indonesia.
Articles
Additional Articles
Author, General Guidance on Anti-Competitive Agreements and Dawn Raids – Indonesia Chapter with Freshfields, 2018-2019
Author, an article on franchise with Gray Plant Mooty, 2018-2019
Author, Employment Q&A, Chambers Global Practice Guides, Chambers & Partners, 2018-2019
Author, Cartel Guide – Indonesia Chapter, Global Legal Insights, 2018-2019
Author, Public Procurement and Government Contracts, Chambers Global Practice Guides, Chambers & Partners, 2019
Author, Employment, Ibid
Author, Uncertainty of Foreign Employment Status, International Law Office, 2018
Author, All in the Family: Court Removes Restriction on Employment of Spouses and Blood Relatives, Ibid.
Author, Uncertainty Surrounding Legal Status of Foreign Employees, Ibid.
Contributor, A Worldwide Review 3rd Edition, International Bar Association Series, Vol. 22, Kluwer Law International B.V, 2016
Author, Catching Up with Indonesian Tech Regulations Development, British Chambers of Commerce in Indonesia, 2016
Co-author, Civil Liability from the Outsourcing and Transnational Employment Perspective under Indonesian Manpower Law, Social Science Research Network, 2016
Contributor, Indonesian Tax Plan Threatens to Block Firms, E-Commerce Law & Policy, Cecile Park Publishing, 2016
Contributor, Competition and Cartel Leniency Global Guides 2015/16, Practical Law Guides, Thomson Reuters, 2015
Author, Temporary Relief from Pain: promising injunctive relief provisions under the 2014 Copyright Law, Volume 7, International Bar Association (IBA), 2015
Co-contributor, the Indonesia Chapter of the 4th Edition of Global Legal Insights – Litigation and Dispute Resolution, Global Legal Group Ltd., 2015
Author, Indonesian Franchise Law, International Franchise Sales Laws, 2nd Edition, American Booksellers Association (ABA) Book, 2015
Author, Embracing the Upcoming Indonesian E-Commerce Regulation, Asian Language Business (ALB) Magazine, 2015
Author, A Guide to Employment Law in Indonesia, XperthHR Group, 2015 - recent
Author, Employee Share Plans in Indonesia, Practical Law Global Guides, 2015
Author, Global Legal Insights - International Arbitration 1st Edition, Global Legal Group, 2015
Meet our Firms and Professionals
WSG's member firms include legal, investment banking and accounting experts across industries and on a global scale. We invite you to meet our member firms and professionals.