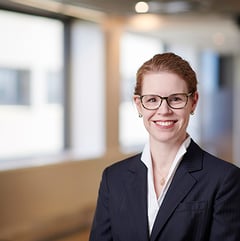 Adelaide, Australia
Local Time: Thursday 09:21
Practice Expertise
Intellectual property
Technology
Competition and market regulation
Education
Areas of Practice
Competition and market regulation
Education
Intellectual property
Technology
Profile
As part of my practice, I enjoy training clients on matters relating to privacy and competition compliance, including contract law and risk mitigation strategies. I am known for providing strategic and practical advice, and for being approachable, commercial and timely in my approach.
Career highlights
I have acted for the SA Government in relation to a range of major infrastructure and outsourcing projects including:
the $234 million schools PPP to build two new birth to year 12 schools, as lead partner.
the outsourcing of Adelaide's train services.
implementing and operationalising its response to the COVID-19 pandemic.
the $427 million sale to the Tatts Group of the right to operate SA Lotteries.
the $670 million sale of forward rotations in relation to ForestrySA plantations.
Australian and international businesses – I have helped draft and negotiate procurement, distribution and technology contracts, including major strategic IT procurement and outsourcing arrangements; software licences and development contracts; and software support and maintenance agreements.
Corporate and local government clients – I have advised on compliance with the Competition and Consumer Act 2010 (Cth), including advising on and managing several successful authorisation processes on behalf of our clients. My work in this area includes delivery of compliance training programs, advice on application of the Australian Consumer Law, third line forcing and exclusive dealing advice and notifications, and liaising with the Australian Competition and Consumer Commission.
Provided advice on data security and privacy issues, including organisational compliance with applicable privacy laws, development of privacy policies, internal audit checklists and internal data management procedures, as well as assisting clients with managing data breach and data security issues under the Privacy Act and EU General Data Protection Regulation.
Ongoing management of international portfolio of trademarks, including advising clients across education, manufacturing, retail, tourism and other industries on strategic management of their Australian and international portfolio of trademarks, pre-application advice, registration, commercialisation and enforcement of trademarks and prosecuting successful opposition proceedings.
Advised on numerous sensitive or confidential transactions, regarding risk assessment for proposed mergers and acquisitions in accordance with the Competition and Consumer Act 2010 (Cth).
I provide pro bono legal assistance to disadvantaged individuals and charitable organisations through referrals received from Justice Connect and Many Rivers.
Education
LLB BSc, LLM (Comm)
Areas of Practice
Competition and market regulation
Professional Career
Professional Associations
Member, Privacy Committee, Law Council of Australia
Member, SA Committee, Intellectual Property Society of Australia and New Zealand Inc
Member, Licensing Executives Society of Australia and New Zealand Inc
Member, Australian Mining and Petroleum Lawyers' Association
Member, Australian Corporate Lawyers Association
Registered trademark attorney
Articles
Additional Articles
Decrypting the decryption Bill


Following a short period of public consultation, the Telecommunications and Other Amendments (Assistance and Access) Bill 2018 (Cth) (Bill) has been introduced into Parliament. Despite the extensive public concerns raised with the Exposure Draft version, only a small number of amendments have been made to the Bill.




The new '.au' domain licensing rules – what has changed?


Following recent changes to the '.au' domain licensing rules, businesses that hold or use .com.au and .net.au should review their compliance, to avoid the risk of cancellation.

Food and agribusiness sector remains key priority for ACCC: 12 areas of activity and concern


The Australian Competition and Consumer Commission (ACCC) has been active in education and enforcement of competition and consumer law issues in the agribusiness and food sphere over the past year.

GDPR: raising the standards and raising the stakes


In May 2018, the European Union introduced the General Data Protection Regulation (the GDPR), which is the world's most powerful and far-reaching privacy law to date.

The GDPR effectively harmonises data protection laws across the EU Member States, and replaces their previous national data protection rules. Unlike previous data protection laws, the GDPR has extra-territorial application – meaning that it can impact organisations far beyond the borders of Europe.

In the past 6 months, our office has seen a lot of activity in this area, as Australian organisations work through the question of whether the GDPR applies to them, directly or indirectly, and how to interpret and comply with its new requirements.

This article provides some practical guidance to assist you in working out whether (or when) the GDPR applies to your university, and the further work needed to achieve compliance.

Insights from the OAIC's draft mandatory data breach notification resources released for comment

Australia's evolving privacy regime


Recent significant changes in Australia's privacy and data protection regime, bring our legislation more in line with international standards. As a result, many Australian agencies and organisations are now subject to new compliance obligations under the notifiable data breaches (NDB) scheme and increased scrutiny.

Managing cartel risks arising from universities' COVID-19 responses


What are the key considerations for Australian higher education providers in managing cartel risks when responding to the COVID-19 pandemic impacts?

OAIC releases its second quarterly report on the NDB scheme


Our team reviews the Office of the Australian Information Commissioner (OAIC)'s second quarterly statistics report on the Notifiable Data Breaches (NDB) Scheme, and highlight some important lessons for organisations navigating the evolving privacy regulatory regime in Australia.

Managing cartel risks arising from COVID-19 in the health sector


While the health sector is being called on respond to the COVID-19 pandemic in unprecedented ways, there is no automatic 'public interest' exemption to our competition law where businesses coordinate or act collectively.

End of an era: Repeal of s51(3) of the CCA and implications for your IP


A new bill, if passed, will repeal the IP exemption in the Competition and Consumer Act 2010 (Cth), requiring IP rights holders to ensure that the conditions in their licensing arrangements do not contravene the anti-competitive conduct prohibitions in that Act.

A new right - the Consumer Data Right and framework unpacked


The proposed legislative framework for the Consumer Data Right (CDR), including its interaction with existing privacy laws, can be difficult to follow. In this article, we explain how the proposed framework has developed, some of the key concepts, including the roles of the key participants and obligations and what to expect next.

Direct ".au" domains now available for registration


A major shakeup to the domain name sphere has arrived – from 24 March 2022, domain names can be registered in the ".au" domain. We recommend that clients get in early to register the new .au domain name, to avoid future brand protection issues.

Release of the Privacy Act Review Issues Paper


On 30 October 2020, the Attorney-General's Department published the Privacy Act Review Issues Paper, which outlines issues at the heart of the current privacy regime in Australia. We discuss the key considerations included in the broad-ranging review that privacy experts will need to be aware of.
Meet our Firms and Professionals
WSG's member firms include legal, investment banking and accounting experts across industries and on a global scale. We invite you to meet our member firms and professionals.