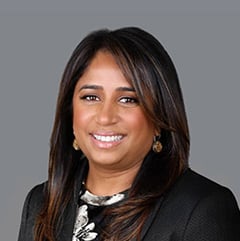 Lydia Shadrach-Razzino
Executive

Johannesburg, South Africa
Local Time: Saturday 14:21
Practice Expertise
capital markets
corporate commercial
corporate finance
corporate governance
Areas of Practice
capital markets
corporate commercial
corporate finance
corporate governance
equity capital markets
mergers and acquisitions
mining
private equity
regulatory compliance: JSE/TRP/FSB
technology, media and telecommunications
View More
WSG Practice Industries
WSG Leadership
Women's Professional Forum Group - Group Leader
Energy Group - Member
Mining Group - Member
Private Equity Group - Member
Profile
Lydia Shadrach-Razzino is an executive at ENSafrica in the corporate commercial department and specialises in M&A (across various industries, including private equity and mining), takeovers, the formation and initial structuring of new business entities, private equity transactions, equity capital markets and general corporate finance.
Lydia won the 2014 Corporate Finance Lawyer of the Year Award by ABSIP (the Association of Black Securities and Investment Professionals) and she was a finalist in 2015.
Lydia is a private equity and M&A specialist. Her experience includes advising on equity capital markets, private equity acquisitions and disposals, empowerment transactions, corporate governance, the South African Companies Act, 2008, IPOs, ECM and stock exchange transactions in multiple sectors, including mining, banking and financial services, and telecoms.
Lydia has built up an impressive client list, which includes Oppenheimer Partners, PPC, Vodacom, The ARC Fund, RMB Ventures, Kleoss Capital, Ethos Private Equity, Business Connexion, Telkom, Capitalworks, Medu Capital, Actis, The Multiply Group, Village Main Reef and eXtract. Lydia's expertise expands beyond South Africa, having advised on a number of cross border transactions.
Lydia represented (i) RMB Ventures in the acquisition of the Bluff Meat Supply Group, which was awarded Catalyst Private Equity Deal of the Year 2013 at the DealMakers Gala Awards and (ii) Capitalworks in the disposal of the Much Asphalt business which was awarded Catalyst Private Equity Deal of the Year 2018 at the DealMakers Gala Awards.
Lydia leads a diverse and empowered team of successful lawyers.
Education

BProc (University of KwaZulu-Natal)
LLB (University of KwaZulu-Natal)
Admitted as an attorney of the High Court of South Africa
Areas of Practice
capital markets
corporate commercial
corporate finance
corporate governance
equity capital markets
mergers and acquisitions
regulatory compliance: JSE/TRP/FSB
technology, media and telecommunications
Professional Career
Professional Activities and Experience
Lydia is recognised as a leading/recommended lawyer by:
Chambers Global Guide 2022, 2021, 2020, 2019, 2018 – Corporate/M&A: Private Equity (South Africa); 2022, 2021, 2020, 2019, 2017, 2016 – Corporate/M&A (South Africa)
Best Lawyers® 2023, 2022, 2021, 2020, 2019, 2018, 2017, 2016 – Corporate (South Africa)
The Legal 500 EMEA 2022, 2021, 2019, 2018 – Commercial, Corporate and M&A - Recommended / Key Lawyer (South Africa)
DealMakers Gala Awards 2021 – Individual Dealmaker of the Year Award