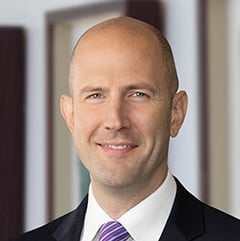 Practice Expertise
Appellate
DEA Compliance & Litigation
Clinical Laboratories
Data Privacy & Security
Areas of Practice
Appellate
Clinical Laboratories
Data Privacy & Security
DEA Compliance & Litigation
Data Privacy & Security
Fraud & Abuse Compliance and Litigation
Government and Internal Investigations, ...
Health & Life Sciences
Health & Life Sciences
Health Information Technology, Privacy & ...
Health Information Technology, Privacy and ...
Health Litigation
Hospitals & Health Systems
Hospitals and Health Systems
Litigation & Dispute Resolution
Litigation & Dispute Resolution
Long-Term Care and Senior Housing
Pharmacy
Pharmacy, Drug and Device
Provider and Physician Groups
Provider/Physician Groups
Securities Litigation and Enforcement
White Collar Crime and Internal ...
Wholesale Drug and Device Distribution
View More
Profile
Strategic advice and creative problem solving
Mark Bina is an experienced legal counselor and litigator who represents clients in multiple industries, with a focus on health care providers. Representing a full range of health care providers and other businesses, Mark helps clients navigate:
Disputes, investigations and litigation—especially defending health providers against and appealing administrative enforcement actions
Health care regulatory and business issues as outside general counsel
Business litigation, dispute resolution and risk management
Clients turn to Mark as a steady hand who is both diplomatic and creative in navigating complex regulatory issues and litigation. They know he works to solve not only today's challenges, but to see "around the corner" and help them avoid future problems, too.
Mark previously served as the executive director of the Indiana Board of Pharmacy and later as an assistant attorney general with the Illinois Attorney General's Office.
Mark is co-chair of the Health Care Litigation and Clinical Laboratory team.
Bar Admissions

District of Columbia
Illinois
Education

Indiana University Bloomington (B.A., with distinction, 2000)
University of Illinois Chicago School of Law (J.D., 2006)

John Marshall Law Review (Staff Editor)
Areas of Practice
Appellate
Clinical Laboratories
Data Privacy & Security
DEA Compliance & Litigation
Data Privacy & Security
Fraud & Abuse Compliance and Litigation
Government and Internal Investigations, Litigation, and Fraud, Waste and Abuse Compliance
Health & Life Sciences
Health & Life Sciences
Health Information Technology, Privacy & Security
Health Information Technology, Privacy and Security
Health Litigation
Hospitals & Health Systems
Hospitals and Health Systems
Litigation & Dispute Resolution
Litigation & Dispute Resolution
Long-Term Care and Senior Housing
Pharmacy
Pharmacy, Drug and Device
Provider and Physician Groups
Provider/Physician Groups
Securities Litigation and Enforcement
White Collar Crime and Internal Investigations
Wholesale Drug and Device Distribution
Articles
"Best Practices in Defending (and Appealing) Disciplinary Cases"
"Constitutional Challenges to Pharmacy Statutes and Regulations"
"David v. Goliath: Managing Surveys, Appeals, and Government Investigations"
Chicago Commissioner of Public Health Publishes Proposed Pharmaceutical Representative Licensing Rules
City of Chicago Imposes Licensing Requirement Upon Pharmaceutical Representatives
COVID-19: Illinois Executive Order Grants Civil Immunity to Assisted Living Providers
DOJ, State AGs Innovate to Fight Covid-19 Fraud
Health Care Reform: Increased Focus on Fraud & Abuse Issues
Hiring Wisely: Enforceability of Employment Agreements, Covenants Not to Compete, and Non-Solicitation/Confidentiality Clauses
Homecare Law: The Good, The Bad, and The Ugly
Illinois to Require Prescribers to Check the PMP Before Writing Initial Prescriptions for Schedule II Narcotics
New CMS Regulation Prohibits Nursing Facilities from Using Pre-Admission Binding Arbitration Agreements
PPACA Health Reform Update, HITECH Act, and Fraud and Abuse Laws
Quarles Partners Assess Risks to COVID-19 Testing Labs of Increased FCA Scrutiny in Article for Bloomberg Law
Recordkeeping for the New Lawyer: Elements of an Effective Legal Practice
The Travel Act in Federal Health Care Fraud Prosecutions
Treating Pain Management Patients Effectively
US Supreme Court Confirms Enforceability of Health Care Arbitration Agreements
When Healthcare Becomes a Crime
​Supreme Court's Decision in KBR Inc. v. U.S. ex rel Carter Confirms that False Claims Act Statute of Limitations Is Not Tolled Under WSLA, but May Expose Health Care Providers to "Copycat" False Claim Act Suits Under "First-to-File" Rule
​U.S. Supreme Court Rules that State Licensing Board Is Not Immune From Anti-Trust Claims
Seminar
2015 Pharmacy Law Symposium
2018 Pharmacy Law Symposium
2021 Pharmacy Law Symposium
2022 Pharmacy Law Symposium
2023 Pharmacy Law Symposium
What Do Payors Need to Be Aware of with Respect to PBM Litigation
Meet our Firms and Professionals
WSG's member firms include legal, investment banking and accounting experts across industries and on a global scale. We invite you to meet our member firms and professionals.