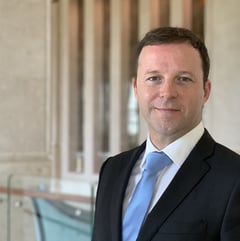 Martin Skehill
Special Counsel

Dubai, United Arab Emirates
Local Time: Wednesday 21:39
Practice Expertise
Areas of Practice
Africa
Construction
Energy and Infrastructure
Energy M&A
Europe
International and Cross-Border Transactions
Middle East
Oil, Gas and LNG
Project Finance and Development
Public-Private Partnerships and ...
Renewable Energy and Clean Power
View More
Profile
Martin is an experienced projects lawyer who advises on the development and financing of energy, water, wastewater and other infrastructure projects across the Middle East, Europe and Africa.
Martin's practice focuses on project finance, Public-Private Partnerships (PPPs), infrastructure development and utilities-related government-advisory work. He advises a mix of entities, including sponsors, project companies, government entities and lenders on energy (including IPPs and IWPPs), water and wastewater projects. He also advises clients on a range of other finance, corporate, regulatory and general commercial matters, as well as on construction-related disputes.
Relevant Experience
Currently advising Abu Dhabi Sewerage Services Company (ADSSC) on a range of infrastructure, corporate, general commercial and regulatory matters relating to the water and wastewater sectors, including in connection with various extensive infrastructure development projects across the Emirate of Abu Dhabi.
Advising a Saudi-based petrochemical company on project development and finance-related matters in connection with the development and operation of aspects of its petrochemical refinery and related facilities in Rabigh, in the Kingdom of Saudi Arabia.
Advised the Government of Namibia in connection with the development of aspects of its Public-Private-Partnership (PPP) programme and on the procurement of a solar PV project as a model for Namibian municipalities and regional authorities to procure small scale solar PV IPP's.
Advised the procurer in connection with the procurement and implementation of two hydroelectric projects and a biomass project in the Republic of Zambia.
Advised ADSSC on various aspects of its Strategic Tunnel Enhancement Programme (STEP) mega-project, including on a complex, high-value construction-related dispute.
Advised a Government of Dubai Authority in relation to the procurement process for the development of district cooling projects within Dubai.
Advised a regulatory body in the United Arab Emirates in relation to the proposed issuance of a licence for the operation of four nuclear reactor units, including advising on project documentation and overall project structure in the context of local nuclear laws and international laws and treaties relative to the nuclear sector.
Advised the sponsors and the project company in connection with the structuring, implementation and project financing of the Delimara 4 LNG-to-Power build-own-operate-transfer (BOOT) project involving the development and construction of an LNG regasification and IPP power generation facility in Malta.
Advised the Abu Dhabi Water & Electricity Authority (ADWEA) on aspects of the Mirfa independent water and power project (IWPP) in the Emirate of Abu Dhabi.
Advised ADWEA and its affiliate ADSSC in connection with the structuring and implementation of two BOOT projects on a project finance basis, involving the development and construction by two special purpose vehicles of four new sewage treatment plants at Al Wathba and Al Ain in the Emirate of Abu Dhabi (the ISTP1 Project and the ISTP2 Project).
Advised ADWEA, its affiliate ADSSC and the 60% ADWEA-owned project company in relation to the implementation of a rescheduling of the delivery and commissioning of the Allahamah wastewater treatment plant in the Emirate of Abu Dhabi, and subsequently on the refinancing of the ISTP2 Project.
Advised a major developer in connection with the implementation and development of an LNG storage facility in Sardinia, Italy.
Advised a UK-based oil and gas major on the acquisition of an interest in an offshore oil and gas reserve located off the Côte d'Ivoire.
Advised a US power major in connection with the sale of certain UK-based renewables assets.
Advised a UAE-based company in connection with the sale and acquisition, and the subsequent relocation, reconstruction and re-commissioning in Pakistan of a US$600 million 100,000-barrel capacity refinery.
Advised a major Abu Dhabi government-owned entity in its proposed bid for a generating asset in Oman and in relation to the auction of certain power assets in Pakistan.
Advised a credit provider in relation to the restructuring of the US$1 billion capital markets financing for a real estate development in Oman.
Education
European Law Diploma, Westfälische Wilhelms-Universität Münster, 1997
Areas of Practice
Africa
Construction
Energy and Infrastructure
Energy M&A
Europe
International and Cross-Border Transactions
Middle East
Oil, Gas and LNG
Project Finance and Development
Public-Private Partnerships and Infrastructure
Renewable Energy and Clean Power
Articles
Private Participation in Water, Wastewater Projects: Applying the GCC Experience Across META
Abu Dhabi oil and gas update: joint bidding for upstream assets
Meet our Firms and Professionals
WSG's member firms include legal, investment banking and accounting experts across industries and on a global scale. We invite you to meet our member firms and professionals.