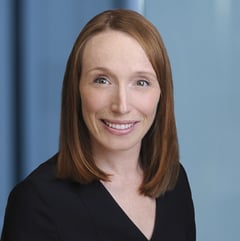 Michelle Falcucci
Counsel

Practice Expertise
Corporate
Cybersecurity and Data Protection
Corporate Regulation and Compliance
Corporate Structuring
Areas of Practice
Corporate
Corporate Regulation and Compliance
Corporate Structuring
Cybersecurity and Data Protection
Insurance Law
Investment Funds
IPOs and Equity Capital Markets
Joint Ventures
Mergers and Acquisitions
View More
Profile
Michelle advises on all aspects of Bermuda commercial and corporate law and has considerable experience in mergers and acquisitions, joint ventures, and equity and debt financing. In addition, Michelle regularly advises on investment fund matters.
Her recent notable transactions include:
Advising Hiscox Ltd on its cashbox placing of ordinary shares, raising gross proceeds of GBP 375 million.
Advising Ark Insurance Holdings Ltd. in connection with an $800m equity investment from White Mountains Insurance Group, Ltd.
Advising Monument Re in connection with its purchase of GreyCastle Holdings Ltd.
Advising the co-ordinating committee of senior creditors of ED&F Man Group, one of the world's largest traders of agricultural products, in connection with a USD 1.5bn refinancing by way of restructuring plan.
Areas of Practice
Corporate
Corporate Regulation and Compliance
Corporate Structuring
Cybersecurity and Data Protection
Insurance Law
Investment Funds
IPOs and Equity Capital Markets
Joint Ventures
Mergers and Acquisitions
Professional Career
Significant Accomplishments
Prior to joining Carey Olsen Bermuda, Michelle was an Associate in the Private Equity Real Estate and Investment Funds teams at international law firm Reed Smith LLP, where she practised in its London office.
Michelle was educated at King's College London from which she holds an upper second class degree.
Michelle was admitted as a solicitor in England and Wales in 2016 (currently non-practising) and was called to the Bermuda Bar in 2019.
Carey Olsen Bermuda Limited is a company limited by shares incorporated in Bermuda and approved and recognised under the Bermuda Bar (Professional Companies) Rules 2009. The use of the title "Partner" is merely to denote seniority. Services are provided on the basis of our current terms of business, which can be viewed at: www.careyolsen.com/terms-business.
Recent Experience