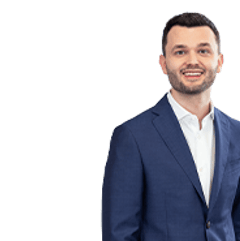 Nico Bernhard
Managing Associate

Practice Expertise
Areas of Practice
Capital Markets
Corporate & Commercial
Corporate / M&A
Corporate Finance & Capital Markets
Financial Services
Healthcare & Life Sciences
Industry & Commerce
Information Technology & Telecommunications
Insolvency & Restructuring
Mergers & Acquisitions
View More
Profile
Nico Bernhard is a managing associate in the Corporate/M&A team. His practice focuses on national and international M&A transactions and capital markets law (incl. IPOs). He further advises companies on restructuring as well as on general commercial, corporate (incl. corporate governance) and contract law matters, in particular in the areas of healthcare and life sciences, financial services as well as industry and commerce.
Nico Bernhard was educated at the University of Zurich (MLaw) and King"s College London (LL.M.). Before joining Walder Wyss in 2015 he worked as a research assistant at the Institute for Private and Business Law at the University of Zurich.
Nico Bernhard"s professional languages are German and English. He also speaks French.
Areas of Practice
Capital Markets
Corporate & Commercial
Corporate / M&A
Corporate Finance & Capital Markets
Financial Services
Healthcare & Life Sciences
Industry & Commerce
Information Technology & Telecommunications
Insolvency & Restructuring
Mergers & Acquisitions
Professional Career
Significant Accomplishments
Montana Aerospace AG closes acquisition of the Asco Group and issues new shares
Promotions at Walder Wyss
DBS geht Partnerschaft mit Intercity ein
Mérieux Equity Partners investiert in Swixx
Montana Aerospace AG geht an die Börse
SHL Telemedicine Ltd.: Ausgabe und Kotierung neuer Aktien für rund CHF 35 Millionen
ED&F Man Capital Market verkauft Structured Commodities-Abteilung
Viseca spaltet Kartengeschäft in Issuing und einen Dienstleister
Sulzer übernimmt Haselmeier-Gruppe
Walder Wyss berät BC Platforms im Hinblick auf die Series C Finanzierung über USD 15 Millionen sowie eine Partnerschaft mit IQVIA zum Ausbau der Datenanalytik im Bereich Genomik
Canopius verlegt Unternehmenssitz von der Schweiz nach Bermuda und Jersey
Aduno Holding veräussert cashgate an Cembra Money Bank
IPO of Aluflexpack AG
Dana erwirbt Oerlikon Drive Systems
Aduno verkauft Vibbek
Continental verkauft Continental Automotive Switzerland
Dana erwirbt Oerlikon Drive Systems
Walder Wyss advised 40 North in the acquisition and subsequent sale of shares in Clariant AG
Integer veräussert die Geschäftsbereiche Advanced Surgical und Orthopedics
Faurecia erwirbt Hug Engineering AG
CryoLife übernimmt JOTEC
Walder Wyss advises the ad hoc Committee of Holders of Senior Secured Notes issued by Roust Corporation
Oriflame: Relocation mit grenzüberschreitender Fusion abgeschlossen
Berghoff: grenzüberschreitende Vermögensübertragung
Relocation von Oriflame
Articles
Doing Business in Switzerland – A Practical Guide
Grenzüberschreitende Tätigkeit (§ 100 Ausländische Zweigniederlassung in der Schweiz)
Ausländische Zweigniederlassung (§ 111 Zweigniederlassung einer Genossenschaft mit Hauptsitz im Ausland)
Internationale Sitzverlegung (§ 113 Von der Schweiz ins Ausland)
Internationale Sitzverlegung (§ 112 Vom Ausland in die Schweiz)
Doing Business in Switzerland – A Practical Guide
Stellungnahme Walder Wyss: Vernehmlassung zum Bundesgesetz zur Anpassung des Bundesrechts an Entwicklungen der Technik verteilter elektronischer Register
Meet our Firms and Professionals
WSG's member firms include legal, investment banking and accounting experts across industries and on a global scale. We invite you to meet our member firms and professionals.