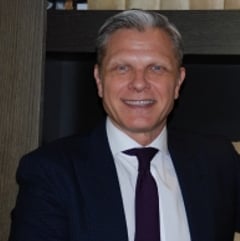 Oscar de Santiago Torrente
Partner

Barcelona, Spain
Local Time: Wednesday 06:41
Practice Expertise
Corporate Law and Commercial Contracts
Real Estate
Planning and Zoning
Areas of Practice
Corporate Law and Commercial Contracts
Planning and Zoning
Real Estate
WSG Practice Industries
WSG Leadership
Real Estate Group - Group Leader
Profile
Oscar de Santiago, a Garrigues partner, is the co-head for the Cataluña, Aragón and Balearic Islands area and the head of the Legal Department in that area.
He has a wealth of experience in the area of real estate law, both on the more traditional side, taking in sale and purchase, construction and lease transactions, and in more finance-related aspects, in the form of the financing and refinancing of real estate development projects and the taking up of stakes in property companies by acquiring equity and/or under mezzanine arrangements. In recent years, he has worked in close collaboration with some of Spain's leading financial institutions through the entire process for the award of assets, divestments, portfolio reorganizations or the disposal of portfolios under an array of methods (disposal of asset packages, NPLs, the liquidation of real estate companies owned by financial institutions, swaps, commissioned development agreements, management agreements, etc.), having advised, over the last 4 years, on deals with an overall value of 7,000 assets and €8,000 million, taking in assets and/or associated debt.
He has advised domestic and international companies on the acquisition, management and disposal of real estate assets. In particular, noteworthy recent deals include transactions involving asset portfolios and packages (direct or asset-based acquisitions of office buildings, shopping malls and logistics parks and the disposal/acquisition of major packages of branches under sale and leaseback regimes). On the financing front, he has participated in the arrangement and modification of mortgage loans, syndicated loans and, in particular, processes to refinance some of the country's largest real estate companies. Elsewhere, recent transactions also include advice on real estate and regulatory aspects to both financial institutions and investors on the creation and start-up of vehicles for the transfer and management of major asset and loan portfolios, as well as advising international investors on the taking up of a stake in or debt acquisitions at real estate companies of financial institutions.
He currently coordinates and is a lecturer for the real estate module of Esade's Master's of Specialization in International Business Law, and he was an associate lecturer at Universitat Pompeu Fabra from the academic year 1996/97 to the academic year 2013/2014 in civil and contractual law "practicum" course.
Seminars:
"Shares Deal vs. Asset Deal" (*), as part of the Real Estate Forum organized by Universidad de La Salle. June 2005.
"Legal and Real Estate Aspects of Investment in Eastern Europe - Poland, Hungary, Czech Republic and Romania" (*), Barcelona Meeting Point. October 2005.
"New Development and Investment Structures. Relevant Legal Aspects of Contracts" (*), Real Estate Law seminars organized by Garrigues, May 2005.
"Legal Aspects to be Considered in Real Estate Funding Transactions" (*), as part of the property funding course managed by Directivos Construcción, March 2003.
"Real Estate Investments in Eastern European Countries: A Comparative View of the Legal Problems Associated with the Different Investment Destinations" (*). Seminar on Investment Opportunities in Eastern Europe organized by Grupo Intereconomía, April 2006.Speaker at the 4th edition of the Real Estate Investment Conference organized by the International Bar Association (IBA) which took place in Barcelona on April 26 and 27 2012, giving a talk on "Real estate investment in Spain: Financing alternatives and structures in credit crunch".
Speaker at the conference organized by the Urban Land Institute (ULI) which took place in Barcelona on March 17, 2011 on the subject of "the whys and hows of the restructuring of Spanish savings banks" taking part in the roundtable alongside Jaume Guardiola, CEO of Banco Sabadell and Santiago Pernías, Bank of Spain inspector.
Moderator at the event organized by the Urban Land Institute (ULI) which took place in Barcelona on April 24, 2013 on "the reform of the Urban Leasehold Law. Challenges and opportunities" at which speakers included Concha Osácar, Chairwoman of Grupo Azora and Dolores Aguado Fernández (Subdirector general of land policy at the Ministry of Development).
Barcelona Bar Association.
Bar Admissions
Barcelona Bar Association
Education

Degree in Law, Universidad de Barcelona (1991).
Postgraduate in Commercial and Common Law, University of Essex (1992).
Master's Degree in Property and Financial Law, Universidad de Barcelona (1994/1995).
Areas of Practice
Corporate Law and Commercial Contracts
Professional Career
Professional Activities and Experience
Teaching Experience
Associate lecturer, teaching civil and contractual law "practicum" course, Universitat Pompeu Fabra (since 1996/97 academic year)
Articles
Articles and Publications:
"Sale and Management-Back", Via Hotel, October 2006.
"SAREB and FABs: a first look behind the acronyms" published in Financier Worldwide Magazine in June 2013.
Meet our Firms and Professionals
WSG's member firms include legal, investment banking and accounting experts across industries and on a global scale. We invite you to meet our member firms and professionals.