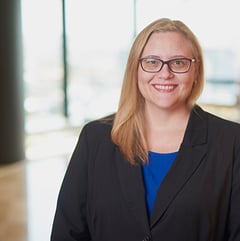 Petrina Macpherson
Special Counsel

Brisbane, Australia
Local Time: Thursday 08:56
Practice Expertise
Areas of Practice
Profile
I am an experienced construction disputes specialist with a particular skill in taking large and complex matters, involving technical engineering, commissioning and construction concepts and distilling the key issues in order to provide strategic and targeted advice to clients. I have a particular interest in legal technology and looking for innovative ways to deliver legal services for clients. I enjoy working collaboratively with project teams and client legal teams to ensure that cost-effective and client focussed solutions are delivered.
Career highlights
DP World (Brisbane) Pty Ltd: Conducting an arbitration arising out of a dispute regarding underground services. This included preparing for a ten day hearing and working with multiple engineering experts and lay witnesses. Due to Covid-19 restrictions, this arbitration was conducted in an eTrial format.
Wiggins Island Coal Export Terminal Pty Ltd: Investigation of and preparation of pleadings in a dispute regarding a multi-million dollar infrastructure project in Central Queensland, prior to its conclusions via alternative dispute resolution.
Queensland Rail New Generation Rollingstock Commission of Inquiry: Managing a government entity's response to the New Generation Rollingstock Commission of Inquiry. This involved managing a team of up to 35 lawyers to produce documents to the Commission in a short time frame, the investigation of the procurement of New Generation Rollingstock, the preparation of submissions and preparing witnesses for interview before the Commission.
Brisbane City Council: Managing a large dispute and negotiating a successful resolution between BCC and a technology provider, arising out of an alleged breach and termination of a GTIC Contract.
Acting for various contractors (including Lendlease Building Pty Ltd and CPB Contractors): Conducting and responding to claims brought under the Building & Construction Industry Payments Act 2004 (Qld), the Building Industry Fairness (Security of Payment) Act 2017 (Qld) and the Construction Contracts (Security of Payment) Act 2014 (NT) and subsequent litigation and interlocutory applications.
Joint Venture Arbitration: Successfully investigating and conducting a multi-million-dollar arbitration arising out of a major infrastructure project in South East Queensland. This included a 12 week hearing, working with a team of 5 Counsel and multiple engineering experts.
Combustible Cladding and Non-Conforming Building Products: Acting on behalf of insurers and contractors in litigation arising out of the installation of non-conforming building products and advisory work in relation to these issues.