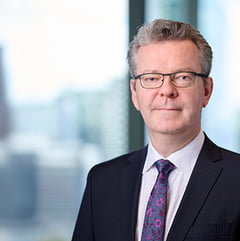 Melbourne, Australia
Local Time: Saturday 20:41
Practice Expertise
Intellectual property
Litigation and disputes
Areas of Practice
Intellectual property
Litigation and disputes
WSG Practice Industries
WSG Leadership
Patent Law Group - Member
Profile
I have substantial experience in patent disputes in areas such as pharmaceutical compounds and processes, business methods, methods of treatment, mobile telecommunications, financial services, multi-valent vaccines, mechanical devices, heavy engineering, industrial refrigerants and various consumer goods. I am experienced in acting in substantial multi-jurisdictional patent disputes for patentees and revokers, both in the Federal, Full Federal Court and Australian Patent Office.
I also advise clients on strategic patent licensing issues and especially where relationships become strained or disintegrate and IP ownership disputes arise.
I am also a registered trade marks attorney and manages the trade mark protection needs of a range of Australian and International clients.
In conjunction with my Australian litigation expertise, I hold a masters degree in computing, a diploma in IP Law and am also qualified to practise in England and Wales. I put my computing Masters to use in regularly advising clients in IT disputes.
Career highlights
I obtained the first judgment in Australia where a patent infringer was ordered to pay 'additional damages' due to the flagrancy of the infringement.
Another of my patent clients obtained the first judgment in Australia to confirm that a 'spring board' injunction could be granted to prevent the sale of non-infringing products.
I successfully acted for Sweet Rewards in its defence of a claim brought by Mars Australia in the Federal Court and on appeal in the Full Federal Court. The matter was cited by Asia IP as a 'case of the year'.
Regularly advising pro bono clients on their trade mark and copyright matters, including leading the successful legal team in the very urgent High Court challenge to invalidate certain sections of the Commonwealth's electoral legislation before the 2010 federal election. The 4:3 finding of the High Court held the sections invalid and approximately 110,000 potential voters were able to enrol to vote.
Awards & recognition
Who's Who Legal, Leading Individual 2019, Life Sciences
Leading Individual, Intellectual Property (Patents) - Chambers Asia Pacific: 2018, 2017, 2016
Asia Pacific Legal 500 (APL500) regards Robert Cooper as 'client-focused, pragmatic and having significant respect throughout the industry'
Leading Individual, The International Who's Who Legal - Patents: 2018, 2017, 2016, 2015, 2014, 2013
Leading Individual, The International Who's Who Legal - Life Sciences: 2018, 2017, 2016, 2015
Managing Intellectual Property IP Stars Handbook (Australia): – Trade mark star, Patent star: 2018, 2017, 2016, 2015, 2014
Leading individual, IAM1000, The World's Leading Patent Professionals: 2018, 2017, 2016, 2015, 2014, 2013
Robert Cooper is regarded as a 'calm, strategic thinker' - IAM1000, The World's Leading Patent Professionals: 2015
Leading individual, WTR1000, The World's Leading Trademark Professionals: 2018, 2017
Silver Ranking Leading Individual – Enforcement and Litigation, WTR 1000 – World Trade Mark Review: 2015, 2014. Robert Cooper is a 'bright strategic thinker' whose 'reliable and timely advice' covers branding, trademark disputes and a host of other IP issues - WTR 1000 – World Trade Mark Review: 2015 Robert Cooper is 'dedicated and determined, with brilliant technical legal skills' - WTR 1000 – World Trade Mark Review: 2014
Recommended – Intellectual Property, Best Lawyers: 2019, 2018, 2017, 2013, 2012, 2011, 2010, 2009
Recommended – Biotechnology Law, Best Lawyers: 2019, 2018
Leading Individual, World IP Review: WIPR Leaders - Patent Leaders: 2018, 2017
Asialaw Leading Lawyers 2013
IAM's The Worlds Leading Patent and Technology Licensing Lawyers 2010
Education
LLB (Hons), MSc, Dip IP, Registered Trade Marks Attorney
Professional Career
Professional Associations
Intellectual Property Society of Australia and New Zealand (IPSANZ), member
The Law Society of England and Wales, member
American Intellectual Property Law Association (AIPLA), member
Former National Secretary, board member and editor of the Licensing Executives Society of Australia and New Zealand (LESANZ)
INTA
AusBiotech, member
Articles
Czech mate: Federal Court revokes Bohemia Crystal trade marks for lack of distinctiveness


MinterEllison shares lessons for Australian trade mark owners from the Bohemia Crystal decision.

WIPO adds new capability to its brand searching tool – 'image search'

Manners maketh the copyright infringer: Court awards $60,000 'additional damages' for defendants' behaviour in copyright case

Cooking your own Goose

Rights holders fire first shots under blocking legislation - anti-piracy update
In what has been an eventful few weeks on the copyright high seas, after some set backs, rights holders commenced actions in the Federal Court to block a number of websites that they allege have the 'primary purpose' of infringing copyright. We've set out below a round up of these recent events.
Update: Servier successful in stay application – Apotex kept off the market while Servier appeals to the High Court
Servier was successful in yesterday's hearing of its stay application.
Australia's High Court introduces doctrine of exhaustion of patent rights


A new High Court decision explores the fundamental nature of patent rights in Australia, in particular, the rights of a patentee following the first sale of a patented product. We explore what this means for patentees seeking to control the activities of downstream purchasers of patented products.

Builders crack? Website blocking legislation invoked

Signing your likes away: can a contract create social media obligations?

Servier fails on best method - Full Federal Court confirms invalidity and denies application to amend
This decision is interesting as it deals with four pertinent topics – (1) the best method requirement (2) patent amendment applications (3) cost orders in patent litigation and (4) the lifting of an interlocutory injunction.
High Court to determine the patentability of isolated genetic material

Extension of term dispute ongoing for Lexapro patent

The tangled web we weave: a short history of internet law in verse

Full Federal Court overturns interlocutory injunction decision – Apotex kept out of the pregabalin (Lyrica) market

A new hope for shoppers

Should you get bent out of shape pursuing trade mark registration for a shape?

High Court considers distinctiveness of foreign words

Dealer takes it all

Exclusive patent licences and standing to sue – a green light for commercial 'work arounds'

No early Christmas present for Dallas Buyers Club - Federal Court dismisses request for alleged infringers' details

Is 'reproduction' for copyright infringement a chicken & egg debate?

MinterEllison defends Calidad against claims by Epson


In the recent Federal Court of Australia decision, Calidad has successfully defended claims of patent infringement (in part), trade mark infringement, breach of statutory duty relating to criminal provisions of the Trade Marks Act.

2015 Patent recap: The 8 (patent) days of Christmas

Metatags, meta-problems

What the Rokt decision tells us about patent eligibility for software inventions
In a significant ruling, the Full Court has again weighed in on the patent eligibility of software inventions, overturning a decision of a single judge of the Federal Court and deciding that Rokt's marketing scheme is not patentable subject matter.
Bottle Royale: Coca-Cola Fizzes Out in Federal Court Challenge

MinterEllison's IP experts contribute to internationally renowned publication: The Law Reviews
Members of MinterEllison's expert Intellectual Property team provide valuable insights into Australian Patent Litigation Law in a publication first.
US judge rules no copyright in Happy Birthday To You

Yellow appeal

Kylie v Kylie

UK Glee Club makes song and dance about Fox's TM usage

Omnibus claims: Back to business as usual

Copyright: 18 months of developments and decisions
It's been an active and interesting 18 months in the ever-changing Australian copyright sphere. From copyright reform to copyright in compilations, from the dangers of litigation to the unlicensed use of stock photography, we've collated a summary of the more significant developments over that period which may be helpful or instructive when similar issues arise.
Update: Proportional costs orders made in Gilead v Idenix proceedings
Gi ran six grounds of invalidity at trial, namely lack of novelty, lack of fair basis, insufficiency, inutility, no manner of manufacture and false suggestion. As noted, Gi was ultimately successful on two of those grounds: insufficiency and inutility.
ACCC claims Nurofen product range is false or misleading

Productivity Commission releases Draft Report into Intellectual Property Arrangements Part 1

Trade mark ownership: the Insight scoop to avoid refusal
The recent Full Federal Court decision of Pham Global Pty Ltd v Insight Clinical Imaging Pty Ltd highlights the danger of filing a trade mark application in the wrong name.
Key developments in patent law in 2013 (and a sneak preview for 2014)

Special leave refused in RPL Central
On 5 May 2016, the High Court refused RPL Central's application for special leave to appeal the Full Federal Court decision denying patentability to its computer-implemented invention.
THANKS but NO THANKS

Federal Treasury Enterprise (FKP) Sojuzplodoimport v Spirits International B.V. (No 4) [2017] FCA 1345
International politics, intrigue and vodka… the staples of any great James Bond movie.
Parameteritis pokes holes in Swiss-type claim

Full Federal Court - computer invention doesn't meet patentability criteria

Productivity Commission releases Draft Report into Intellectual Property Arrangements Part 2

Exclusive patent licence – it is all or nothing

Whiskey, websites, bottles and blocks - 12 months in trade mark and copyright law

First steps down the plank: new Australian copyright provisions successfully used to block pirate sites

Meet our Firms and Professionals
WSG's member firms include legal, investment banking and accounting experts across industries and on a global scale. We invite you to meet our member firms and professionals.