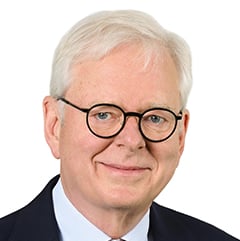 Hamburg, Germany
Local Time: Thursday 06:56
Practice Expertise
Commercial Contracts
Corporate Law
Investment Funds
Mergers and Acquisitions
Areas of Practice
Commercial Contracts
Corporate Law
Investment Funds
Mergers and Acquisitions
Private Equity
View More
WSG Practice Industries
WSG Leadership
Mergers & Acquisitions Group - Member
Profile
.
Bar Admissions
admitted to the bar in 1986, Hamburg
Education
Institute of Financial and Tax law, University of Hamburg (Dr. jur., 1986)
Areas of Practice
Commercial Contracts
Corporate Law
Professional Career
Professional Associations
International Bar Association

- Member of the Supervisory Board of the Syskoplan AG, Guetersloh
- Hamburg Chamber of Commerce, Legal Committee (Handelskammer Hamburg)
- Member of the Board of NetBid Industrie-Auktionen AG, Hamburg
Seminars/ Presentation
- Lecturer on Commercial Law at University of Hamburg, since 1997
Professional Activities and Experience
- Dresdner Bank AG (bank traineeship, 1974-1976)
- Head of Legal Department at Jungheinrich AG, 1990-1995
- Chairman of the board of Lloyd Fonds AG
Articles
- 'Die unmittelbare Wirkung von EG-Richtlinien', RIW 1986, 40
- 'Grenzueberschreitender Steuerdatenschutz', Frankfurt am Main, 1990
- 'Organization and Efficiency of a Legal Department', Forum Management Conferences
- Co-Author: 'Muenchener Vertragshandbuch,' Band 2, Wirtschaftsrecht I, "Energieliefervertraege", Muenchen, 2004
- AG-Handbuch, "Insiderrecht und Ad-hoc-Publizitaet", Hamburg, 2001
- 'International Franchising Law', Chapter on German Franchise Law. New York, Matthew Bender, 2001
- 'The Side Letter', ZIP 2003, 1425
- 'The new Investor Protection Act and its Impact on Issuing Houses and Closed End Funds', DB 2004, page 1351 ff.
- 'Neue Chancen oder viel Laerm um Nichts?', Venture Capital Magazin, Edition 6, 2009
- 'Energieliefervertraege' (Co-Author), in: Muenchener Vertragshandbuch, volume 2: Wirtschaftsrecht I, 6. edition 2009
- 'Die Wagniskapitalbeteiligungsgesellschaft - ein neues Instrument fuer Private-Equity-Fonds', Mergers & Aquisitions Jahrbuch 2009, page 75 ff.
Meet our Firms and Professionals
WSG's member firms include legal, investment banking and accounting experts across industries and on a global scale. We invite you to meet our member firms and professionals.