Covid- 19 - Obligation of Czech Employers to Protect Employees from Coronavirus
by Martin Stefko, KSB Covid-19 Task Force
Published: March, 2020
Submission: March, 2020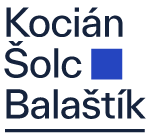 Obligation of Czech employers to protect employees from coronavirus
Pursuant to Section 106 (1) of the Labour Code, an employee has the right be assured of occupational health and safety protection at work (hereinafter referred to as "OHS"), even during a pandemic.
Regarding prevention, the provision in section 102 of the Labor Code remains paramount. The prevention of risks in the area of health and safety at work , according to the above referenced provisions of the Labour Code, shall mean all measures resulting from legal and other regulations to ensure OHS and all measures of the employer that aim to prevent, eliminate or minimize the effects of irremovable risks. Prevention therefore means, on the basis of the valid OHS legislation, the introduction of an OHS management system, by means of which conditions are created for reducing the number of occupational accidents and occupational diseases and thus for gradually improving the OHS level with specific benefits for practice, not only at the level of business enterprises, educational, research and other professional institutions in this field, but also other entities, such as public institutions at national level, regions, cities and municipalities in their mutual cooperation.
Each employer is therefore obliged to reserve sufficient material and personnel resources to carry out risk prevention measures. These risk prevention measures are thus an integral and equivalent part of all the employer's activities at all levels of management, in other words, senior management at all levels of management is responsible for them within the scope of their functions. Every employer is obliged to keep documentation on the identification and evaluation of risks, which is thus always an important basis for the inspection of the labor inspection or for the investigation of a possible security incident such as an accident at work.
The employer should be aware of these sanctions when dealing with operational issues such as sending employees to teambuilding in a restricted area, failing to provide sufficient protective equipment when ordering work in the workplace, or making adjustments or repairs to the workplace that are unnecessary at the moment In connection with this, third-party persons without adequate health clearance shall be admitted to the workplace of the employer, where the employees and other persons for whose health the employer is responsible are located.
Link to article
MEMBER COMMENTS
WSG Member:
Please login to add your comment.