Social Enterprise Assisted by SyCipLaw Shortlisted for Pro Bono Award at TrustLaw Awards 2022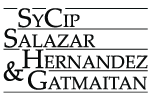 SmartAir, a social enterprise that educates the public about air pollution, has been shortlisted for the "Powered by Pro Bono Award" at this year's TrustLaw Awards. This award highlights NGOs or social enterprises that have used pro bono legal advice to scale up their operations, improve the delivery of their social mission or pivot their activities to make a greater impact on the businesses and people they support.
SmartAir was advised by SyCip Salazar Hernandez & Gatmaitan (SyCipLaw), along with international firms Gibson Dunn, White & Case, Latham & Watkins, DLA Piper, Baker Botts, Weerawong, and Chinnavat & Partners Ltd.
Trustlaw is the Thomson Reuters Foundation's global pro bono legal program. The annual awards celebrate the remarkable pro bono projects by legal teams with NGOs and social enterprises around the world. Their work has found innovative solutions to some of the world's most critical social and environmental challenges and empowered those on the frontlines with the tools to deliver positive change.
Winners will be announced on June 8, 2022 in an awarding ceremony to be held in Cavendish Square, London, United Kingdom.
The other nominees can be viewed here.
SmartAir promotes cost-effective, data-backed air filters as a solution to indoor particulate air pollution. It provides open-source data and hosts educational workshops across Asia to teach people how to protect themselves from harmful effects of poor air quality. It is also a certified B Corp company, which means that itmeets the highest verified standards of social and environmental performance, transparency, and accountability.
B Corp-companies are known to use the power of business to build a more inclusive and sustainable economy. They are leaders of a global movement of people using business as a force for good.
As of 2018, there are more than 2,500 B Corps in 130 industries and 60 countries around the world. Since SmartAir's founding, it has shipped over 70,000 of its clean air tools to more than 20 countries, and has shared over 250 open-data articles, viewed more than 10 million times.
MEMBER COMMENTS
WSG Member: Please login to add your comment.