SyCipLaw Authors Philippine Chapter of Latest Chambers Global Practice Guide on International Arbitration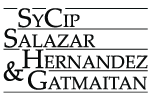 SyCipLaw Partners Ricardo P.G. Ongkiko (head of Litigation Department), John Christian Joy A. Regalado and Ma. Patricia B. Paz-Jacoba have written "International Commercial Arbitration in the Philippines," a chapter in the recently released Chambers International Arbitration 2023 Global Practice Guide (GPG).
The Philippine chapter provides a general overview of Philippine arbitration laws and procedure and explains how international arbitration activity has normalized and even improved since the beginning of the pandemic.
The International Arbitration 2023 GPG covers over 60 jurisdictions. It provides the latest legal information on global arbitration practice and trends, including governing on governing legislation, arbitral tribunals, challenges to jurisdiction, preliminary and interim relief, collection and submission of evidence, confidentiality, types of remedies, enforcement and review of awards, class actions, and third-party funding.
Access the Philippine chapterhereor email[email protected]for an on-demand copy in PDF.
MEMBER COMMENTS
WSG Member: Please login to add your comment.