IFLR: Philippines: Amendments to the FX Regulations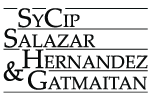 The May 2017 issue of theInternational Financial Law Review (IFLR) includes an international briefing article by SyCipLaw partner Melyjane G. Bertillo-Ancheta entitled "Philippines: Amendments to the FX Regulations". The article discusses the circulars, issued by the Bangko Sentral ng Pilipinas (the central monetary authority of the Philippines), amending the country's foreign exchange regulations. The circulars aim to provide greater ease in transacting foreign exchange, among other purposes.
Readthe article online at the IFLR website.
Melyjane G. Bertillo-Ancheta is a partner in SyCip Salazar Hernandez & Gatmaitan. She specializes in banking, finance, and securities regulation. She has extensive experience inthe areas of commercial lending and project financing, whether as counsel for the borrower or for the lenders. She also regularly advises foreign banks and other financial institutions on regulatory matters, and renders opinions on derivatives transactions.
MEMBER COMMENTS
WSG Member: Please login to add your comment.