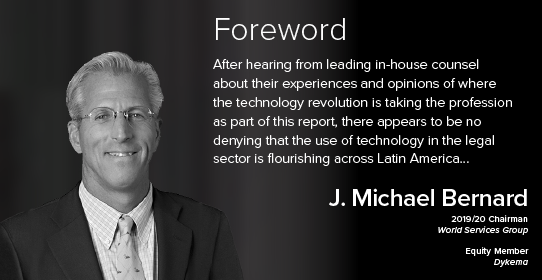 GC: In-House Technology – Latin America Edition
Foreword
Here at World Services Group, it is our pleasure to introduce you to the second in our series of GC special reports examining the present state of technology use by in-house legal departments around the globe... More >

---
---
World Services Group (WSG) Sponsored Survey Results Show General Counsel Leaders in Latin America are Positive About Disruptive Technology in the Legal Sector
Houston, TX (February 25, 2020)
World Services Group (WSG), in partnership with The Legal 500's GC Magazine, recently published new survey results that provide insights on trending in-house legal sector technologies and how general counsel leaders are adapting to these changes.
More than 140 general counsel leaders from across Latin America participated in the extensive survey, which also included in-depth interviews with select general counsel and recognized thought leaders from the sector. The detailed results and featured articles with general counsel and other experts can be found in GC Magazine's latest special edition, "GC: In-House Technology in Latin America."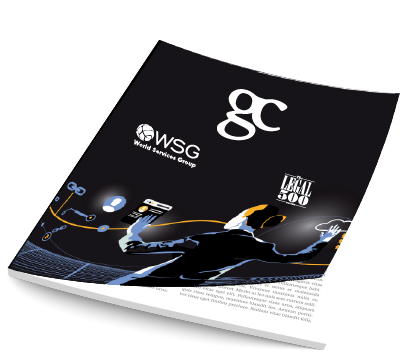 ---
Highlights from the Survey included:
When asked whether technology has been disruptive in the past five years, 94% percent of respondents agreed that it has been and will continue to be a moderate to great disruptor over the next five years.
When asked how much professionals have to fear from technological advancement, respondents were strongly in agreement that technology was a tool to be used to enhance the outcomes provided by lawyers, not replace them. 66 percent said that technology could enhance outcomes for in-house departments to a great extent, with a further 31 percent agreeing but to a moderate degree. Only 3 percent of respondents had a divergent opinion.
On average, improvement in quality (65 percent) and reduction of costs (35 percent) were most valued when considering implementing legal technology for both small and large teams. In addition, 86 percent found their company supportive of implementing new technology and 60 percent received an increase in their technology budget in the last five years.
"WSG was proud to partner with GC Magazine on this important Latin America survey, as projects like this provide us an opportunity to directly engage with thought leaders from across the legal world and glean insight into what the future of the legal profession may look like, as we collectively chart a renewed path for the practice of law and enable our member firms to add value for their clients, " stated J. Michael Bernard, WSG Chairman and Equity Member at Dykema.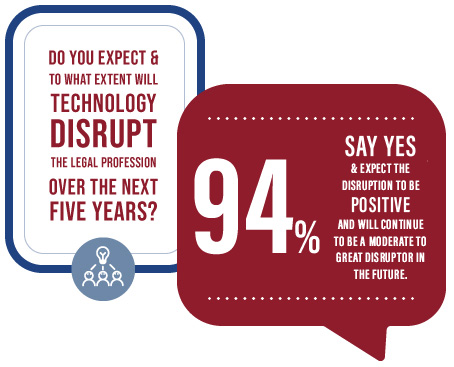 ---
Additional significant findings include:
TYPES OF TECHNOLOGY SOLUTIONS AND IMPLEMENTATION:
Survey respondents included 65 percent from small legal teams (10 or fewer members), with the remaining 35 percent coming from larger teams (11+ members). For both team sizes, contract management, human resources and law firm relationship management was nearly identical. Large teams differed with case management and dispute resolution, with nearly twice as likely to use.
INTERNAL BUDGETS:
Survey results showed that budget was a key element of any support received from the wider business. 62 percent said that their department had received an increase in budget specifically for technology over the last five years and 38 percent said they had not. Of the 62 percent of respondents who had, 95 percent felt their company was supportive of implementing new technology, compared to 73 percent who had not.
USE OF ARTIFICIAL INTELLIGENCE (AI):
AI is shrouded in uncertainty for in-house departments. Only 8 percent said they were currently using an AI solution, though 28 percent said they were aware of other in-house legal counsel teams utilizing AI. For those not yet utilizing AI solutions within their department, every respondent said they were open to using with three to five years as the most commonly cited timeframe for implementation.

FIRM GC RELATIONSHIP:
When it comes to external law firms and use of technology, 97 percent of respondents stated that a firm staying abreast of new technologies was at least somewhat of an important consideration. But, only 35 percent of respondents said they were satisfied with the use of technology by their external firms. 26 percent also said they looked to external firms for guidance with technology, and 18 percent said their firms had offered to share or help with implementation of tech systems.

ETHICAL CONCERN:
With legal technology transforming the business landscape for in-house counsel, there is a rise in concern around how it may implicate professional ethics, with 18 percent of respondents reporting that implementing new technologies within their teams had raised ethical questions. Data use and protection was a main focus when ethical questions were at hand.
For further results of the study and to access the special edition, visit GC Magazine's site here.
---
About World Services Group
World Services Group (WSG) is the globally recognized resource for professionals and their clients to receive the highest quality, value and service from premier independent law firms. Through innovative multidisciplinary access, unparalleled tools and technology, WSG offers members and clients immediate access to prospects, information and leading experts with a known record of superior quality service. For additional information, visit www.worldservicesgroup.com.
Media Contact
Carly Norausky
World Services Group
713-650-0333
[email protected]