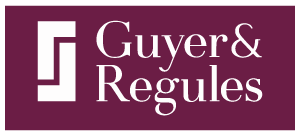 Accounting | Uruguay
tel: +598 2902 1515 | fax: +598 2902 5454
Plaza Independencia 811 | Montevideo | 11100 | Uruguay
Overview
Guyer & Regules is the first and only Uruguayan firm to have been recognized as �Latin America Law firm of the Year�, �Uruguayan Law Firm of the Year� for five years and to have received the �Client Service Award� twice by Chambers & Partners. The firm has also been recognized as �Uruguay Tax Firm of the Year� by International Tax Review � Euromoney for three consecutive years, as �Uruguay Firm of the Year� by International Financial Law Review � Euromoney for two consecutive years and as �Firm of the Year � Uruguay� by Who�s Who Legal for four consecutive years.

Guyer & Regules is proud to be considered Uruguay�s blue chip firm and first choice for international and domestic legal, accounting and tax work. Such a reputation is grounded on the firm�s solid team of internationally trained professionals and the largest group of the most experienced partners in the country, who have become the clients� trusted advisers through daily service excellence.

The Corporations & Accounting Services Team not only advises its clients but helps them to generate new businesses and grow their companies, with personal, effective and creative assistance.
Their constant training pursues the ideal utilization of available legal vehicles as well as innovation through new alternatives to ensure the maximum tax efficiency of their clients.

The objective of the assistance and advice offered by the department�s team of professionals is helping companies to comply with all tax, corporations, payroll and social security regulations, minimizing fiscal costs related to the international businesses of their clients, designing tax planning structures and the reduction of expenses and time required for the development, installation, start-up and administration of said businesses by means of the centralization of all matters in one single place.

Areas of Practice
Accounting
Tax Planning & Consulting
Taxation